TAB payouts on Race 7, the L'Ormarins Queen's Plate, and the Pick 6 at Kenilworth last Saturday, were correct as declared.
This has been reported via a TAB media release published on Wednesday 13 January 2021, and follows customer queries about the TAB Win payout on the Queen's Plate in particular, and the carryover Pick 6 dividend.
The betting system logs on Race 7 and the Pick 6 were thoroughly analysed and payouts re-audited.
The double check revealed nothing untoward and TAB assures customers the dividends are correct.
Trainer Justin Snaith's charge Jet Dark won the Queen's Plate at odds of 12-1, but paid R4, 90 for a TAB Win as a result of sizeable bets on the colt shortly before the start.
These wagers on Jet Dark collectively increased the TAB Win pool on the race by some 6%, but simultaneously resulted in the three-year-old's payout dropping from R7.10 to R4.90.
The Pick 6, in which fields on average comprised less than nine runners, was boosted by a R3-million carryover and returned a dividend of R5 019.
Tote favourites won three of the six legs.
While the information available is sketchy, it has been suggested to the Sporting Post from a credible source in the industry that over 60% of the Kenilworth Pick 6 pool was contributed from international sources, and that around 80% of the pool was actually won by these off-shore players.
Another player speculated that a narrow margin system, where 'rebaters' play a size and method that all but guarantees they will be nett winners, likely almost before their rebate, was probably at play.
"The cost of our nett loss is for the liquidity of larger pools – but that 'cost is just too much'.Totes and bookmakers have turnover businesses. Nett loss, or a steady take-out, waters down the turnover and eventually the total amount of money circulating. How do the 'bigger' pools offset the actual loss? Let's say that the international portion of Saturday's Pick 6 was 60% (R5,5m) and 'they' won 80% (R7,3m), and 'SA' lost R1,8m – then we surely would have been better off with a R3,7m pool where all of it stayed here? We are mostly in the dark – so they can't blame the customer for speculating!"
Then the carryovers are another matter – punters have been shouting for years to have the carryover pools recorded and published – and ring-fenced, as they do not belong to TAB.
Answers have not been forthcoming.
‹ Previous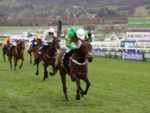 Can Henderson Make It Nine?