The number of new horses on site for the 2021 Mauritius season increased by 36 over the weekend, with the arrival of two batches of 18 each over Saturday and Sunday.
These horses all arrived at their destination without a hitch and were placed in quarantine, after which they will join their respective stables.
The stables of JM Henry and Perdrau will take delivery of the greatest number, with 9 and 8 arrivals respectively.
That said, the headliner of these lots is undoubtedly, by far, multiple stakes winner Twist Of Fate, who joins the Allet Stable after finishing his South African career with a rating of 126.
‹ Previous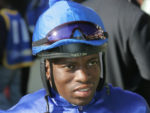 Bling – Bruised And A Bit Stiff