Rupert Langerman, for many years the racing editor of the Cape Times, passed away peacefully at his home in Hermanus on Friday 8 January 2021.
Over the years he provided plenty of tips, both good and bad.
He wrote with great wit and was not always beloved by all in racing as he was not afraid to take on a cause.
At the start of his racing editing career he said he had been given the choice between writing about politicians or horses and he chose four legged animals.
He was also a judge at the races.
Gold Circle's veteran Publishing Manager Andrew Harrison expressed shock and sadness on the news that South African horseracing had lost a legend of the news ranks.
"A true gentleman and, as Recondite, he was fiercely critical of the powers that ran Cape Racing back in the day. When he retired after his whole life in the game, the industry didn't even acknowledge him. I know he loved his wine and his dogs. I have fond memories and the greatest respect for a man of true principle. My deepest sympathies to his family," Harrison told the Sporting Post.
Mr Langerman's retirement to Hermanus gave him the chance to take walks through Fernkloof and along the sea and read his many beloved books.
He would have turned 90 in February.
His wife of sixty years, Diana Langerman (nee Green)  passed away on Monday 11 January 2021.
They are deeply missed by their children and grandchildren.
‹ Previous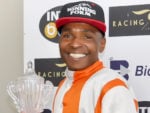 PE Jock's 45 Day Suspension