A well related filly by Scissor Kick topped Day Six of the 2021 Magic Millions Gold Coast Yearling Sale on Sunday.
Offered by Arrowfield Stud, the filly was knocked down to All Winners Thoroughbreds for A$300,000.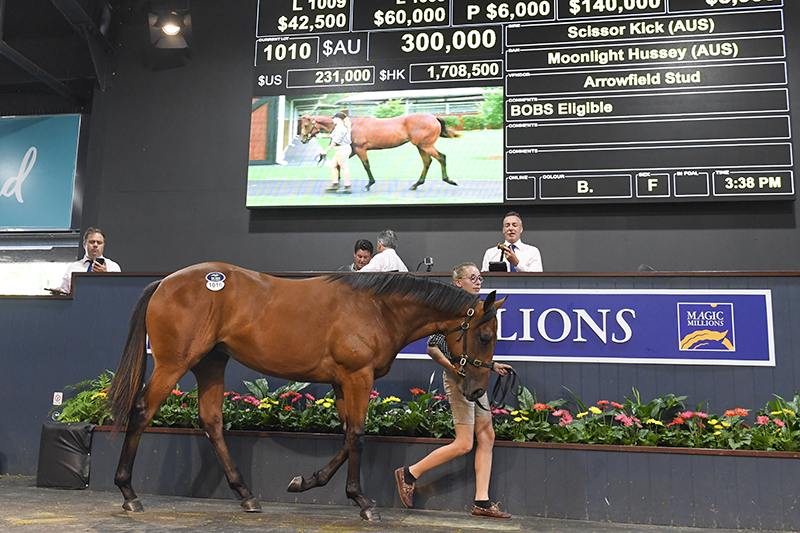 The latest yearling from the 100 per cent winner producer Moonlight Hussey, the bay filly is a half sister to this season's city winning juvenile True Moonlight.
Her dam Moonlight Hussey was a two-year-old winner and twice stakes placed before retiring to stud. Her dam Lunaspur was a stakes winning two and three-year-old.
"She's a lovely filly by Scissor Kick," Arrowfield's Paul Messara said. "She's well related and is from a great family – the family of Gunnison and Colorado Claire."
Messara pointed out that Arrowfield Stud sold a Snitzel filly from Colorado Claire for A$425,000 (to Annabel Neasham and Brian McGuire) earlier in the Gold Coast Yearling Sale.
"She's a fantastic type and those good sorts are well found," Messara added.
The top selling colt on the day was the Vinery Stud offered All Too Hard-Poppet's Treasure youngster who was purchased by local trainer Kacy Fogden for A$200,000.
Across the four hours of selling today almost A$5 million changed hands on 83 lots sold at an average price of almost A$60,000 and an impressive clearance rate of 81 per cent.
"Book Two has a wonderful record of producing Group One horses at good value prices," Magic Millions Managing Director Barry Bowditch said.
"I'm certain this will be the case again this year and there's plenty more quality lots to go through tomorrow."
"The opportunities will continue through Book Three and then the Summer Racehorse Sale with a great draft from Godolphin."
To see the results of the Gold Coast Yearling Sale to date or to make an offer on a passed in lot click here
The 2021 Magic Millions Gold Coast Yearling Sale concludes with the remainder of Book Two to be followed by Book Three and the Summer Racehorse Sale which features a quality draft from Godolphin.
To view the catalogue for the Summer Racehorse Sale click here
(New format in 2021)
Lots Catalogued: 111
Lots Sold: 83
Lots Passed In: 20
Lots Withdrawn: 8
Sale Gross: A$4,942,500
Top Price: A$300,000
Average Price: A$59,548
Median Price: A$45,000
Sold %: 81
A$300,000 – Scissor Kick-Moonlight Hussey filly (Lot 1010)
Vendor: Arrowfield Stud (As Agent) / Buyer: All Winners Thoroughbreds (Qld)
A$200,000 – All Too Hard-Poppet's Treasure colt (Lot 1043)
Vinery Stud (As Agent) / Kacy Fogden Racing (Qld)
A$170,000 – All Too Hard-Nikkirina colt (Lot 1018)
Cressfield (As Agent) / DGR T'bred Services Pty Ltd/Chris Anderson Racing (Qld)
A$160,000 – Spill the Beans-Love of Liberty colt (Lot 987)
KBL Thoroughbreds (As Agent) / Suman Hedge B'stock/Gerald Ryan Racing (NSW)
A$150,000 – Deep Field-Petit Cheval colt (Lot 1041)
Fernrigg Farm (As Agent) / Riversley Park Ltd (NZ)
‹ Previous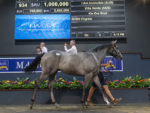 Records Tumble At Gold Coast