Former SA Champion jockey S'manga 'Bling' Khumalo escaped serious injury in a pull-up area fall at the Vaal on Thursday and is expected to be back in the saddle on Tuesday.
Bling came off opening race winner Harry's Best shortly after the post and lay motionless as paramedics rushed to his aid.
But precautionary scans and x-rays revealed that nothing was broken.
"Bruising and a bit of stiffness is thankfully all he is getting over," Bling's agent told the Sporting Post.
"He won't be riding at Turffontein tomorrow in view of the 48 hour rule but all going to plan, he is back at the Vaal on Tuesday."
‹ Previous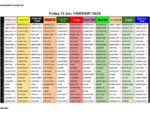 Fairview Today- All The Selections