Twelve locals stood their ground at final acceptance on Monday morning for the R750 000 Jonsson Workwear Gr1 Cape Derby to be run at Kenilworth on Saturday. 
Unbeaten rising star Kommetdieding jumps from the rails draw as he bids to establish himself as one of the top 3yo's after four starts which culminated in a cracking last win in the Gr3 Politician Stakes.
The Crawford-Rix trained son of Elusive Fort will be ridden again by Sihle Cele and the pair bump Dean Kannemeyer's WSB Cape Guineas winner Russian Rock, who jumps at the gate alongside the popular galloper.
Russian Rock overcame traffic issues to cause an upset in the Guineas and he will be tested as he steps up to the 2000m on Saturday. Trainer Dean Kannemeyer told the Sporting Post that he had galloped his charge over 1800m at Kenilworth on Saturday 13 February and he had produced 'good work' with an unnamed companion.

R750 000 2000m 16:30 Ref-382
1st R450000, 2nd R187500, 3rd R75000, 4th R37500
JONSSON WORKWEAR CAPE DERBY (Grade 1)
For 3-year-oldsNo Apprentice Allowance
1
1
Kommetdieding
60
117
A
Sihle Cele
HWJ Crawford/M Rix
2
2
Russian Rock
60
114
A
Grant Behr
Dean Kannemeyer
3
12
Linebacker
60
112
A
Grant van Niekerk
Vaughan Marshall
4
4
Rascallion
60
110
A
Anton Marcus
Vaughan Marshall
5
5
The Gatekeeper
60
109
A
Richard Fourie
Justin Snaith
6
3
Hoedspruit
60
108
A
Gavin Lerena
Justin Snaith
7
8
Crimson King
60
103
A
Luyolo Mxothwa
Glen Kotzen
8
9
Legitimate
60
101
CAM
Keagan de Melo
Dean Kannemeyer
9
10
Dubai Lights
60
93
A
Luke Ferraris
Vaughan Marshall
10
6
FireAlley
60
92
A
Aldo Domeyer
Candice Bass-Robinson
11
11
Juan Carlos
60
90
A
Greg Cheyne
Adam Marcus
12
7
Fort Red
60
79
Ca
Anthony Andrews
Mike Stewart
Same Trainer – Not Coupled on Tote
(2,8) (3,4,9) (5,6)
‹ Previous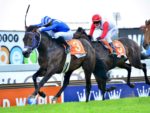 Classic Day 2021 – The Entries