The stipendiary stewards who were officiating at Hollywoodbets Greyville on Sunday  had their hands full and we could be looking to import jockeys for the next few meetings.
So muses Andrew Harrison who writes on www.goldcircle.co.za that like cockroaches scattering in the kitchen when the lights are turned on, they were all over the course – whether it be bowling horses out of the gate or losing their compass in the straight.
The stipes would have had a hard time sorting through the culprits in the third.
Lowan Denysschen looked to have had a change of fortune when the meeting was switched to the poly track with Crusade's Star out-gunning the opposition in the second.
Two races later he was cursing his luck as High Green ended up the meat in the sandwich just as he was moving through to make his run.
Replacement rider Muzi Yeni was not entirely blameless as he allowed his mount to shift out slightly, but he got hammered from both sides and would certainly have finished a lot closer than he did as he was shunted out of the race.
Ed – the Stipes have opened an inquiry as to why High Green had to ease at the 250m
Anton Marcus was on the receiving end as Prince Karesh got 'done' out of the pens in the sixth and his mount never raising a gallop – not that he would have had any chance with winner Valiente who barrelled out of the gate and was not for the catching.
These were just a few instances that caught the eye.
Tell us what you think by using the comments facility
‹ Previous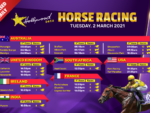 The Tuesday Racing Roster