Hollywoodbets present form fundi Dominic Zaki who previews today's Kenilworth racemeeting via his daily podcast.
Betting moves, best bets and the Zak Exotic, are amongst the features that are covered as Dom looks at today's racecard at Kenilworth.
It's convenient, handy and won't keep you occupied for longer than 7 minutes at best – so please enjoy!
Here is his exotic so long, in case you are unable to jot it down during the podcast:
Kenilworth Jackpot
1
Field (7)
2, 3, 4, 5, 6, 7, 8, 11
2, 3, 4, 5, 6, 7, 8
Cost R392
Dom will be hosting this daily podcast at 08h30 for local racemeetings every day.
Please click on the banner below to listen to the podcast:

‹ Previous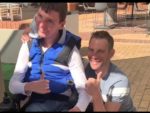 Top Jock Gets Behind Good Cause