Even at the young age of 16, horseracing fan Ayden Dirksen has been following former SA Champion Jockey Gavin Lerena's career for as long as his Mom, Lee Ann Dirksen can remember.
When Lee Ann began the journey of raising funds for her son's new wheelchair, her cousin quickly jumped at the opportunity to help – showing John Bester at Turffontein racecourse the picture of Gavin and Ayden, taken a few months prior.
John contacted the Wilgerbosdrift & Mauritzfontein-sponsored Gavin and explained the situation. This was to lead to Gavin doing something life-changing for young Ayden.
Ayden suffers from cerebral palsy – a congenital disorder of movement, muscle tone and posture.
When  Gavin heard of his young fan in need he went all out. He contacted sponsors, trainers, created a Facebook post – all to raise awareness of Ayden's need for a new wheelchair.
Lee Ann got a call from Gavin explaining that he had contacted a lot of different sponsors and in three days he had raised all the money necessary for Ayden's wheelchair.
"Gavin is an angel sent from heaven, he has a great heart and he has blessed us beyond words. Ayden loves Gavin and whenever he goes to the races he will shout his heart out when Gavin rides. He truly is Gavin's biggest fan," Lee Ann tells the Sporting Post.
"We are so thankful for all the help Gavin gave and to all the sponsors who helped make this a reality. We appreciate the help and support they have given!" says Lee Ann with sincerity in her voice.
It was an emotional moment for Ayden when he received his new wheelchair and it is a moment he is unlikely to ever forget.
‹ Previous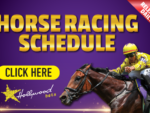 All The Racing Today