Comparisons are inevitable when it comes to the dispensing of justice and penalties by the National Horseracing Authority to errant jockeys. Dangerous riding. Crop abuse. Plain strange rides. We have seen them all.
Cape-based jockey Robert Khathi probably found himself in the third of the broad categories mentioned in our introduction when he rode Fateful on return after a 138 day break following a fractured pelvis at Kenilworth on 3 May.
It was a ride that was to leave the father of three without an income for a month.
The Mike Robinson runner was in need of the outing and the experienced and talented jockey, well aware of the injury recovery process and it being his mount's first run back, gave the gelding something of a kid gloves ride.
Fateful was always near the rear and made up some ground in the final 300m.
Khathi simply never pulled the crop or visibly pushed and his mount, who started at 5-1, ran a 6,25 length fifth behind winner, Izapha.
He was 1,50 lengths behind the fourth horse and all of 5,75  lengths behind the third finisher, Bernie.
Watch the replay here – we apologise for the sound and pic quality
Fateful may well have found fourth place with more enthusiasm from the saddle and earned a cheque of R2 600 odd, of which the jockey's chop was around R170. He would have also qualified for the quartet.
At an Inquiry held in Cape Town on Friday last week into the running and riding of Fateful, Khathi was charged with a contravention of Rule 62.2.1.
The particulars of the charge being that as the rider he failed to take all reasonable and permissible measures between the 300m and the finish, to ensure that his horse was given a full opportunity to obtain the best possible placing.
Rule 62.2.1 says that every horse shall be run and shall be allowed to run to the best of its ability and on its merits and the rider of a horse shall take all reasonable and permissible measures throughout a race to ensure that his horse is given a full opportunity to win or to obtain the best possible placing,
Khathi was legally represented at the inquiry. He pleaded not guilty to the charge, but was found guilty as charged.
The Inquiry Board, after considering all the factors stated in mitigation and aggravation, imposed a penalty of a suspension in riding in races for a period of thirty days.
Khathi was given the Right of Appeal against the finding and the penalty imposed.
Just two months ago, a colleague of Khathi signed an Admission of Guilt for a contravention of NHRA Rule 62.2.7, for failing to ensure he didn't cause interference – and that was in a Gr1 race, which he won. He got two weeks.
On Sunday in a Gr1 race, a jockey abused the crop and got slapped with a R1000 fine. In a later race another jockey won, while exceeding the crop limit by 25%. He got nailed R1 500.
Khathi, a hardworking family man with four mouths to feed, and a first offender on this charge, rode his 15th winner of the season on Saturday.
He loses a month's income  for what was surely a race where he was guilty of misjudgement at worst. and didn't endanger life or limb of man or beast.
But he can smack the hell out of his mount on Wednesday and win the race – and then get rapped with R1500 –  if his luck is out.
The trainer of Fateful also engaged him next time. So he couldn't have been unhappy with the ride, surely?
In Hong Kong or Australia, Khathi may have gotten three months off. But in South Africa we should be a tad more consistent across the board. Nothing is in sync, it seems.
Khathi chose not to comment as the matter still has to pass consideration by the inquiry review board.
‹ Previous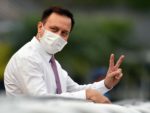 Fownes Eyes Fourth Title