South Africa lost one of its greatest, globetrotting thoroughbred champions with the passing of Jay Peg on Thursday.
The former Equus Champion passed away suddenly at the Hemel 'N Aarde Stud, where he had been standing for the last part of his stud career.
Born in the Hemel 'N Aarde valley, Jay Peg died in the valley of his birth.
The Camden Park sired champion proved a tremendous advertisement for the quality of thoroughbred bred in South Africa, with Jay Peg winning Gr1 feature races in three different countries.
Beginning his career with Basil Marcus, the High Season Stud bred Jay Peg won twice at two when he finished second in the Listed Western Cape Breeders Stakes. South Africa's Equus Champion Classic Male at three, Jay Peg won all of the Gr1 Bloodstock SA Cape Guineas, Gr1 Investec Cape Derby, and Gr2 Selangor Cup as a Sophomore.
Transferred to Herman Brown in Dubai, Jay Peg showed his mettle on the international stage, when overcoming a slipped saddle to beat a world-class field in the 2008 Gr1 Dubai Duty Free. Among those beaten by Jay Peg on that occasion were such international standouts as Darjina, Archipenko, Vodka, Finsceal Beo, Seachange, Creachadoir, Niconero, Literato, and Bullish Luck.
Jay Peg followed up that historic win when he landed the Gr1 Singapore Airlines International Cup at his very next start.
Retired to stud in South Africa, Jay Peg ended his career having won 10 of his 22 starts and earned over $6.818 million in prize money.
The A.P. Indy grandson made a mark with his very first crop headed by the graded stakes winners Flash Drive (Gr3 Cape Of Good Hope Nursery), Olympic Owen (Gr3 Protea Stakes), and Silicone Valley (Gr2 Cape Merchants).
Subsequent crops yielded further stakes winners including the likes of graded stakes winners Exit Here, Hot Affair, Peggy Jay, and Woljayrine, with Jay Peg also the sire of Castle Tankard winner Peggson and R3 million plus earner Victorious Jay.
Out of the Al Mufti mare Laptop Lady, Jay Peg was a half-brother to four black type horses headed by the graded stakes winners Barack Street and Cyber Case.
John Freeman wrote in his eNews letter today that David Hepburn Brown, the master of Hemel 'n Aarde Stud called him with the sad news that Jay Peg, our 2007 SA Champion Classic Horse and International Horse Of The Year has passed away.
Thanks for looking after the champ so well. Sympathies to all concerned. "Peg" won 10 races from 2 to 5 years including 4 Gr1 races and over R40m in stakes to become the all time leading earner bred in SA.
His wins included the Gr1 Singapore International. He also won the Gr1 Cape Guineas (always a pointer to quality), the Gr1 Cape Derby and the Gr1 Dubai Duty Free where his saddle famously slipped in the closing stages of the race, making his win epic.
I really admired his racing record and good looks and was delighted when Etienne Braun, Marsh Shitliff and Paul Loomes allowed me to syndicate their champ for stud duties.
Peg was bred at High Season Stud by Ken Truter and David who subsequently formed his current Hemel 'n Aarde Stud across the road.
David shared this with me "he is now buried in the same valley where he was born".
Jay Peg started his stud career at Klawervlei with John Koster in 2009 and some time later returned to stand with David.
He produced the winners of 200 winners of 339 races (58%) and over R43 million but he never quite cracked the big time. His best was Gr2 winner Silicone Valley.
‹ Previous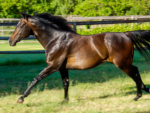 Querari – King Of All!