The Weighted To Win show's Daryn Burroughs was the big winner as the curtain came down on Saturday on the Hollywoodbets Spring Country Series Racing Stars competition, which was again run on the massively popular Hollywoodbets Punters' Challenge platform.
The initially weather interrupted series ran from 13 September, and culminated with some serious jostling for position on Saturday 14 October at Hollywoodbets Durbanville as the jockeying for supremacy between South Africa's racing presenters, personalities, commentators and journalists reached fever pitch.
Overall series winner though was Weighted To Win's 'young gun' Darryn Burroughs, who walked away with a kitty-boosting R6 250 for his consistency in finding the winners.
The 37 year old Daryn Burroughs, who tells the Sporting Post that the Computaform is his form guide of choice, is the son of the late Colin Burroughs, who trained his share of winners in the Cape in years gone by.
Daryn makes no bones of the fact that finding the winners is hard work and can mean up to eight hours of form study a day, often days in advance of the racemeeting.
"Look, it's not really hard work when you love it!" he laughs as he thanked Hollywoodbets for the fantastic gesture and generosity of offering a chance to win really nice cash prizes.
"The competitions have gone a long way to building bridges and the positive banter and ragging on the Racing Stars whatsapp group is great fun. It's been thoroughly enjoyable and at the end of the day it's a love of racing that is the ultimate golden thread that runs through all of us and gives us such joy and entertainment," he added.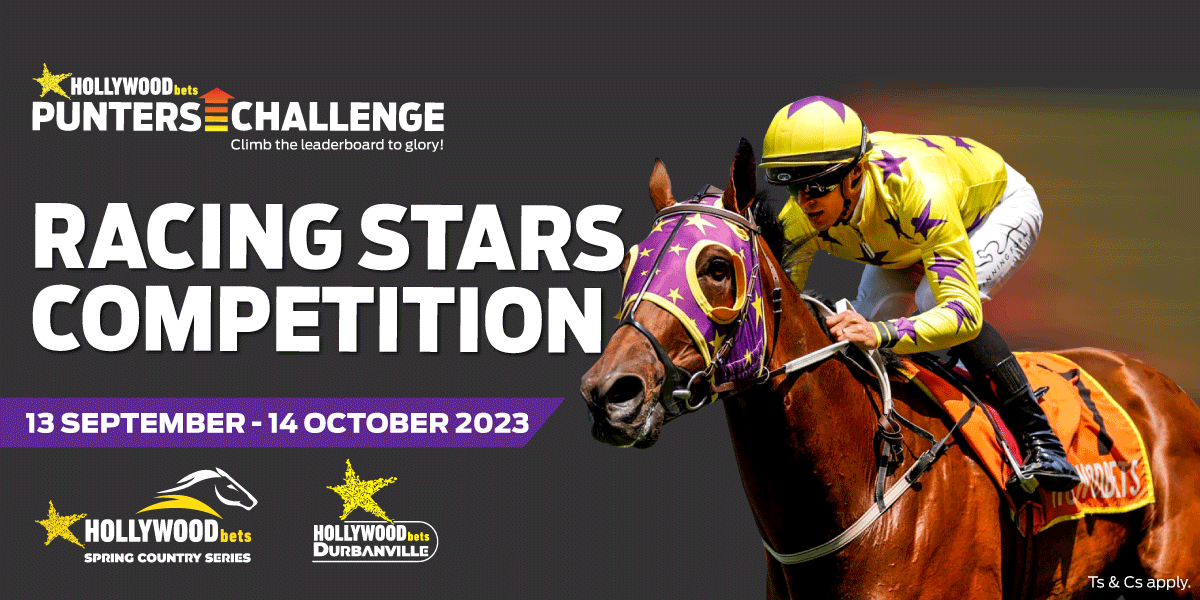 4Racing's Nadine Low Ah Kee won the R500 cash for topping the log on Satuday, while Team Betway Weighted To Win, comprising the series winner Daryn Burroughs, Clyde Basel and Darryl Maree, topped the team charts and picked up R250 each.
In the overall series team competition, Team GC Presenters, represented by Deez Dyanand, Graeme Hawkins and Paul Lafferty, proved again that there is simply no substitute for experience. The old school trio won R2500 each.
4Racing's Lyall Cooper earned R500 for the most winners in the series. It was a meritorious performance given the fact that he has not been well in recent months. We wish Lyall a speedy return to the best of health.
This week again presents plenty of opportunity to win big in the Hollywoodbets Punters' Challenge, and a reminder again to get your entry in no later than five minutes before the off of the first race at all local racemeetings, as well as Hong Kong and Singapore.
The competition is free to play, and by just spending a minimum of R50 on the programmatically generated betslip on entry, you get to double your potential winnings!
The Fairview racemeeting on Tuesday starts at 12h40. Note that it has been moved to the polytrack.