Recognise who this is?

It's great to re-live memories, so write your comment, and tell us more if you can.
The horse
Smanjemanje (or Current Style) began life on the hallowed turf of the Summerhill nursery. A son of leading KZN stallion Kahal, he was the second foal and second winner of the Model Man mare In Style, who won two races over 1800m/2000m. Mick Goss described him as "A big, gangly foal who weighed in at a hefty 59kgs. He had a bit of the Kahal plainness about him, but was a lovely, correct colt with a big walk." He matured into an eye-catching individual and graduated, as so many Summerhill superstars do, through Summerhill's Ready to Run programme.
The trainer
Tyrone Zackey has built his way up in the racing business the hard way – first as an owner, then a breeder and he finally took out his training license in 2000. He started out with just 3 horses and one client – daughter Nadine and her husband Kevin Backos, who was once a member of Victory Moon's Mad Syndicate.
The owner
The other half of the Smanjemanje story was George Barker grew up around Turffontein where he used to park cars for tips. George got into the horse business formally in 1992. On a friend's recommendation, he approached Tyrone Zackey and instructed him to select a Ready to Run candidate. Tyrone is known to have a bit of an eye for a horse and quickly whittled down his picks to three – Fisani, Havasha and Smanjemanje. But life has a funny way of working out the way it should and when the hammer came down at R210,000, the bay colt with the big walk was theirs and he would race in the joint interest of George Barker and Nadine and Kevin Backos.
Dream Start
Smanjemanje's career got off to a dream start with a 0.75 length win over Forestation in a 1400m Juvenile Maiden Plate on 2 May 2009 at Turffontein, following up with a 3 length 3rd to Galileo's Galaxy and closing out his juvenile term by finishing 4.6 lengths 4th to Exhilaration in the 2009 Gr1 Premier's Champion Stakes at Clairwood Park.
3yo Season
Smanjemanje returned to the track as a 3yo on 9 September 2009, narrowly going down to Thanks Dad in a 1600m Novice Plate at Scottsville to close out his KZN campaign. Back in Johannesburg, he showed promise in two warm up runs, before an ignominious performance in the Emperors Palace Ready To Run Cup. His form was patchy, but he showed enough promise to line up in races such as the Gr2 Dingaans, the Gr2 Gauteng Guineas, the Gr1 SA Classic and the Gr1 SA Derby – all to no avail and it became apparent that something was amiss.
Cornell Collar
Dr Rob Sinclair scoped the horse and confirmed that Smanjemanje suffered from DDSP (dorsal displacement of the soft palate or upper airway obstruction). Mr Zackey hit the internet for advice and discovered the Cornell Collar.
Norm Ducharme, a professor of surgery and medical director at Cornell University's Equine Hospital, was conducting research into DDSP back in 2002. After experimenting with surgical options, he discovered, almost by accident, that pressing an area at the back of the horse's throatlatch made it possible to manipulate the voice box up above the larynx and stop the displacement. Colleagues Brett Woodie and Richard Hackett helped him design a device (dubbed the Cornell Collar) to keep the voice box fixed in that position. With the backing of the university, Ducharme, Woodie and Hackett patented the Cornell Collar in 2004.
And so Smanjemanje got his collar. But he needed to have it approved before using it in a race. Tyrone likes to travel his horses to KZN for the winter season and it was on Smanjemanje's 4yo trip that the late Dr Robin Gatley helped them obtain clearance to use the collar and assisted in fitting it. Tyrone says it was quite a process and the collar had to be precisely fitted and positioned with the aid of a scope. Smanjemanje was then gelded as an early 5yo and rested before returning to action at Turffontein as a 5yo.
After a 5 month break, Tyrone Zackey's charge made his comeback in the Gr2 Victory Moon Stakes. Randall Simons was engaged for the ride, but sustained a last minute injury leaving Smanjemanje without a rider. As it happened, the Victory Moon Stakes was carded on the same day as the Gauteng leg of the International Jockey Challenge and some of the cream of South Africa's young riders were in Johannesburg to participate in the "young guns" challenge. Mr Zackey decided that the Cape riding style might suit his horse and put Grant van Niekerk on board. It proved an inspired choice.
Finding his stride
Smanjemanje put several Sansui Summer Cup hopefuls to the sword in no uncertain fashion when he returned from a five month lay-off to spring a 33/1 surprise in the Victory Moon Stakes on 11 November 2011.
Racing for the first time after being gelded, Smanjemanje didn't merely win this conditions event over 1800m on the Turffontein standside course, he turned it into one-way traffic when scoring by almost four lengths and connections had to put a brave face on the fact that their five-year-old is not amongst the nominations for the Summer Cup on 26 November.
After an encouraging seasonal debut on the inner course in October, Perana seemed to be on the comeback trail and he went off as the 33/10 favourite in a field reduced to 15 by the late scratching of stable companion Berry Blaze. Other runners included Soul Master, Sage Throne, The Apache and Seal.
Seal hopped out in front, but soon settled into second spot as House Of Wax set off to set a reasonable pace on perfect ground, with Ice Axe and Smanjemanje next in line. Perena and Sage Throne were waited with in the main group as The Apache raced amongst the backmarkers in his usual fashion. Ilsanpietro and Regal Ransom brought up the rear turning for home. The Apache's stable companion Seal came forward to reclaim the advantage in the straight, with Ice Axe still right in contention, but both were under pressure more than 200m out.
With Perana compounding to a virtual walk and eventually finishing tailed off last, and with Soul Master not quickening when asked for an effort, it was Smanjemanje who took advantage of the golden opportunity which presented itself. Leading around a furlong out, he stretched right away from his field to win by 3.75 lengths. Ilsanpietro and The Apache ran on very strongly from near the tail of the field to respectively finish second and third, with a neck separating them. Captain Scott had every chance before he finished another three-quarters of a length away in fourth, with Soul Master and Ice Axe respectively fifth and sixth as Perana flopped over the line 34 lengths behind the winner. Sage Throne never featured and was beaten 8.5 lengths into eighth place.
Victory Moon Stakes 2011

Smanjemanje was subsequently supplemented into the Summer Cup and Grant piloted the son of Kahal to within 3 lengths of Dancewiththedevil. Sherman Brown got Smanjemanje to within 5 lengths of The Apache in a pinnacle plate in December 2011 before Grant got back on board in the Gr3 London News Stakes in January 2012. The horse affectionately dubbed 'The Giant Killer' lived up to his reputation, downing the likes of The Apache, Pierre Jourdan, Seal and Ilsanpietro in the Turffontein feature.
Gr3 London News Stakes 2012

Dancewiththedevil was a late withdrawal from this conditions race, but there was still no shortage of class amongst the nine runners who remained and it was Pierre Jourdan with four wins from six tries on the inner course to his name already who startedt as the 13/10 favourite. Despite conceding weight all round, The Apache was the 3/1 second choice, with consistent Ilsanpietro the 11/2 third favourite. Smanjemanje was allowed to go off as a 14/1 outsider even though he met The Apache 3kgs better off for a 4.75 lengths beating over 1600m in December.
The early pace was not particularly strong and it was D J Detzky who showed the way ahead of Queen's Bay and Ilsanpietro, although the latter worked his way past Queen's Bay to race into second place well before the turn for home . Smanjemanje and Seal were further back, with Pierre Jourdan and The Apache as always held up for their runs and racing with only Belmonte and Golden Sword behind them.

Ilsanpietro was quick to try and make a break for glory early in the straight and took it up as D J Detzky faded, with Seal starting to loom up dangerously and Smanjemanje right in touch with the action as well. Pierre Jourdan was cramped for galloping room around 300m out as Queen's Bay rolled inwards just as the favourite was starting his run, while The Apache chose to come wide out and began to run on strongly. The race became wide open as Ilsanpietro was found wanting for finishing speed well inside the last 200m, but it was Smanjemanje who stayed on the strongest under visiting rider Grant van Niekerk to hold off The Apache by a head.
Smanjemanje may have had a bit more good fortune in the running than some of his key rivals, but he stuck his neck out resolutely to land the honours and was a deserving winner. He contested this race off a mark of 103, but ran some way above that rating in relation to all of the four that finished closest to him and it seems obvious enough that he is indeed still improving, as his trainer Tyrone Zackey noted afterwards.
"He's got a big heart," added the victorious trainer, who said that "I still haven't woken up from his last win in the Victory Moon." Zackey went on to remark that he had been worried about the London News Stakes being staged on the inner course, "which is not the right track" for his gelding, but it all worked out well in the end.
Next, Smanjemanje travelled down to the Cape to give apprentice Grant van Niekerk his first tilt at the J&B Met. Unfortunately things did not quite go their way and Smanjemanje finished more than 8 lengths behind Igugu.
KZN Campaign
Mr Zackey gave Smanjemanje a rest before embarking on his July campaign. A pipe-opener in the Senor Santa Handicap showed that Smanjemanje's prep was right on track, when he finished in the money in the President's Champions Challenge and the Jubilee Handicap under some big weights. Then it was on to the Vodacom Durban July.
Fairytales
In addition to the headgear, Tyrone Zackey raised eyebrows by running Smanjemanje in steel plates, rather than alumites, commenting "Makes no difference. Do you know how much a horse weighs? If a horse can run, it will!" Smanjemanje put in a herculean effort, only going down by the narrowest of margins to Pomodoro in one of the closest finishes in recent years.
The Jackson bad-draw detractors might have sat back in satisfaction after the event, but Strydom blew the bad draw theory clean out of the water by winning from the 20 draw. The fight for the crucial early position was always going to be the key to the outcome.
How the race played out
Strydom showed his guile and race-riding brain from the jump by taking things easy wide out as Jackson and company scrambled for supremacy. Teetan had the favourite fairly well settled in third spot after an early fight as Top Seller led the free-striding Vettel.
In a show of tactical strategy and experience, Strydom then slotted Pomodoro on Jackson's outside as Top Seller continued to lead. Eton Square was also handy, together with Beach Beauty and Jackson's stablemate Polar Bound a lot keener than he would normally be. Castlethorpe was held deep with Gold Onyx, Solo Traveller and Pierre Jourdan towards the rear.

The stampede and charge as they turned for home was intriguing as Strydom kept Jackson tight and forced Teetan to switch to the middle, while Chesalon loomed dangerously wide out. Smanjemanje was quickening as was Eton Square. At this point it was clear that Jackson would battle to find a place, but in a driving and determined surge to the winning post, Strydom kept Pomodoro at it and took full advantage as young Grant Van Niekerk appeared to freeze in the biggest moment of his fledgling career.
With only 5,75 lengths covering the first ten horses to finish, it was a physical and bruising match, and Smanjemanje went down by the narrowest of margins.
Zackey was characteristically philosophical. "Ag, things happen the way they should. We'll carry on."
Vodacom Durban July 2012

Later career
Smanjemanje had 7 starts as a 6yo, with his best efforts including a 6 length 5th in the 2012 Victory Moon Stakes and finishing 5.5 lengths off Wagner in the 2012 Sansui Summer Cup.
Smanjemanje continued to be campaigned as a 7 and 8yo, without ever returning to his best and had his last recorded outing at Flamingo Park in May 2015, finishing 6 lengths 5th behind Stone Pine.

‹ Previous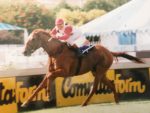 Guess Who #28