Recognise who this is?

It's great to re-live memories, so write your comment, and tell us more if you can.
It was a tricky one this week, but our mystery horse is Cilaneum. Bred by Birch Bros, Cilaneum was a chestnut filly by Herculaneum out of Cinch. She was leased to the then fledgling trainer, Terrance Millard, and carried his grey and black silks for the duration of her racing career.
Millard described her as "a typical Birch filly – sound as iron and beautiful to train. I was doing okay at the time, but to have a filly like her that could earn regularly was wonderful. She won me a lot of races, I was very lucky to have her." She proved a phenomenal filly, regularly taking on – and beating – the males in a career that spanned 4 seasons for a career total of 38 starts for 11 wins, including the inaugural running of the Cape Fillies Guineas in 1969 – the first of Millard's 9 Fillies Guineas victories.
Cilaneum made her track debut as a juvenile. With Herbie Lasker in the saddle, she faced the starter over 1000m at Kenilworth on 2 December 1967. She finished down the field on that occasion, but the outing brought her on considerably and with Bert Abercrombie in the saddle on her second outing, she beat Theo de Klerk-trained Daddy's Girl home by a short head over 1000m at Milnerton on 23 December 1967.
Cilaneum won the Listed WP Nursery at Milnerton in January, dead heated for 2nd in the Listed Nursery Trial Stakes over 1000m at Milnerton in February 1968 and then took on the colts in the 1968 Gr2 Cape Nursery, finishing 4th behind Goldwater. She joined Millard's KZN raiding string, beating a field of males in her first outing at Greyville – the African Breeders' Plate over 1200m on 1 June 1968 with David Payne in the irons. Johnny McCreedy partnered her to a desperately close 3rd placed finish in the 29 June Gr1 Breeders' Champion Fillies' Stakes at Scottsville, where a neck, short head and a neck separated the first three past the post. Cilaneum also took her chances in Greyville's Champion Nursery Stakes and the Natal Free Handicap to close out her juvenile season.
3yo
Cilaneum kickstarted her 3yo term with a win in the 14 December B Division Koeberg Handicap over 1000m at Milnerton, doing just enough under Herbie Lasker to win by a neck.
She was half a length second to Jackie Bell-trained New Edition in the 28 December Gr3 Sceptre Stakes and then lined up for the inaugural running of the Benson & Hedges Cape Fillies Guineas.
The March 1969 SA Racehorse ran the following report: "Great progress has been made in the Cape by the shift of sponsorship by the United Tobacco Company from a handicap to a new classic, the richest one confined to fillies in the country. Despite the attractive stake, no visiting fillies arrived and it was left to the cream of the Cape crop to decide whose would be the first name on the Roll of Honour.
Cilaneum was sent out favourite to reverse the Sceptre Stakes decision over New Edition, with Eastern Dish the next most favoured. Sarotti set out to make the pace from Amphora, Francaise, Madeira, New Edition, Act of Grace, Eastern Dish and By Night, with Cilaneum tracking her field. This order was more or less maintained and, two out, Sarotti was being sent for home just clear of a closely packed field with New Edition, Amphora and Francaise in line, closely followed by Eastern Dish, with Cilaneum improving alongside Act of Grace. New Edition then drew clear, with Cilaneum putting in a strong finish to head the Prince Tor filly near the line and win by half a length. Eastern Dish was some four lengths off third and Sarotti fourth. Then came Francaise fifth, Act of Grace sixth, and By Night seventh. Parasol and Madeira were trailed off."
Millard commented, "It was exciting to win the first running of the race and even nicer that I had her on lease. She had a very short burst and then she'd stop, so she had to be held up and only asked at the very last minute. She was perfect for Bert to ride and he got it exactly right and they won the first Fillies Guineas. Two weeks later was the Paddock Stakes which was going to be very difficult for her as she was more of a sprint/miler. Because of the weights I got Duncan Alexander to ride – he was a lightweight that rode the same as Bert. He rode a wonderful race and put her head on the post at precisely the right time."
Cilaneum faced a strong line-up including Sky Line, Court Day and Anchorage for the 1969 Cape Derby, somewhat understandably finishing down the field. However she bounced back for places in a B Division Handicap over 1200m at Kenilworth and a desperately close 4th in the Breeders Trial Stakes in April before joining Millard in Durban for the winter. She had another triumphant KZN season, winning the 1969 Gr1 Garden Province Stakes and finishing second in the Gr2 Natalia Stakes.
4yo career
Cilaneum had a busy 4yo season, which included 17 starts for 3 wins including the Listed Hector Shaw Cup at Milnerton and 7 places, including a third in the 1969 Gr1 Paddock Stakes, a 5th place behind S'Now Fun in the 1969 Gr1 Metropolitan, 2nd in theGr3 Somerset Plate.
Cilaneum only had 2 starts as a 5yo, finishing 3rd in the Rietvlei Handicap at Milnerton over 1200m on 1 August 1970 and then finishing her career in the 5 September 1970 Flying Handicap at Turffontein on 5 September 1970, beating a field of males to win by 2.5 lengths.
At stud
Cilaneum produced 5 foals, of which 5 were runners and three were winners. The best was her 1971 Hospitality colt named Ocean Blue who won 12 races, including the Gr3 Keith Hepburn Stakes.

‹ Previous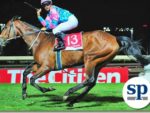 Guess Who #29