6 – 12 December
Red Red Wine
To own a decent horse in Gauteng must be a pleasure indeed. There are so many nicely endowed races slotted into the calendar, and some of them are so poorly supported, that to cash-strapped owners elsewhere it must look like Father Christmas working overtime to give away all his goodies. And prize money levels are going up again in 1996!
The 7 December Viljoensdrif Handicap at the Vaal for example over 2200m offered a very nice R40,000 to the winner (not much less than some Graded events in other Provinces). While the market suggested a match between Gold Panner and Faradeh, Vino Rosa simply murdered them both.
Having her first start since joining the stable of David Ferraris, the five-year-old Foveros mare wasn't going to be beaten from the moment she strolled past early pacemaker Lord Orizaba around 400m from home. She ran right away from the opposition in the last furlong to beat Faradeh by 6.5 lengths, while conceding him 2kgs. Not bad for a mere (??) female, considering that Faradeh accounted for none other than The Monk when successful in the 1994 Computaform Derby at Newmarket!
Doing The Jitterbug
The Gr2 Cape Fillies Guineas Futurity run at Kenilworth on 9 December looked to be a long awaited showdown between League Title and Dance Every Dance to prove which is the better filly. Both have had excuses before and this time, everything went right for Dance Every Dance, while League Title just went nowhere in the straight after racing further off the early gallop than is usually the case.
Dance Every Dance has always looked a potential classic filly from the moment she blew her rivals away in Clairwood Park's Computaform Debutante Stakes last May. One thing's for sure, Mike Airey's filly likes a racetrack with a nice long run-in and, unlike the Fillies Guineas' usual home around the near bend at Milnerton, the new course at Kenilworth presented her with just that opportunity. The daughter of Northern Guest needed every yard of that straight, for she was virtually last turning for home, and it was only in the last stride that she snatched victory from outsider She's A Treat.
Plastic Lady had set a brisk early pace, with She's A Treat coming across from a poor draw to race second ahead of Royal Prophecy and Final Claim. She's A Treat took over from a tiring Plastic Lady halfway down the straight, with Royal Prophecy in hot pursuit along the far rail and Dance Every Dance starting to fly up the centre. Royal Prophecy had to switch around She's A Treat in the last 100m, a move which might just have cost Tony Millard's challenger the race, but Dance Every Dance had a clear track ahead of her and she snatched first prize in barely the nick of time. The unfortunate Royal Prophecy was a head back in third, and more than confirmed the promise that she had shown against lesser rivals in Gauteng.
13 – 19 December
Juvenile Winners
Mrs O had her first homebred 2yo winner of the season when Langoustine scored an impressive win at Newmarket on 14 December. It was the first runner (and winner) for the Oppenheimer's new Gauteng trainer Mike de Kock.
Coastal Command
Final Coast has always looked one of Tony Millard's brightest prospects and the four-year-old put up a pleasing performance to win the Premier's Handicap over 1800m at the Vaal on 16 December and stamp his entry for the 1996 J&B Met.
Mr Big Shot!
The gelding of imported horses is a practice that some industry members would dearly like to see outlawed, but the unkindest cut has made a different horse of Ganser Macher, who confirmed his arrival into the big time with an emphatic victory in the Gr2 Premier's Challenge Cup over 1600m at Kenilworth on 16 December. A strong field lined up for this three-year-olds event and the half brother to Take A Walk was a largely ignored 10/1 chance against a line-up which included Northern Fair, Planetary Music, High Raiser and Weather Bird.
However, horses don't read betting boards and Ganser Macher pulled his way to the front leaving the back straight, and there he remained, to win by 2.75 lengths. David Payne's gelding has to be a Guineas prospect to reckon with after this performance.
Lights, Camera, Action!
Elliodor would win this winter's vote as the most influential stallion alive in South Africa today, and the son of Lyphard was credited with another good winner when Studio Star walked off with the Province of KwaZulu-Natal Stakes at Scottsville on 16 December.
This event for fillies and mares brought back together Winning Purple and Emerald Scarab, who had finished one-two in the race twelve months earlier, but they were well and truly left reeling by their younger rival this time. Mega-consistent Emerald Scarab elected to try and make all the running, no mean feat over the Scottsville 1200m in slightly soft going. Studio Star was content to race a few lengths off the leaders, but she responded immediately once apprentice Deryl Daniels gave her the signal. She hit the front racing into the last 200m and stretched clear to win by 4.25 lengths.
20 – 26 December
Marcus Still Ahead
Basil Marcus retains his lead on the Hong Kong jockey log and may be on his way to yet another jockey title there. Basil has 24 wins from 143 rides, a 17% winning percentage, Tony Cruz is second with 21 wins from 125 rides (17%). Remarkably, Piere Strydom finds himself in third place, even though he left a few weeks ago. Piere has 18 wins from 139 rides (13%). Felix Coetzee, with 5 wins, is in 12th place.
C'est l'Amour
Anybody with the odd Amour de Fleuve yearling to sell in 1996 will have celebrated the festive season with more gusto than most as he posted two Graded race scorers to his credit between Christmas and New Year. Such is the dazzling rapidity with which the fortunes of racing can change.
Lady Celeste became her sire's first 'black type' winner when she short-headed Lake Gate out of victory in the Gr2 Varsfontein Sceptre Stakes over 1200m at Kenilworth on Boxing Day. Ninety-six hours later, St Lazare ensured that his sire ended the year on a high.
Harmony Forever started the 4/10 favourite for the 30 December Gr3 Premier-wire Homberg Stakes over 1400m at Kenilworth and indeed, looked to be coasting when he turned for home the leader. Harmony Forever was still full of running halfway down the straight, but the hoped for response was not forthcoming when his rider pressed the button and the overlooked Derek Dalton runner overhauled Harmony Forever in the last 150m to win by the best part of a length.
St Lazare has a long way to go to suggest he is a leading contender for the Guineas, although at least it can be said that he's finding his form at exactly the right time, while Harmony Forever may frankly be lucky to even secure a place in the 16 horse Guineas field. At any rate, this marked a third career win from six starts for St Lazare and took his earnings to R71 160. He was bred and is part-owned by Dudley and Dulcie van Zyl, who stand 14-year-old Amour de Fleuve at their Steadfast Stud in Klapmuts.
27 December –3 January
Counter Action The King
There has never been any doubt that the Mike Bass colt Counter Action is virtually the equal of any member of the powerful 1991 foal crop, and success in the Queens' Plate on 30 December proved the point yet again. This 1600m Weight For Age contest is one of the jewels in the South African racing crown, and it almost invariably requires a horse of real class to win it. The latest renewal was never going to be any different, with the likes of National Emblem, Bushmanland, Golden Globe and sprint king Flobayou included in a field which boasted no fewer than eight individual Gr1 winners even after the late scratching of Eli's Truth.
The race was run at no great speed early, with first Centenarian and then Golden Globe showing the way to Bushmanland and Counter Action, while National Emblem was beautifully poised just off the leaders. Bushmanland took command soon after turning for home and last season's Cape Guineas winner looked for a long way as though he would land the honours. National Emblem was in hot pursuit, but could never quite get his nose in front of James Lightheart's runner, while Flobayou went absolutely nowhere in midfield.
The picture changed inside the last 100m, however, with Counter Action flying up between horses to lead in the dying strides and Eldoriza coming home like a rocket on the outside to shade Bushmanland out of second place. National Emblem was a short head behind Bushmanland in third, and a similar distance in front of La Fabulous. Flobayou almost certainly failed to stay the trip, for he was beaten a long way from home and even some early traffic difficulties are probably not enough to explain his lacklustre performance. He'll no doubt stick to the sprints from now on.
Connections of horses entered for the J&B Met will rest a little easier knowing that they won't have to contend with the Queen's Plate winner come January 27th. It is almost an unwritten rule that the horse who captures the Queen's Plate has a go at the big Cape summer double, but Counter Action won't be trying to following the hoofprints of Empress Club or Mark Anthony. This year's Met falls within the Muslim holy month and Counter Action's owner Ismail Patel does not allow his horse to race during that time. Ironically, it was for the very same reason that Counter Action (unsuccessfully) contested the Met as a three-year-old last season, instead of the more appropriate Cape Derby, one week later.
New Kid on the Block
Queen's Plate day saw young Cape trainer Joe Ramsden scored his first career win (be it a very narrow one) with Salamis, a R40,000 National Sale purchase in a maiden juvenile plate over 1000m. The chestnut filly, a full sister by Foveros to Pelagos, and a half sister to Henrietta Fair, was steered to victory by Glen Hatt.
What A Breeze
Al Mufti confirmed his reputation as one of the best young sires around when Bertie Hayden's charge Beat The Breeze won the 1600m Flamboyant Stakes at Greyville on New Year's Day with Muis Roberts in the irons. The result did nothing to change the view that the Ascot Stud resident is a much better sire of fillies than he is of colts, for Beat The Breeze is his fourth individual Stakes winner and all four have been of the female persuasion.
Stallion News
Freshman sire Sportsworld made the best possible start to his career at stud when his first runner Roving Ambassador was a 2.75 length debut winner at Milnerton on 3 January. The eight-year-old stallion, who stands at Daytona Stud for a fee of R6000, has 28 juveniles to represent him in his first crop.
First For New Sire
Much travelled sire Badger Land had his first South African winner when Yankee Lass made a successful debut over 1000m at Arlington on 29 December. Alan Greeff's filly is from the first crop of Badger Land, who has been commuting between Graham Beck's Maine Chance Farms locally and the same owner's Gainesway Farm in Kentucky since 1992, thus doing stallion duty in both the northern breeding season and the southern. This may seem unusual, but the movement of stallions between Australia and the Northern hemisphere has become quite common in the last few years.
The talented son of Codex was a talented racehorse, winning five races up to 1800m between the age of two and three, including the Gr1 Flamingo Stakes as well as a Gr2 and a Gr3 event. Retired to stud in the USA in 1988, the 13-year-old stallion's progeny have included dual Gr2 winner Diamond Duo and a pair of Gr3 scorers. His South African service fee was pegged at R12,000 and he has no fewer than 56 two-year-olds to represent him in his first local crop.
Tattle-Tale
Bush Telegraph's premature demise at the age of nine back in 1993 is proving to be a greater loss with almost every passing week. The stallion was credited with his fourth individual Feature race winner in little more than a month when Lord Tattler stormed home to capture the Gr3 Peninsula Handicap over 1800m at Milnerton on 3 January. Lord Tattler represents the second of Bush Telegraph's five crops, and his win follows on the recent big race victories of London News, Cape Hunt and Western Telex.
New Stallion For Ascot Stud
Rose and Ashley Parker of Ascot Stud in PE have acquired a new stallion to stand alongside Al Mufti. Newcomer Kilconnel, imported from Ireland, is a son of Mr Prospector and a half brother to three Gr1 winners.
The grey stallion is out of the mare Balidaress, who has an outstanding stud record. Balideress is the dam of 8 winners, including Irish and English 2yo champion Park Appeal (by Ahonoora), Irish 3yo champion filly Alydaress (by Alydar), and of Gr1 placed Desirable (by Lord Gayle) who is the dam of champion 2yo UK filly Shadayid. Desirable had been sold for one million Guineas at the end of her 3yo career in 1984.
Kilconnel is a winner of 4 races at 3 and 4 in Ireland, and will stand his first season at Ascot Stud in 1996.
Stallion Rami Dead
Sheikh Hamdan al Maktoum's most accomplished racing son of Riverman in the Southern Hemisphere Rami was humanely destroyed at Summerhill last week. On the last day of the 1995 breeding season the stallion lost his footing and fell when dismounting a mare. In the fall he broke his tibia.
Rami's death is a tragic loss to the breeding industry, as the one-time winter favourite for the English 2000 Guineas proved a popular inmate of the Summerhill stallion barn.
Rami's first crop will be represented at the yearling sales in 1996, starting with the Cape Sale early in February.
‹ Previous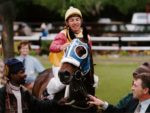 Sands of Time – November 1995