4 – 10 January
No more secrets
Soho Secret, dam of Guineas favourite London News, died after giving birth to a colt foal by Goldmark. Soho Secret was 23 years old.
David Shades 'Em!
There was a time when some people's idea of a good tip for the summer was: never, ever, back a Jo'burg horse in Cape Town. It's a long trip, the altitude difference kills them, and so on. Like so much of racing's urban legends, that one is just so much hokum. Just ask David Ferraris. He sent his regular trio of top line stayers all the way to Kenilworth for the inaugural IGN Gold Plate. The Monk proved a damp squib, but Travel North and Pinehurst proceeded to teach the locals a thing or two. They did everything but share first prize, with Travel North emerging a short head winner courtesy of the camera.
Improving Cape stayer Star Attack was sent out favourite, and he did best of the non-Ferraris runners in finishing a close third, but Travel North and jockey Willie Figueroa really stole the show. The Peruvian rider had Travel North stone last of the 16 runners as first Francini and then Hill Station set a respectable pace, with Rhode Island, Midnight Cowboy and Conman next in line. Hill Station did most of the donkey work, taking it up at the 2400m pole and still showing them the way into the straight. Faradeh and Space Walk had passed horses on the turn to be within striking distance, but their efforts soon petered out. Hill Station was left soldiering on half-way down the stretch, but the Ferraris boys were closing fast, with Star Attack hot on their heels. This trio swept past Hill Station in the last furlong, with Travel North bursting out of the pack to take a narrow lead and just hold off the determined charge of Pinehurst. It was less than a length further back to Star Attack, with Hill Station hanging on gamely to take fourth prize back to Gauteng.
Thus Travel North will find himself attempting to be the first to collect the million rand bonus that goes with winning this race, the IGN Gold Cup at Greyville, and the IGN Gold Bowl at Turffontein, in the same year. In fact, it will probably be a freezing cold day in hell before any horse manages to complete the Shades of Gold series. All three races are handicaps, and the penalty incurred for winning any one of them makes further success down the line extremely difficult – once, let alone twice.
Still, Travel North is well established as one of the best stayers in training. He did after all win last season's SA Derby, and more recently captured the Caradoc Gold Cup over 3200m at Turffontein and the IGN Gold Plate marked his seventh career win from 19 starts. Travel North was bred at Rondebosch Farms in the Natal Midlands; the stud is certainly having an excellent Cape season as it bred also Fillies Guineas winner, Dance Every Dance.
Night Racing Is Here!
South Africa's first ever day/night meeting will be held at Greyville on Wednesday, 14 February. Racing will start at about four in the afternoon, to finish at about nine o'clock. On-track facilities will stay open until eleven. Extra security is provided for the in-field parking area, and the streets surrounding the Greyville track. The lighting at the track comes from 586 floodlights, mounted on masts and on the roof of the grandstand. The lux level (light intensity) will be 800 at the 1600m mark, building up to 1500 lux at the finish. All midweek meetings programmed for Greyville will become day/night meetings.
Come rain or shine, you can depend on Shirley
The 1996 Cape racing program has taken an apparent dim view of the importance of the Paddock Stakes, by moving the race back by a month. That makes it impossible for 3yo fillies to contest both the Argus Guineas and the Paddock Stakes. At the same time, fillies or mares entered to run in the J&B Met are now no longer capable of running in the Arc-en-Ciel Paddock Stakes. In other words, the Paddock Stakes is in danger of losing exactly what it was most famous for: runners of the highest class.
If the race club had wanted to drive away one of the only two stud-sponsors in the whole country on purpose, it couldn't have done a better job. As Shirley Pfeiffer and her Arc-En-Ciel Stud are in her seventh year of sponsorship, perhaps it's just a case of the seven year itch?
11 – 17 January
No Riot, No Rain – Ashtontown right as rain!
Stewards of the WP Racing Club came a step closer to immortality when the Kenilworth timing equipment fell short of the expected in a big race for the second time in four weeks. First the Fillies Guineas, where the timer started only when the horses had covered a good few lengths, now the Argus Guineas, where the timer refused to jump at all, but at the end of the day, it was all about Ashtontown.
The big chestnut was, to many, the Cape's outstanding juvenile of last season, when his four wins from as many starts included the Cape Nursery and the Saldanha Stakes. The son of Bush Telegraph remains unbeaten in Cape Town, for the Guineas marked his first start in that part of the world since he and trainer David Ferraris packed their bags and headed north. The betting showed London News as the shortest priced Guineas favourite in decades, the big colt eventually going postward at the ludicrous odds of 6/10.
Ashtontown was able to employ his proven speed in what essentially became a sprint up the straight, catching London News and the rest of them flatfooted. It was Ganser Macher who made the early pace, ambling along ahead of Planetary Music and Swift Target, with London News about three or four lengths back after being forced to ease soon after the start. Ashtontown bided his time in midfield, and was still unsighted as Planetary Music set sail for home at the 400m. London News quickly went out in pursuit, but was clearly struggling to move up through his gearbox so quickly. League Title began to throw down a sustained challenge, but nothing could live with Ashtontown once Ferraris' colt was in full cry. Under the urgings of Weichong Mawing, he simply sprinted past his rivals to overhaul Planetary Music in the final stages, the latter having looked capable of winning less than a furlong out. London News ran on in second ahead of League Title and Planetary Music, with nothing else posing any sort of a threat once the chips were down. Thus first and second place fell to sons of Bush Telegraph, whose death at the age of nine in 1993 is proving to be a telling blow. Whether Ashtontown stays more than 1600m, or even if he really gets a hard run mile, is open to dispute. The Dingaans presented him with a much more searching test, and he appeared to be found wanting.
Clearly, the Guineas was run to suit a high class sprint/miler, which Ashtontown undeniably is. Bred by his owner, Jack Winshaw, Ashtontown has won six of nine career starts for earnings of R408, 895. London News, all things considered, ran well to finish where he did. He gives the impression that he will stay considerably further than 1600m, and will be the horse to beat if he remains in Cape Town for the 2000m Derby on February 3rd. For our money London News is still the best three-year-old male in training, but not one as dominant as the Dingaans made him look. The Guineas simply wasn't run to suit him, and he was far from disgraced in finishing second.
Musical Chairs
John Freeman is voted Chairman of the Jockey Club.
Beanfeast
The Maktoum family, Rulers of Dubai, have reinforced their commitment to the South African racing and breeding industry with the importation of yet another highclass racehorse for stud duties in South Africa. The grey stallion Fard, winner of the Gr1 Middle Park Stakes over 6 furlongs and Timeform rated 118 at 2, will join the Summerhill stallion roster for the 1996 season.
New Venue For Cape Sale
After the closure of Goodwood Showground, a new venue for the Cape Summer Yearling Sales has been found: Boland Bank Park in Paarl. Simply follow the N1 from Cape Town to Paarl, take the Drakenstein off-ramp (last before tollgate) and turn left. Take first stop street left, into Langenhoven Street. After about 800m you'll find the entrance to Boland Bank Park, where 200 yearlings will face the auctioneer on Saturday, 4 February.
New Select Yearling Sale in April
The announcement of Odessa Stud Lionel Cohen's brand new Premier's Yearling Sale, to be held in Gauteng on the weekend of the R1,25 million Gr1 Premier's Cup handicap at Turffontein, has had people talking. When the news got out, late last year, that none of the Odessa yearlings had been entered for the TBA National Sale and that Cohen intended to go it alone, Cohen was approached by several others interested in joining him. "It was tough dealing with that," he says, "as the idea behind the new sale was to catalogue only top yearlings. I had no intention of taking on the TBA by offering an alternative to the National Sale for breeders who wanted a few here and a few there to test the water. To me it is all or nothing."
The new Premier's Yearling Sale is a joint effort between three of South Africa's leading breeders, Lionel Cohen (of Odessa Stud), Philip Kahan (The Alchemy) and John Koster (part of Koster Bros) (Wilfred Koster will continue to sell at the TBA's National Sale). "I know I'm taking a risk," admits Cohen. "But the horses I've got are really topclass. By having a sale in April they will be a stage further in their development, giving a better impression of what the final product will look like. The other advantage of the later date is that we won't clash with the TBA's National Sale. All three consignors have strong feelings about the likely prices their yearlings will fetch. "The horses are there to sell," says Lionel. "The market will determine the prices. We are essentially running a cash sale, and there will be horses for everybody. We have made a total commitment to this new sale. We intend to give our customers the best service and benefits. We'll really look after them."
The Premier's Sale will be held at NASREC (Rand Showgrounds). The sale will be conducted by Robin Bruss, with a professional team of auctioneers including Clive Gardner and one or more from Zimbabwe.
18 – 24 January
Mission Accomplished!
Flobayou became the first horse in history to complete a double hattrick of the Western Province's major sprints when he captured the Cape Flying Championship on Saturday, 20 January.
The smashing five-year-old has now captured all of the Merchants, Diadem, and Flying Championship two seasons in succession and chances are that a Martian will be in the White House before that happens again.
There were fears that Flobayou's abortive attempt at a mile in the Queen's Plate might have taken some of the edge off his speed, but bookmakers didn't place too much store in that theory and Flobayou went postward as a 6/10 favourite. Not that you can blame the bookmakers – Eric Sands' charge has proven time and again that he has no peer when racing over a straight course and the Weight For Age terms of the 1000m Cape Flying Championship made him a certainty on paper. That the race was run at Kenilworth instead of its traditional home at Milnerton wasn't expected to make a jot of difference either. After all, both the Diadem and the Merchants have their home at Kenilworth and Flobayou has been as well-nigh unbeatable at Kenilworth as over any other course that doesn't involve taking corners.
Flobayou, ridden as ever by Karl Neisius, bided his time in fourth place as Prospectors Strike set a brisk pace into the wind, with Night Duty and Bold Thatch closest to him. Prospectors Strike was hanging tough well into the last 200m, as Night Duty faded and Bold Thatch struggled to get on terms. Yet, inevitably, once Flobayou was asked to go the race was over. He simply sailed past prospectors Strike in the last 75m, going on to beat the frontrunner by over a length, with Bold Thatch third and Discover Diamonds fourth. Any ideas that Young Harvest could repeat the performance which saw him beat Flobayou in the Gilbey's Stakes last June died an early death, with Ricky Maingard's runner dropping off the pace and showing no sign of ever getting into contention. Which, considering he was 4kgs worse off with Flobayou than had been the case at Scottsville, was really all too predictable.
If Senor Santa was the best South African-bred sprinter of the last decade (and most pundits would say he was), then Sir Robert Bellinger's Flobayou must be the numero uno pretender to that crown. Let's face it, he has proven his superiority over gallant old Taban so many times that their shared ARCSA Sprinters' award last season was a triumph of sentiment over logic, and nothing else. Knowing how good a sprinter Taban is, and for how long he has been around, that perhaps is the greatest compliment that anybody can pay to Flobayou. The gelded son of Waterville Lake has established his class time and time again, and any aspirants to the sprinters' crown are going to have to do some serious running to wrest from his grasp the ARCSA Award which should already have been all his own once already.
In For A Dollar…
The Arc-En-Ciel Paddock Stakes is called the one race every breeder wants to win. If that is the case, then Dollar Fortune must be just about the perfect horse to win it with. She's always been close to the best of her sex, and she lacks nothing for pedigree. Her newly acquired status of Gr1 winner must put the four-year-old on the 'want-to-own' list of every breeder not quite ready for the big men in white jackets! Some would say that anybody who wants to breed horses should be locked up straightaway, but that's another story.
The 1800m Paddock Stakes on 20 January certainly had an open look to it. La Favourite lived up to her name and headed the market, but three-year-old Slew Per Signal had plenty of supporters and there was no lack of enthusiasm for the chances of Mike Bass charge Dollar Fortune, either. The early pace looked solid, with Gushing the first to show before dropping back into third as Dollar Fortune's stable companion Born Wonderful showed the way to Slew Per Signal. Both La Favourite and the eventual winner were content to bide their time somewhere around midfield. Those waiting tactics looked to have misfired when Slew per signal took over at the 400m. Mike Airey's filly easily opened up a lead of a couple of lengths and appeared to have poached an unassailable lead. The daughter of Slewpendous was still comfortably ahead with 150m to go, but Dollar Fortune found galloping space against the inside rail and set off in pursuit. She responded really well to the typically unflustered urgings of jockey Gavin Howes, catching her younger rival inside the final 75m and going on to win by a widening neck. La Favourite ran on nicely for third without ever looking a winner, with Joyous Dancer coming from the outside draw in a 20-strong field to grab fourth.
A Mare In A Million
That racing can be the cruellest of games is no secret to anybody's who's ever had a thing to do with it. Don't take my word for it – ask no less a personage than Harry Oppenheimer.
Those of us who have been around for a while remember the days when the Oppenheimer's Mauritzfontein Stud simply churned out top class horses, almost at will. One top race after another, including three July Handicaps between 1959 and 1975, fell to homebreds racing in the famous black-and-yellow silks. The conveyor belt that was Mauritzfontein Stud began to falter when such disappointing stallion importations as first Ribofilio and later Be Glorious failed dismally to follow in the footsteps of successful Oppenheimer stallions like Wilwyn, Janus and Free Ride.
One broodmare who could almost by herself have helped to lift Mauritzfontein back into the limelight was Golden Thatch's unraced daughter, Special Felice. Mr Oppenheimer acquired Special Felice for R120 000 at the Peter Fenix dispersal sale in 1993, when she was in foal to Main Man. Just for good measure, he also paid R80,000 for her weanling colt by Model Man. He would have got a bargain – except that Special Felice died at the age of seven, her then unborn Main Man foal destined to be her last. Just what has been lost to Mauritzfontein Stud will become obvious when you look at Special Felice's record at stud.
She produced a foal in every year from 1989 to 1993 – a total of five sons and daughters. Their names? Golden Man, Prince Of War, Bold Thatch, Model Gold, and Special Day. Golden Man (by Main Man) is a former winner of the Gr2 SA Nursery; Prince Of War (Plugged Nickle) is a winner of the Gr2 Durban Merchants and placed second in the Gr1 Queen's Plate; Bold Thatch (National Assembly) has been placed in three Graded races this season and is one of the best sprinters in training; Model Gold (Model Man) won his Kenilworth debut race in grand style on 2 December and has his next start at the same venue on J&B Met day. And the last in the line, Golden Man's juvenile full sister Special Day, led from start to finish to win at the first time of asking at Kenilworth on 20 January. At odds of 5/10 and by six lengths!
It can safely be said that the late (and much lamented) Special Felice left behind a record at stud that only a few very select broodmares can ever match. The Oppenheimers were robbed of the opportunity to mate her with their exciting young stallion prospect Fort Wood, a pedigree that had the potential on paper to produce almost anything just this side of atomic, but they are bound to have plenty of fun with the once-raced pair of Model Gold and Special Day. Both horses are clearly above average and, while Model Gold is a gelding, Special Day at least can eventually retire to Mauritzfontein and hopefully carry on where her mother left off. All of which also proved yet again what a smashing sire of broodmares Golden Thatch is proving to be. In case you forget, he's also the maternal grandsire of Argus Guineas winner, Ashtontown.
25 – 31 January
True Pleasure is Rare!
Wine fundis talk about vintage years, those seasons which bless connoisseurs with an exceptional product. Racing has its vintage years, too, and 1992 was one of them. The foal crop born that year, while not producing one standout champion, did yield a whole bunch of highly talented performers, horses that have swept almost all before them whenever they have taken on other generations. La Fabulous has always been close to the best of that legendary class of '92, and on 27 January he was rewarded for his consistency when he romped away with the J&B Met.
Not only did he win the Kenilworth showpiece, but ran out one of its easiest winners in recent memory. The race was widely considered to be wide open, until a deluge of late support for National Emblem saw the Gauteng visitor firm in to 3/1 favourite. La Fabulous, favourite at one stage of the ante-post proceedings, was allowed to go off at 7/1, despite being perhaps the best handicapped horse in the race, and certainly weighted to finish in front of National Emblem.
The early pace in the Met was not fast, but nor was it quite the crawl that some appeared to think. Carolera, much as expected, was the early leader by a couple of lengths from Bushmanland and Dupa Dice, with Rusty Pelican soon improving position between the turns. La Fabulous was nicely poised some five lengths back on the fence, with National Emblem's jockey Michael Roberts electing to wait the best part of ten lengths back. Carolera was still going easily in front as they turned for home, with Rusty Pelican now up in second ahead of Dupa Dice and Bushmanland. La Fabulous was still waiting to pounce, but he didn't hesitate for much longer. He quickly made ground along the rail, and headed Carolera just past the 400m mark. With nothing much really making any progress in the sprint home, the race was his. Carolera was game as ever, but she simply had no answer as La Fabulous opened up a quick lead and kept going all the way home to win by 2.25 lengths.
Carolera easily held on to second place, two lengths ahead of her fellow Gauteng raider Dupa Dice, with Eldoriza flying up from a mile back to finish fourth.
La Fabulous, who has been in the care of Clairwood trainer Vaughan Marshall since the last Natal season, has now won nine of his 22 career starts. The J&B Met was the first Graded Stakes win for La Fabulous. Ironically, in a sense, the very fact that he had never won a major event before contributed greatly to his success on Saturday, for it gave him the pull in the weights which enabled him to comprehensively beat horses roughly his equal in terms of merit. Everything just went right for the former Port Elizabeth campaigner. The moderate pace didn't place any undue demands on his vaguely suspect ability to stay a true run 2000m, and the gap along the rail stayed wide open, almost inviting jockey Robbie Fradd to take it. That he did, without blinking, and with the best possible outcome!
La Fabulous was bred by his owners Peter and Val Fenix, who must be delighted and relieved that the Met winner's dam was one of a handful of mares they retained when they dispersed the bulk of their breeding stock a few years ago. La Fabulous is by the Danzig stallion Lustra out of the USA-bred Accipiter mare Amanzimtoti, who was acquired for R30,000 by the Fenixes at the Scott Bros Dispersal Sale in 1990.
A Steal for Conman
Natal trainers certainly made merry at Kenilworth on Saturday. Vaughan Marshall captured the big prize with La Fabulous and Herman Brown turned a frustrating Cape season around when Conman captured the R75 000 J&B Reserve Stayers Handicap over 2800m.
Conman was easy to back at 8/1, which was a shade surprising as he had finished right with market leaders Hill Station and Gee C in the IGN Gold Plate at the same venue three weeks earlier. It was Hill Station who showed the way early, but he was soon joined and then passed first by Phantom Dealer and then by Bookin Case, who had been chased through the field after a slow start. Hill Station, surprisingly, was already beginning to feel the pinch as Bookin Case and Phantom Dealer led through the 1000m, and turning for home it was clear that the 5/2 favourite would play no part in the finish. Market rival Gee C, meantime trailed the field at least 20 lengths off the pace.
The frontrunners soon faded once in the straight, and Stuart Randolph and Conman were quick to stake their claim. He shot clear racing into the last 300m, and there he remained. Fellow Natal visitor Coastal Rula briefly threatened to make a race of it when he loomed up along the far rail, but he could make no real impression on Conman. Herman Brown's seven-year-old doesn't lack for stamina, that we know full well, and he just kept on rolling to beat Coastal Rula by 2.5 lengths. Francini stayed on to finish third, with his stable companion Gee C arriving on the scene much too late and having to settle for fourth place. Hill Station showed nothing like his IGN Gold Plate form and trailed in twelfth of the 17 starters.
Conman, who was posting his first success since he captured the Woolavington Handicap at Milnerton in October 1994, made it a good day for owner/breeders who support Natal stallions. Owner/bred La Fabulous was sired by Summerhill Stud resident Lustra, and Conman was bred by owners B.J. and K.B. Jenman and is by veteran Scott Bros stallion Concertino. He is out of the UK-bred High Top mare Topvari, dam also of current top division performer Hierarchy. The J&B Reserve Stayers Handicap marked Conman's eighth lifetime success from 56 starts.
Thunder 'n Lightning
The tail end of the Cape season has been kind to horses with their roots in the Eastern Cape. La Fabulous' splendid J&B Met triumph was plainly the highlight, but his erstwhile stablemate Qualify wasn't to be completely outdone and recorded his first Stakes victory when winning the Natfed Millionaires Stakes over 1100m at Milnerton on Wednesday, 31 January.
Shoe Express was a red-hot favourite to win this handicap despite not having raced since he finished fourth in the Gilbey's Stakes last June. Vaughan Marshall's gelding was a winner everywhere but the post, and might have held on had he not shifted out sharply coming off the false rail. Prominent from the start, Shoe Express took over from leader Up To Tricks racing inside the last 400m and went clear under what looked to be an easy ride, but there wasn't much left in the tank when Shoe Express came under pressure close home. Mark Khan had kept Qualify in touch with the leaders throughout and they ran on just too strongly and snatched a short head verdict from the favourite.
Shoe Express clearly ran nowhere near his best. The proximity of Flames in fourth place, beaten some two lengths, must prove that beyond much doubt.
Flames, at the age of seven, still does most of his racing in the C Division and can boast a career record of three wins from 63 starts. Still, Qualify has always looked a talented sprinter, and he did finish 2.5 lengths second behind Ashtontown in the Cape Nursery last May. The Alan Greeff-trained three-year-old is the first South African Stakes winner sired by the Storm Bird stallion Thunder Cat, whose first local crop Qualify represents. The NATFED Marked his fifth career win from twice that number of starts, and took his earnings to R116 925. The seventh foal and fifth winner of the Brer Rabbit mare Dolphin (who scored twice up to a mile), Qualify was also responsible for trainer Alan Greeff's biggest career success since he took over from his father Stanley earlier in the current season.
‹ Previous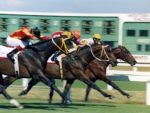 Sands of Time – December 1995