Racing Record 1991
EMPRESS CLUB 2 b.f. Farnesio – Elysee (El Gran Capitan); won 4 [this season: 1000; 1200; 1400; 1200;] 6 Sep
The big question is: can Empress Club succeed where her sister Ecurie failed? Seasoned racegoers will remember the summer of '86 when the rather fancied Argentinian filly Ecurie ran second in the Cape Guineas to Sea Warrior, who was given such a tactically masterful ride by Michael Roberts on a wind-swept afternoon. Or the dreadful outcome of the Natal Chris Smith Guineas, where the filly with the head the size of a suitcase passed the post first, only to be placed fourth on account of her interference with Model Man. Ecurie, a daughter of Liloy, won about everything there was to win when racing against her own sex. Her sister Epoque (by Oak Dancer) was much lighter raced, but counted two Gr1 races amongst her victories: the Natal Fillies Guineas and the Garden Province Stakes. And now the third sister (by Farnesio) looks set to succeed where the others failed: beating the colts in the Big Ones.
By the time a virus hit her late in June, Empress Club was unbeaten in four starts. She'd opened her account at generous odds of 4/1 at the Vaal in February, winning over 1000m by 2 lengths from Divine Sparkle. A month later she took on the colts for the first time in the SA Nursery, over 1200m at Turffontein. She was again easy to back at 9/2. On going that is possibly best described as heavy, Empress Club raced handy throughout, to score nicely by almost five lengths from Melting, and Bobby Bean another two lengths further back, just behind Fluent Stride. Melting and Bobby Bean franked the form by running a useful third and fourth in the Bloodline Million behind Fast Gun a few weeks later.
The Gosforth Park Juvenile Futurities, one for fillies, the other for colts and geldings, are run early in May and have now been accorded Gr2 status. For that reason the two races attract useful fields, representing the best of the juveniles trained on the Rand. The result of the races usually is informative, as the sharp 1400m run during the month of April asks for a strength sapping combination of speed and stamina at this stage of the youngster's careers. In the colt's section Middelburg accounted for Scuse Me, Fierce Lad and Petros after making all of the running, and drawing further and further away. Middelburg stole his race, and predictably won in a useful time, breaking the existing race record. The pattern in the fillies event was slightly different, with eventual winner Empress Club racing a little off the pace behind leaders Sundown and Stage Award. Starting as 4/10 favourite, Empress Club hit the front some 300m out, and ran on well to score by a comfortable two and a half lengths from Jumpup And Kissme. Averogold was a distant third. The winner's time here also was a new race record, and a fifth of a second faster than the colts equivalent had been half an hour earlier. Empress Club was ready to take on the colts for a second time two weeks later.
The event was the Gr1 Smirnoff Sprint, a deceptively named race, as the stiff Scottsville is all but a sprint for juveniles. Past results show that highclass sprinters are capable of winning here, but that future classic winners can be equally successful, witness the victories of Prontisimo, and of Main Man and Bush Telegraph. The Heming-trained Sir Vista set off like a bat from hell, and was a clear leader at halfway. Empress Club raced a little off the pace in what was really the front group (Sir Vista went so fast that he was in a race of his own and predictably went to pieces a good way from home). When Coetzee asked her for an effort 2 furlongs out, it seemed Empress Club had little to come. Vigorous scrubbing produced results, though, as the filly suddenly found another gear and in a matter of strides put the issue beyond doubt. She won impressively from another filly, Got The Giggles, who was almost five lengths behind. Fast Gun finished best of the rest in third.
After this win a virus put paid to any other races for Empress Club at two, and she retired for a deserved break, unbeaten.
Empress Club is a not particularly attractive individual, with a head reminiscent of her sister, Ecurie. In terms of ability, too, she appears to be very much in the league of her illustrious sister. But whereas Ecurie had to contend with the likes of Model Man, Sea Warrior and her stable mate, Bimbina, the known opposition which Empress Club will face in her classic year looks less formidable. It may be a horse from Model Man's old stable, the highly promising Lunn-trained Secret Rites, to present her with the biggest threat in the big races.
Empress Club stayed 1400 well at 2, and acted on soft and heavy going. Her sire Farnesio (who is from the same female line as Forli) has been represented in South Africa by a wide variety of performers, including miler Bambinello, and sprinter Inter. Empress Club's full brother Ethique stayed a mile and showed consistent form until broken blood vessels took their toll. There is no reason to believe that Empress Club will not stay a mile when asked to do so at three, and chances are that she'll be effective over more ground that that – Farnesio won the Gr1 Gran Premio Jockey club over 2000m on turf in Argentina as a three-year-old. Empress Club has what appears to be an excellent opportunity to get on where Star Effort left off, by beating the colts at their own classic game. (Millard)
(rated AR 111 at 2)
Racing Record 1992
EMPRESS CLUB 3 b.f. Farnesio – Elysee (El Gran Capitan); won 11 [this season: 1400; 1400; 1600; 1800; 2000; 1600; 1600;] 6 Sep
With every Gr1 race Empress Club won, the accolades got greater. Opinions in the popular press varied from 'the best horse in the country', to 'the best ever to race in South Africa'. She's the only horse in recent times to have an official fan club. The first to have won R2 million. And if there was a Hall Of Fame she surely would be in it.
In Timeform "Racehorses of 1972", under the review of Brigadier Gerard, the following was the opening paragraph: "It is hard to write anything about Brigadier Gerard without producing a cliché. The English language is in such a bad way that it can no longer cope adequately with the exceptional. This is as much the fault of the journalist as anyone. Words have become twisted out of their original meanings by overuse and by the lack of precision with which they are employed in newspaper copy. Contemporary writers on racing cannot altogether escape criticism in this respect."
"Whenever an exceptional horse arrives on the scene the ready-made words and phrases are called up like cavalry horses answering the bugle. A Nijinsky, a Mill Reef or a Brigadier Gerard is written up as 'the horse of the century' and the adjective great has been so over used that it has virtually lost its meaning."
The review continues: "It is important for the reader to realise that when we use the word great we do not do so thoughtlessly. In the past thirty years fewer than a dozen horses have merited the description great in these pages. Of course, when a horse as outstanding as Brigadier Gerard comes along, there is always the danger that one's enthusiasm gets the better of one's judgement."
If "great" or any such adjective is to be used, we need to examine the meaning of greatness. What did Muhammad Ali mean when he pronounced himself "The Greatest"? What did the course commentator mean when he pronounced Empress Club "the greatest thing ever to happen to South Africa" when she crossed the line first in the Gr1 Administrators Cup?
It is important to remember that a horse only has to show greatness once to be rated great, so that number of wins and earnings play no role at all. A common misconception is to directly associate greatness with earnings. We read that Empress Club has earned such and such an amount from only so many starts, therefore she is the best horse ever to race in this country. But if not earnings, then how should we go about measuring greatness? Before considering the meaning of great, it is instructive to consider what we mean by other adjectives such as average and good.
An average horse should, at his best, be able to beat approximately half the horse population of his generation at their best. Similarly, a good horse should, at his best, be able to beat some suitable fraction of the population. Thus a great horse, at his best, should also be able to beat some suitable (but smaller than for good horses) fraction of the population of his generation. In the case of great horses this would normally amount to beating every horse of his generation. The greatness of any such horse would then depend on how superior he was to the class of horse below him (or her). And that is the crux of the matter: the real measure of greatness is relative. The great aren't great to the greater.
So how good really is Empress Club when measured in relative terms? This question can be approached in several ways.
A quick-and-dirty way to measure the level of relative strength of a generation is to see what the list of 'classic' (Gr1) winners looks like with Empress Club deleted from the Roll of Honour. Does the generation look strong? Do the new Gr1 winners stand up to scrutiny in the shape of multiple winners? How would they compare with, say Model Man or Mark Anthony, Bush Telegraph or Sunera?
Let's look at Empress Club's races at 3, and list the winners as if she hadn't been in the race. You be the judge. Gr1 Cape Guineas (WFA) – The Decorator. Gr1 Bloodline Classic (WFA) – Fine Regent. Gr1 Administrators Cup (Hcp) – Shining Conquest. Gr1 SA Guineas (WFA) – Military Muse. Gr1 Natal Fillies Guineas (WFA) – Perfect Order. Gr1 Daily News 2000 (WFA) – Fluent Stride.
Another way to show up relative strength is to compare real-handicap ratings of horses. Racing Record's (Timeform equivalent) ratings are available for horses that raced in South Africa from about 1985. It should then be a simple task to determine which were the best horses to race in this country over the last seven years. To see whether any of the best were great, we shall have to determine a somewhat arbitrary cut-off value for greatness. For our purposes let us say that from a rating of 125 upwards a horse can be called great (by South African standards), while from 120 to 124 a horse can be classified as very smart. For females these categories can be lowered by 4 pounds (sex allowance) to 121 upwards, and 117 – 121 respectively. So let's take a look at some ratings, split into rough distance categories.
| | | | |
| --- | --- | --- | --- |
| Rated | 1000-1200m | 1400-1800m | 1800m upwards |
| 127 | | | Model Man |
| 124 | | | Mark Anthony |
| 123 | Tucaman | | |
| | Sunera | | |
| 122 | Lord Randolph | | |
| 121 | | | Bush Telegraph |
| 118 | On Stage | | Potomac |
| | Imperial Silver | | Enchanted Garden |
| | Senor Santa | | Flaming Rock |
| 116 | Goldmark | Main Man | Royal Chalice |
| | The Barbican | Yamani | |
| | Bold Speed | Turncoat | |
| | Splendid Ann | Ecurie | |
| | | Priceless Asset | Jungle Warrior |
| 115+ | | | Empress Club |
That gives us two greats: Model Man and Sunera – and five very smart horses: Mark Anthony, Tucaman, Lord Randolph, Bush Telegraph and Enchanted Garden. Empress Club is not far off the lower target, given the fact that she achieved her 115 rating rather comfortably (hence the +) and that a two pound improvement (a length or so) is all that's needed to get her in at the bottom of the 'very smart' category. But until she actually does it we'll have to keep our adjectives under control.
Although when measured purely by ratings the title for Horse of the Year should probably go to Flaming Rock (with Senor Santa and Goldmark close contenders) it is difficult to argue with the People's Choice Empress Club. The filly could hardly have done better, winning seven times in a row, before narrowly going under in a race where she ran some fifteen pounds below her previous form.
Empress Club was 5/10 favourite at her seasonal debut, over 1200m at Turffontein. Racing handy for most of the way, she ran on well but was no match for the sprinter Melting who made all the running at a modest early pace. Excuses were made in the press for Empress Club's fitness, but she'd looked well enough in the parade ring after a break of 5 months, and probably was simply beaten by an expert sprinter over too short a distance, made even shorter by the slowish early pace. Certainly Empress Club wasn't a sprinter, while Melting had proved to be at the top of her generation at two. In our books Empress Club ran a great run, and virtually to her best rating! Empress Club raced from somewhat off the pace at her next two starts, both over 1400m. She won a fillies and mares handicap on soft going at 1/5 in a field of eight late in December, and doddled a middle division handicap at Gosforth Park three weeks later at odds of 1/3 by four lengths. These were RaceFigure handicaps, of course – not the real thing where such short odds would be frowned upon.
The filly's next five wins were all in Gr1 races. She was taken to the Cape for the Guineas in an attempt to make it two in a row for the weaker sex after Star Effort's win in 1991. The 1992 Guineas was run at a good pace on a fast track with Corning Touch, the most fancied of the three Watters runners, making most of the running. Empress Club raced handy from a wide draw, her jockey convinced that the Guineas can only be won from a position close to the pace. Bloodline Million winner Fast Gun, the grey PE visitor Spark of Peace, Millard's other runner Military Muse and race favourite Unaware were next in line. A furlong from home Empress Club looked to have a battle on her hands, hanging somewhat and seriously challenged by Fast Gun upfront. But the filly straightened up and ran on nicely to win by almost two lengths after Fast Gun's stamina gave in some 100m from the post. In the scuffle for second, The Decorator just held off Unaware by a neck, with further necks separating Fast Gun, Secret Hoard and Corning Touch. Unaware and Secret Hoard ran into trouble up the straight and might have gone closer with a clear run. Unaware and The Decorator highlighted their record of consistency by showing virtually level ability for the third time in a row. Unaware had been Guineas favourite at 17/10, with The Decorator at 8/1, a rather silly difference given the evidence on hand. Empress Club, 22/10 second favourite, had travelled down by road a few days before the race, accompanied by stable companion Military Muse and the Spies-trained Fast Gun. The threesome performed with distinction and showed that Transvaal trainers need not fear trips to the Cape shortly before a big race.
The Empress' next run was the Topsport Bloodline Classic, second leg of the South African Triple Crown, run over 1800m at Gosforth Park. Feature of the race was again a slowish pace, set by Dingaans winner Petros who'd tacked over from a wide draw, but failed to get on with it once he'd hit the front. Empress Club and her devastating acceleration should by now have been well known, and to simply sit and wait for it amounted to plain cowardice on the part of the other runners. After all, Empress Club tackled a new distance here, and no-one knew whether she really would stay a stiff mile or not. In this event she wasn't tested, cruising to the front 300m out and winning as she liked.
Things should have been different in the Administrator's Cup, at R1.25 million South Africa's richest race. The conditions were changed to a handicap this year, and Empress Club had been set to carry 52.5 kilos, a stiff task for a three-year-old over this distance. Compare it to the weight carried in the Rothmans July by 3yo's, some 3 months later in the year, and this 52.5 was really the equivalent of 55.5 July kilos. If there was any chink in the Empress' armour, it could have been her stamina – how far would she stay? Any trainer with enterprise would have ensured a fast pace in the Cup, to at least try and blunt the even money favourite's acceleration. Certainly, Roland's Song would be well suited by a fast run race, and other joint second favourite Flaming Rock had run his best race earlier in the year in the J&B Met over 2000m. The Cup was a joke. Admiralty Arch led a slow dance for almost a mile, the first 1000m going in a pathetic 63 seconds. That pace virtually took care of any chance Flaming Rock may have had, as he raced at the back. Roland's Song, restrained just off the leader, clearly missed the enterprise of Piere Strydom, who'd shown last year how to handle a slow pace on Roland's Song. Amidst all this indecision Felix Coetzee looked as if he had a problem: Empress Club was cruising just off the pace halfway down the straight and with everything collapsing around her as the pace was increased there wasn't anything to hide behind anymore. Coetzee clearly didn't want to hit the front too early, but with 300m to go had little choice. He dug in, hands and heels only, and in a matter of strides the issue was settled. Empress Club was the best of any sex in the country. At least she would have been had this been a true run race, and not a sprint home. Roland's Song disappeared through the backdoor when the pace was turned on, Flaming Rock ran on well, but didn't quite have a clear passage and finished fifth instead of second as he should have done. Shining Conquest in second, with Transfix and Fine Token in third and fourth showed up the value of the form for what it was: false. But clearly, Empress Club couldn't have done any more than she did, and deserved all the credit she got.
After a break of six weeks Empress Club reappeared in Natal, for the Gr1 SA Guineas. Starting at 1/3, she raced in fifth for most of the way, behind pacemaker Java Jive who didn't hang around. She settled the issue 300m from the finish, again in a few strides, simply strolling away from stable companion Military Muse, who beat Secret Hoard by a neck. Predictably, the Gr1 Natal Fillies Guineas over a mile at Scottsville turned out to be a formality. Starting at odds of 1/10, Empress Club hit the front relatively early with two furlongs to go. She wo by a comfortable five lengths from Perfect Order, whose jockey briefly entertained hopes of getting there first when the fillies turned for home so well was Perfect Order going – but a distant second was all he got.
After all this, the Gr1 Daily News 2000 looked in the bag. Bookmakers had the Empress at 1/10 with 10/1 bar, and rightly so as none of the nine colts in the line-up had any pretensions of being in her league. After breaking smartly (the way she usually does), jockey Coetzee dropped Empress Club quickly to the back-end of the field, in a position she had never held before. It looked to us a dress rehearsal for the Rothmans July, where she was likely to carry a big weight and might not want to race handy. But in this race the tactics didn't work. The early pace was diabolical, as has become the norm in big races in South Africa these days – despite the enormous amounts of money at stake, few trainers and jockeys seem to make a plan. Empress Club used her turn of foot as usual coming off the bend, but instead of carrying her comfortably into the lead she only just made the front and in a sandwich between Fluent Stride and Anarch at that. The filly fought back gamely (she certainly wasn't intimidated as some sources suggested), but simply had shot her bolt too early and through circumstances beyond her control. She was beaten a short head by Fluent Stride, with Gaelic Find running on well to be a close third. Empress Club ran some 15 pounds below her usual form. After this debacle she did not contest the third leg of the Triple Crown, the R1 million Gr1 Natal Derby over 2400m, and the Gr1 Rothmans July now was next on the agenda. When the weights for the Rothmans July were published, Empress Club was given 55.5 kilos, about on par with her weight in the Administrator's Cup run in March when weight for age progress is taken into account. Not surprisingly, she was priced up favourite in the ante-post betting and widely expected to win the best known race on the calendar. But three days before the race a virus struck, causing the filly to be withdrawn, leaving ante-post punters with useless betting vouchers and bookmakers in the pound seats. Empress Club wasn't seen out again after that.
Argentinian bred Empress Club is half sister to Gr1 fillies Ecurie and Epoque, both trained by Millard in the Eighties. Ecurie (by Liloy) was favourite for the Guineas in her year, but had to play second fiddle to Sea Warrior and Michael Roberts. She was later disqualified after winning the Gr1 Natal Guineas, when she hampered Model Man. Epoque (by Oak Dancer) win the Gr1 Natal Fillies Guineas and, like Ecurie, the Gr1 Garden Province Stakes. Ecurie and Epoque are now resident at the new Litchfield Stud, established in Robertson by their owner Ken MacKenzie. The latter should also have been the owner of Empress Club, but after her Argentinian breeders reportedly reneged on a verbal agreement on the price to be paid for Empress Club, MacKenzie on principle declined to renegotiate.
The sire of Empress Club, Farnesio, is a son of Good Manners (by Nashua). Farnesio won the Gr1 Jockey Club, second leg of the Argentinian Triple Crown. He was second in the third leg of the crown (over 2500m on dirt) and subsequently won 3 times in the US. He has sired Gr1 winners in Argentina and comes from the female line of Forli.
The dam Elysee has now bred three multiple Gr1 winning fillies, an impressive feat by anyone's standards. Elysee was a two-time winner in Argentina from a fair black-type family. Her son Ethique (a full brother to Empress Club) stands his first season at MacKenzie's Litchfield Stud in 1992.
Empress Club has filled out into a much more attractive filly than she was at 2. Quite leggy and muscular, the athletic Empress Club acts on soft and firm going, and seemed to stay 2000m at 3, although her best distance is still a bit difficult to assess. She certainly has not been adequately tested over ground to indicate what the limit of her stamina is. Empress Club's major assets are her willingness to get with the pace quickly at the beginning of her races from any kind of draw, and her ability to accelerate in a few strides – so often the hallmark of true class. Now the winner of over R2 million in stakes, Empress Club seems likely to have to carry topweight in most of the major events she contests at 4 in South Africa. Her best opportunity to win races will be at weight-for-age and in terms of earnings the sky should be the limit for her. In handicap races she should not have things her own way, especially with horses like her front running stable companion Surfing Home around. How much of a champion Empress Club really is, only her exploits in 1993 will tell. (Millard)
(rated 115+)
Racing Record 1993
Empress Club 4 b.f. Farnesio – Elysee (El Gran Capitan); won 15 [this season: 1000; 1600; 2000; 1600;]
History is what historians make it. It isn't necessarily a truthful account of events, merely a reflection of the way socially influential people see them. Clearly, the intellectual quality of these influential voices has great influence on the way future generations perceive the recorded events and background. Sadly, it seems rather likely that racing fans of the future will never be able to fully appreciate the quality of South African horses of the Eighties and Nineties. At least they won't if the official ARCSA awards are used as the yardstick.
The 'official' Horse of the Year Awards were hijacked in the mid-Eighties by the Association of Racing Clubs of South Africa (ARCSA). Staunch supporters of the notion that great minds think by consensus, ARCSA made up a selection of what it perceived to be knowledgeable racing people to cast their votes. Unfortunately the ARCSA selection was neither representative nor knowledgeable. It resulted in Horse of the Year blunders such as Right Prerogative, the selection of Royal Chalice over Mark Anthony, and the non-election of Model Man. In recent years ARCSA made some token attempts to redress the imbalance noted by its critics, but never whole-heartedly or with purpose, and always authoritatively and without consultation. The committee spirit persists at the expense of knowledge and understanding.
This was never more visible than in 1993, when the worst blunders of all were committed, not only in the Horse of the Year category – the titles for Stayer of the Year and Sprinter of the Year were equally poor in its final outcome. Although Horse of the Year awards will presumably cause controversy anywhere in the world, the glaring injustices done to some of this year's South African losers put serious doubts as to the value of the local awards. Clearly, the fact that no one in particular will accept the responsibility for the final selection (or is remotely capable of motivating it) speaks volumes. Worst still, South Africa's official handicappers are still incapable of producing season's-end Classifications, so there isn't even an 'official' yardstick to measure the ARCSA awards by.
It is high time that both ARCSA and the Jockey Club took their respective responsibilities to racing's intellectual heritage seriously. ARCSA in terms of instituting meaningful awards, which reflect selections that can be motivated and defended, before another party takes the bull by the horns. And the Jockey Club (whose sub committee on handicapping came up empty handed after no less than three years of apparently fruitless debate) in terms of education, in order to be able to align itself with internationally accepted handicapping methods.
The choice of Flaming Rock as Horse of the Year couldn't have happened to a gamer, more consistent performer – but he wasn't the best by a long shot. Empress Club, earlier in the year billed as 'the wonder filly', beat Flaming Rock pointless on two of the three occasions they met. The Argentinian filly's most convincing win was in the Gr1 Queens Plate, run at weight-for-age at the height of the Cape summer season, which she won by five lengths from the Irish-bred son of Ballad Rock. Empress Club won three Gr1's and had a seasonal rating of 126 (Timeform comparable), against a single Gr1 win for Flaming Rock (TFR 123). There really was no comparison.
Empress Club started the season with what was generally regarded as a warm-up sprint at Durbanville, where she met a choice selection of seasoned sprinters over 1000m. The magnitude of her task was reflected in her starting price, with the bookmakers freely offering 4/1 about the top weight. Vying for favouritism were the previous season's top sprint filly Marie Galante (16/10) and Taban, who would be given title of Sprinter of the Year at the end of the season in progress. Empress Club had been set to give 3 kilos to the filly, and half a kilo more to Taban. Marie Galante was in front from the break, and came into the straight with Taban at her quarters. Empress Club raced some 3 lengths back in third, moving smoothly, then drew level with the champion sprinters a furlong out to win going away by a length and a half. For good measure, Empress Club also broke the (hand-timed) course record to show that this win was no fluke.
Two weeks later came the Gr1 Queen's Plate. Run at weight-for-age, it was surprising that as many as fifteen opponents had the courage to face her at the start of the 1600m event at Kenilworth. Empress Club shortened in the betting to 5/10, with Flaming Rock (9/2) and Spanish Galliard (8/1) the only others in single figures. Flaming Rock's stable mate King of the Strip set a useful pace, with the fancied horses in midfield. Some 400m from home the Empress gathered her skirts and with breathtaking acceleration took some three lengths on her field in the space of 200m. Well clear a furlong out, she extended her lead to 3.5 lengths over Flaming Rock at the finish. Spanish Galliard finished a modest third, beaten six lengths. The win caused clouds of chalkdust around bookmaker's boards, where the filly was priced up at odds-on for the Gr1 J&B Met three weeks later. She didn't disappoint her supporters, winning by 2 lengths from Flaming Rock, Secret Rites and Spanish Galliard.
Let's pause for a minute and put the Empress' first three runs of the season into perspective. She began by beating two of the country's top sprinters, including the subsequent ARCSA Sprinter of the Year, over 1000m, in record breaking time, giving weight all round. She followed up by making hacks of the country's best milers, at weight-for-age, including amongst her scalps the one of the subsequent ARCSA Horse of the Year. And at her third start she did the same effective demolishing job on the best middle distance racers, beating Flaming Rock over 2000m under identical weight conditions as in the Queen's Plate. It's worth noting that subsequent Gr1 Mainstay winner Secret Rites ran a well beaten third.
Empress Club reappeared on the Rand some five weeks later, in the Gr1 First National 1600m over a mile at Turffontein. The race was run at weight-for-age, which gave good reason to the bookmaker fraternity to price her up at 1/6 – and concentrate on bets for who would run second. The Empress cruised in, easing up by almost three lengths from Please Be True and Queens Gold, adversaries who might as well have raced on a different planet.
Despite her achievements, 4/10 seemed rather short odds on the Empress in the Gr1 Administrators Cup, a 2000m handicap run in alternate years at Turffontein and Gosforth Park, where the filly had been set to carry top weight of 58 kilos. Her connections had flown former champion jockey Felix Coetzee out from Hong Kong to take the ride as regular jockey Marcus was suspended. Incredulously, the Empress finished eighth, beaten six lengths by Cardinal Fury, who'd made all the running in what was announced as a new race record time. The record came as no surprise, as this was the first time ever that the race had been run at the Gosforth Park track!
The Jockey Club opened an official inquiry in to the events surrounding the Empress' failure when rumours surfaced that all hadn't been well with the filly's blood picture before the race. The inquiry centred on Rule 70.1 which (broadly) deals with running on merit. The inquiry board heard expert evidence three weeks after the race and accepted that the filly's blood picture had been within normal parameters given her previous blood picture history. It was now April, and the travelling feature race circus moved to Natal for the winter season.
Opening early 5/2 favourite for the Rothmans July, Empress Club drifted in the betting to 10/1 and more as rumours concerning her wellbeing kept on surfacing. Her connections did little to defuse the situation, refusing to commit themselves about whether she would run right up to the final declaration stage. But once she was known to be a certain runner, the money poured on and Empress Club ended up 3/1 joint favourite together with stable companion Dancing Duel. She had been set to carry 58 kilos, joint top weight with Flaming Rock, who therefore was 2.5 kilos better off for a beating of less than 3 lengths in the J&B Met. Coming from well off the pace, Empress Club again didn't show her kick, but even so was beaten less than 2 lengths in a bunched finish by Dancing Duel. Flaming Rock reproduced their J&B Met running. Indeed, at the weights (few pay attention to the effect of weights in the July handicap) Flaming Rock and Empress Club were the two horses that gave the best performance, with only winner Dancing Duel anywhere near them in terms of ability.
Empress Club found herself unable to reverse the 'beaten favourite' trend in the Gr1 Mainstay Handicap over 1800m at Clairwood. She topped the boards at 18/10, with Cape Guineas and Derby winner Eli's Truth next at 7/2, and Flaming Rock easy to back at 11/2. Flaming Rock carried 58 kilos, half more than Empress Club. Close to the pace throughout, Empress Club completely failed to show her acceleration. She finished ninth, five lengths behind winner Secret Rites, who was a mere nose ahead of unlucky loser Flaming Rock.
Empress Club, an athletic, muscular, quite leggy individual, has shown her best form over a mile. Her major asset is her ability to quicken in a few strides, the hallmark of class. Despite her relative failures later in the season, when seemingly all wasn't well with her health, she showed herself superior as a four-year-old to the best sprinters, the best milers, and the best middle distance horses in the land. That the title of Horse of the Year was denied her was a travesty. Early in the new season it was announced that Empress Club would continue her career in the US. Assuming that she regains her best form after what will be an unreasonably lengthy period of quarantine, it seems likely that the Empress as a 5yo will make her presence felt in the highest circles. The Americans are sure to treat her with respect – Argentinian mares, after all, have an excellent record on the West-coast. We'll follow her exploits with great interest. (Millard)
(rated 126)
‹ Previous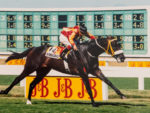 Sands of Time – January 1996