Hongkong Great might not be in peak form on paper for the SG$300,000 Gr1 Queen Elizabeth Cup on Saturday, but the 2022 Gr1 Singapore Gold Cup winner can never be discounted in staying races.
As the second highest-rated horse (101) in the field of nine, Hongkong Great would also be giving popular Brazilian jockey Bernardo Pinheiro a fairytale farewell from Singapore if the pair topples the mighty Lim's Kosciuszko.
Pinheiro will return to riding in Dubai next week and his ride on Hongkong Great will be his last from 10 rides on Saturday for the 2023 season at Kranji.
While it was tough to make a winning case for the Ricardo Le Grange-trained Hongkong Great, given the formidable form of the recent Gr1 Raffles Cup winner and top-rated Lim's Kosciuszko (116), the eight-year-old actually peaked at this time last year when he ran an eye-catching fourth in the QEII Cup then won by Prosperous Return on 15 October.
Five weeks later, the well-travelled son of Lookin At Lucky won the iconic Singapore Gold Cup at his next start. Pinheiro will be hoping for a victory this Saturday over a trip made to suit.
"Hongkong Great is in very good condition," said Pinheiro of the Edmond Yue-owned Chilean-bred gelding. "While he hasn't been at his best this year, you have to remember he hasn't been past the mile yet. So, like last year, he will very much appreciate the step-up in distance on Saturday, and of course, the 2000m of the Gold Cup.
"Ricardo knew this and had him ready for these staying races. I have been riding him in the mornings and couldn't be happier with how he is going.
"I was very happy with the barrier (two) as well. I think he is best when he leads and that's what we plan to do.
"I also believe he is a better horse if it rained, so fingers crossed we get some rain before Saturday as I think he needs that to win or to show his best."
The Singapore Gold Cup will be held on 11 November and Hongkong Great has been nominated in the third Leg of the Singapore Triple Crown series, together with stablemates Bestseller and Maxima. But before that, Pinheiro reckoned things would have to go his way for Hongkong Great in the small but strong field ahead.
"Lim's Kosciuszko is winning everything, many Group races, and you have to respect him," he continued.
"Some said he might be tested over 1800m but he won the Gr1 Singapore Derby last year, so I don't think that will bother him.
"And Mr Malek is flying. I have ridden him in big races before, finished third to Lim's Lightning in the 2022 Gr1 Kranji Mile and he looks to be going as well as ever.
"Invincible Tycoon is in great form too, but you know me, I look at the positives and I think if Hongkong Great gets some rain and can lead, he would give them something to beat."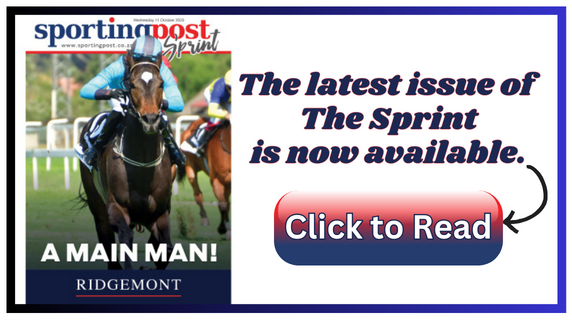 Prior to the running of the second Leg of the Singapore Triple Crown series this weekend, Pinheiro has plenty of chances to leave Singapore a winner and he is looking forward to two rides in particular, namely Sacred Judgement in the SG$70,000 Class 3 race and Silo in the SG$75,000 Novice race.
"I'm lucky to be riding some of my favourite horses this weekend," said Pinheiro, who has 28 wins in Singapore thus far this year. "I love Hongkong Great but have never won on him. I am also riding Sacred Judgement one more time and that will be fun. I rode him four times for three wins and a very close second, beaten a neck by Istataba in a Class 3 race over 1600m on 6 August."
"Silo is another horse I have some great memories with. He's still young, three years old and I have only ridden him twice, but he was unlucky not to win the Gr3 Golden Horseshoe from a wide gate (14) at his last start. It will be nice to be on him this Saturday and hopefully, one of my rides can win on my final weekend in Singapore."
Pinheiro was glad to be heading back to Dubai, where he last plied his trade before coming to Singapore this April, but he will remember Singapore as a place that helped him improve his riding skills.
"When we talked a few months ago, I was so happy to be able to ride in Singapore," said Pinheiro, who will ride for trainers Majed Al Jahoori and Musabbeh Al Mheiri in the UAE. I was looking forward to riding winners, but also to improve too and the Singapore Turf Club gave me that opportunity."
"Thanks to all the owners and trainers for every single ride this year. My skills have improved, and I rode more winners this year than the last. My relationship with Ricardo has also been great. He puts me on his best horses and taught me a lot, even when we weren't winning. We become good friends off the track too, which made my stay here even better."
"Things are going well, and I would love to stay, but I have commitments in Dubai. We'll see what happens in future, but I would love to be back again next year."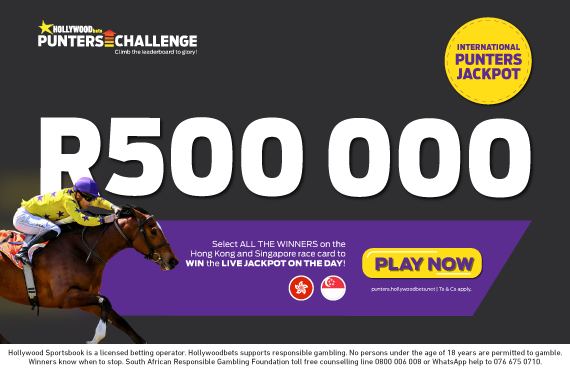 Tip your way to the top with the free-to-play Hollywoodbets Punters' Challenge on Saturday, 14 October, with the Kranji first off @ 06h00.