Sick for the game. A phrase popularised in the good old Tellytrack days by that charismatic racing man Shaheen Shaw.
It also aptly describes a former Phumelela General Manager who was, almost fortuitously, born at Mother's Hospital, across the road from what would land up being two of his favourite sporting venues – Hollywoodbets Greyville and Royal Durban Golf Club.
Today Jason Dedekind celebrates a birthday 'closer to 50' than he would ordinarily choose it to be.
The Durban High School graduate turns 45 and the Sporting Post caught up with him to find out what he is up to.
A man of many nicknames-some of which he admits he doesn't know – Jason currently works in the print and marketing industry for one of the largest specialists in that field.
He tells that Owen Heffer started calling him 'JD' back in 2007.
"In the golfing world I am referred to as 'Little Woozy' and 'J-Bay'. My old schoolmates refer to me as 'Dede', while my wife calls me 'Lovebum'. I am sure I have a few others that I am not aware of," he laughs.
The man who declines to discuss politics or Eskom, explains that his current job entails managing a few key accounts and hunting new business. Racing does neither!
"I still have my marketing consultancy on the side, where most of my clients have been sportsbetting entities and suppliers to that industry. The focus has not only been on South Africa, but Africa and Europe as well. I haven't promoted that business since joining the corporate ranks full time again, but will possibly start again in the new year."
We always imagined 'Little Woozy' was a semi-pro golfer.
"My golf has taken a back seat since I moved to Joburg and I am not a member of an official club anymore. I do belong to a social golf league – Duckhook Golfers – which is an awesome community of golfers who banter via whatsapp. That at least keeps me in some sort of golfing loop. I really do miss playing, but have to focus on my family at present. My unofficial handicap is 10," he adds modestly.
Besides being born within a stride of KZN's city racetrack, racing has always been in 'J-Bay's blood.
He explains that his Grandfather, Ernest, used to own a few horses and raced them with Eileen Bestel.
"Phoenix Flyer and Moomba's Pet were two of my favourites. My english orals at school used to be horseracing commentaries with his horses and a few other popular names of the time – Politician, Bodrum, Wolf Power, Bush Telegraph and the like. My whole family loved racing and bet regularly, which is where my interest started. It was always fun finding winners out of the racecard," he recalls fondly.
Jason goes on to explain that his Godfather is Head of the Western Cape Stipendiary Board and that he taught him a lot about form from a young age.
"I only started working in the industry back in 2011 when I joined Gold Circle. My Mom – a Muis Roberts fan who loved grey horses – passed away that year and I got divorced. When Ken Rutherford offered me an opportunity at Phumelela, I jumped at it! I also worked for Hollywoodbets and learnt a lot from Mr Owen Heffer and his team during that time. My passion was always for racing and helping the game. My Dad, Roland, still takes his Jackpot daily!"
Jason married his best friend in November 2019.
"Jackie has really been my rock over the course of our relationship. Johannesburg can be a tough place and she just keeps me sane and very happy. We love trying to get out of the city as often as we can – even if it is only to Harties, just to clear our heads."
He says that his step-kids, Brennan (19) and Kyra (16), also keep him on his toes 'in a good way'.
"They have grown a lot since coming into my life and show me how different the world is today. My sister, Amy, immigrated to the UK late in 2019 with her husband Cameron, but also still follows SA racing when she can."
JD left the industry in 2018 – his last official role was GM of Publishing for Phumelela Gaming and Leisure.
"I have tried to get back in since – but unfortunately have not had any luck. The racing fraternity is an awesome bunch of people and I do miss the banter and camaraderie," he admits.
So he really misses horseracing?
"Oh hell, yes! I miss the game. I miss 'helping' and getting information out to the loyal patrons. There is no other community quite like racing!"
We asked what he thought of the current state of the game and what the answers were.
"That's a tough question! In some instances, the game looks awesome. But is it really as shiny under the surface? I have made mistakes in the past and don't like to speculate when I'm not directly involved anymore. I do think the 'new brigades' have made positive changes. It has obviously been very hard to sustain and implement all the changes, with Covid entering the fray."
Jason says that he still has concerns about upfront communication, which he has always felt needs to be a key driver in any business plan.
"It is better to start and control the conversation, rather than have all these little ones start all over social media. Our field sizes also concern me as big fields are crucial to our international business and used to be a major drawcard for customers to take our racing product, instead of other countries. The powers-that-be need to continue making positive changes, showcasing our athletes and industry professionals. The world though, is sometimes a nasty place and some like to attack from the side lines, rather unnecessarily."
JD says that he likes what he has seen in recent weeks, especially from the Cape Racing team and suggests the marketing teams involve our influencers a little more on social media.
"We have fantastic photographers and videographers who can promote the game. Is our game perfect? No!  But are there good people involved trying to make it better? Yes! Would I like to be one of those people? Of course!"
He feels that South Africa has struggled to unite but sport always manages to beat all else.
"I love watching my teams and obviously follow the Sunshine, PGA and European Tours closely. Sport, and that includes racing, has such a positive vibe when needed and when people stand together."
So how does Tellytrack fit into the scheme of things as our shop window?
"I think they do the best they can under the circumstances. It is tough almost being in limbo, working with a tight budget, and still having to deliver 24/7, while being under scrutiny all the time."
While on this thread, Jason asks to send a last shoutout to Dubai-bound Alistair Cohen.
"All the best young man. You have come a long way from that young kid who won the Commentators Competition at Hollywoodbets Greyville beating Warren Lenferna in the final, to working your way up the Phumelela ranks. You were always a great team member to have on my side and Dubai is fortunate to have such an awesome all-round talent join their ranks! All the best my friend – believe and remember to have fun while representing your country, industry, family and friends!"
So how is the racing fanatic JD celebrating his 45th birthday?
"I will just be chilling at home with my family. I may have a nice Jack Daniels or two and play some darts. Then a little later this month, my wife has booked us a two-week holiday at the coast. We start in Knysna – I have never been to the town – and then end in the Western Cape to see family and friends. We really need the break and I am blessed that Jackie has organised the trip!"
In closing, the former Phumelela man sends a message:
"Cheers to all – thank you to the Sporting Post for the opportunity and all the best to racing – may it find its new lane and prosper!"
‹ Previous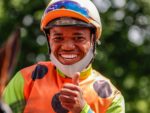 60 Up For Proud Thabiso