2019 will go down as a watershed year in the burgeoning career of 30 year old Milnerton trainer Adam Marcus.
He saddled his maiden Gr1 winner Missisippi Burning in the Cape Fillies Guineas and finds himself stepping boldly into 2020 with two serious Sun Met candidates – and a quality string.
The ever polite Adam became one of our youngest trainers to saddle a Gr1 winner on a memorable December Saturday that also saw his fast-rising star Vardy dispose of a quality field that included a dual July and Met winner in the World Sports Betting Gr2 Green Point Stakes.
Chatting to the Sporting Post, Adam, who laughs and quips that he is 'only 30 but aging fast', said that he was thrilled by the progress his yard has made in a year and said that loyal support from a host of owners and breeders had seen his 36 strong string boast the quality to take on the big guns.
"A year ago, I was working hard on trying to get a one-time winner to win again. I couldn't do it without the confidence and support from good racing people. But I am now more competitive than ever and my New Year's resolution is to win another Gr1 and raise the bar further," he mused confidently as he recalled Saturday 14 December.
"It was an honour as a start to just saddle a runner in the company of Gr1 horses and Gr1 owners. When Vardy cruised past them late and then Missisippi Burning came storming clear of her field in the Guineas, it was a dream come true. I'm still on cloud nine!"
There were media reports that some trainers were complaining about interference in the Green Point. The Stipes had also drawn Vardy's behaviour to Adam's attention. He  felt that Vardy was still learning to race – and he had the tendency to lug in and look for company.
"We galloped him last Thursday and he went straight as an arrow. It's inexperience and thankfully Craig Zackey knows him well so we will keep a tab on it. I'm really pleased with the run as he was not ready and the mile of the L'Ormarins Queen's Plate will have him perfectly on song for the Sun Met."
While the prestigious royal mile weight-for-age contest on 11 January will be his second run after a break, the main aim is to keep Vardy sound and in great shape. As to whether Vardy will go the 2000m of the Met, Adam says that based on the manner in which his charge disposed of One World in the Winter Classic, the extra 200m would be of no consequence for the current big race third favourite. He is also likely to run Twist Of Fate, a horse he is still getting to know.
"Joey Ramsden has done fantastically well with Twist and he is putting in really good work at home. He is a lovely horse and his track record speaks volumes of his ability."
His shrewd move (winning ones always are!) to switch Missisippi Burning straight from the sprints to the Gr1 Cape Fillies Guineas mile was also an interesting one.
"They always say that one shouldn't scratch where it's not itching but she was actually getting outpaced in the sprints and Craig had to work hard on her to get her into the 1000m races. The Kenilworth 1200m is a fairly testing one and she won over that trip at her penultimate start. I have found that one can take them from the 1200m to the mile without too much of a shock. We had the option to run her against the older fillies in the sprint or against her own age group over the mile. We also did some research and found some stamina tendencies on her dam's side. So, while one never knows at Gr1 level, she came through the test with flying colours – and all's well that ends well."
On the short-term plans for the flying grey, Adam says that she has had some racing so they may opt to go for the Gr1 Majorca on Sun Met day – which gives her five weeks break from racing.
Adam certainly has the pedigree to go all the way to the top. His champion Dad, Basil, was one of the world's great jockeys in his time and got Adam going in his current profession.
Adam took out his trainer's license at the tender age of 22, striking out on his own at 23. He started with six horses.
"I joked about aging fast. But this is a stressful job on an average day. It's lovely when we are winning and the champagne is flowing. But there is a lot to do and plenty to think about. And dealing with flesh and blood, there are often curved balls to juggle. My Dad has given me a great foundation to work off. These days he pops in every fortnight and leaves me to do my own thing. He is very pleasantly distracted with the Grandkids keeping him busy. He is still there when I need his help though and he often imparts his wisdom and vast experience when I need to bounce things off him."
Described by those that know him as a perfectionist, Adam was born in Durban and left for Hong Kong with his family at 18 months of age. He started his schooling in Hong Kong at the Japanese International School, then moved to England where he attended Cheam Hawtreys and The Oratory School. Upon returning to South Africa he completed Matric at Parklands College.
After school he travelled to Dubai for work experience with Herman Brown Jr. where he spent time with the likes of Jay Peg and Desert Links.
Things have developed in the ensuing years and Adam is set to become a more regular feature on the feature racing scene.
For now, there is still plenty of hard work to be done, despite the holiday spirit prevailing. Adam says that the Marcus family enjoys celebrating Christmas and they will be getting together and tucking into a sumptious lunch at his Step Gran's house.
"My present socks are taking strain and I know I can always look forward to a few new pairs. Many people seem to think I need a variety of them – and even maybe the odd tie or two! It's a wonderful family time to share and enjoy the gifts. I'd just like to wish all our customers and everybody in the racing and breeding industry a great year in 2020. This has not been a vintage year on many fronts, but I believe a team effort will get us back to greater days again. And the announcement of the news of the EU audit dates for our export protocols was the year-end tonic that we were all looking for!"
‹ Previous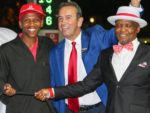 DKR's African Dream