42 year old Port Elizabeth trainer, ALAN GREEFF, came into training in the footsteps of the legacy left by his father, the late, Stanley Greeff. They were huge boots to fill but to his credit Alan has done the family name proud by building on that foundation and becoming synonymous with racing in Port Elizabeth. Alan has not been afraid to take his top horses to raid in KZN, Gauteng and the Western Cape and has amongst his successes a win in the Gold Cup with Cereus and a victory with Lady Tattler in the Golden Slipper, both at Greyville.  Alan looks sure to raid in Cape Town in the near future, once the summer season gets into full swing,  but before that he will be saddling WAY CLEAR to compete in next weekend's Betting World Algoa Cup. We will be watching WAY CLEAR with keen interest and wish Alan all the best for the future.   
What is your name?   Alan Christopher Greeff.
What is your star sign and birthdate? Aries and I was born on 4 April 1971.
Where were you born and where did you grow up? Port Elizabeth.
Where do you live? Bushy Park, Port Elizabeth (a small holding).
Tell us about your family? I have 2 daughters, 1 son and my wife. I have 7 sisters. I am the only boy.
Do you have a 'nickname'? Alan.
Favourite food? Braai and spaghetti.
Favourite drink? Fruit juice.
Favourite music?  Various types of music.
Favourite holiday destination? The Kruger National Park.
Favourite sport?  Cricket and athletics.
Favourite soccer team? The winning one.
What book are you reading at the moment? Otherwise Occupied, by Anthony Beevor. It is a book about WWII.
Who is your favourite author? Anything about WWII, history and nature.
Which characteristic about yourself do you like the most? I am a workaholic and have a policy, "hard work never killed anyone."
Is there anything the public don't know about Alan Greeff that they would be interested to know?  I am a family man and I'm the happiest at home.
Where did you go to school? Woodridge College outside Port Elizabeth.
What tertiary education did you attain? I went to the University of life.
What did you do on completion of your schooling? The army equestrian at Potchefstroom. I became a farrier, and then worked for Mr. Terrance Millard and then Mr. Tony Millard. After that I went to work in the U.S.A and then came back to work for my dad.
Being the son of the highly successful Stanley Greeff was it always planned that you become a trainer? Yes, always, from the beginning.
What were some of the most important lessons you learnt from him?  That patience is the key and also to work extremely hard.
Did you find it easy fitting into the lifestyle of training horses? Yes.
Which were some of the top horses you were involved with early on in your career? Empress Club, Military Muse and Olympic Duel.
In which year did you take out your trainer's licence? 1995.
Where were you based and how many horses did you start off with? I am based at Fairview racecourse in Port Elizabeth, and I started with about 80 horses.
How many horses do you have at the moment? About 100 horses.
Tell us about the team that assists you in the yard? I have 3 good assistants and hardworking staff.
It seems most trainers with big yards have a treadmill. Do you have one? No, not as yet.
You are on the coast. Do you ever work your horses on the beach and then swim them in the sea? On rare occasions when the tracks where flooded for long periods – now we have the poly track.
If you do, how enjoyable do the horses find swimming in the sea?  They love it.
Tell us about some of the better horses you have in your yard at the moment? Way Clear, Seattle Storm, Silvan Spirit, Winter Fantasy and Yoshie. They are all young horses.
You have a busy day ahead of you at Arlington on Friday. Please give us a comment on each of your runners?
Race 1: STAGE GIRL (4) – She has been knocking on the door and I am expecting a decent run from her.
WHERESMYMIND (11) – She is trying this trip for the first time and I hope she enjoys it.
Race 2: ARCTIC DESERT (4) – She was disappointing last time but she pulled hard and did not run on. We will drop her out this time and she could run a much better race.
ASPEN TREE (9) – She is not at her top and might battle here.
Race 3: RIVER TYNE (3) – She is well and has a place chance.
IAMTHEONE (14) – She has a tough task and I am not expecting much from her.
DUBOIS CITY (15) – She is a reserve runner but she is working well and I give her a place chance.
Race 4: SPORTING ROONEY (5) – He could again run into the money.
Race 5: PLACIDO (5) – He is doing well and I am expecting him to run a place.
Race 6: SPECK OF LIGHT (8) – He lost form after his maiden win and I prefer his stable companion SIR ISAAC (11).
Race 7: MISTER GONE (1) – This is the right sort of race for him and I think he will feature in the finish.
GOTHAM PRINCE (5) – He found lots of trouble last time. I am expecting a nice run from him.
Race 8: CHEEKY CHANSON (6) – She is well and I am expecting her to run into the money.
MEGA MEL (16) – She will battle to beat her stable companion Cheeky Chanson.
Next weekend is the Betting World Algoa Cup. Will you have any runners taking part in that race?  Way Clear will be my runner I give the best chance.
The Cape season is just around the corner. Will you be taking any horses there to compete in any features? I am hoping to go down. Will have to sort my runners out.
The first race to be run on the poly track will be next weekend. What feedback have you got from the workriders or jockeys? All good and positive as it is a learning curve for all of us.
Do you have any horses that have shown promise on the surface? I think there are a few but it is still trial and error, until we really get to know the surface.
What is the most memorable day you have had in racing? 7 winners and a 2nd in the eight race card on 15/11/1996, and winning the Gold Cup with Cereus and Golden Slipper with Lady Tattler in Durban.
How many East Cape Trainers Championships have you won? Don't know for sure but it is about 7.
What is the highest position you have filled on the national trainer's log? It is also about 7th.
How many winners have you trained to date? I have had many winners and the figure will be in excess of 1000.
Which is the horse that you think is the best that you have ever trained? Cereus and Lady Tattler. Both were Equus Award winners.
Has there ever been a time when you have really felt bad about something that has happened to you in horseracing? Losing a horse to injury always makes me very sad.
When buying horses, do you rely on yourself or have you got a few more 'experts' to help you select your yearlings? Will always choose my own but will get advice from others as well. We don't all look at a horse in the same way.
What is the procedure once you have bought a yearling. Do they come straight to your yard or do they go to a spelling farm? I normally bring them back from the farm to the yard.
South African Breeders have really got their act together in bringing great stallions to the country. Which stallions excite you right now?  Sail From Seattle, Antonius Pius, Judpot and, of course, Silvano.
Do you still visit stud farms to see the 'babies' before they come up for sale. Which stud's do you regularly visit?  Yes – I mostly visit those studs in the Eastern Cape.
There must be great competition amongst the jockeys in PE to ride your horses. How do you decide which jockey to put up, especially in feature events? The stable elect jockey or the jockey which best suits the horse.
At the moment you seem to use about 4 different jockeys. Do you have a stable jockey? Greg Cheyne, Kendall Minnie and Xolani Ndlovu.
Do you currently have a sponsor and a website? No. It is something I will keep an eye on for the future.
Do you do anything special for your clients like having braai's at the yard or taking them to watch their horses working in the morning? Owners are always welcome to watch their horses work or come to the yard to see them. Braai – boerewors rolls on a Saturday morning.
How difficult is it for you when you have a really enthusiastic owner who wants to know about their horse every day? I handle each client differently.
Do you get pestered by any punter, or punters, wanting to know, "what is good for today?"  I have occasional people ask what I like. I don't mind telling them as long as they aren't sore losers.
How do you handle that type of person? I tell them the truth.
Describe typical day in the life of Alan Greeff?  Wake up at 4 a.m. Leave for stables at 4:30. Work all day and come home when all my work is done. I don't live by a watch.
How do you celebrate a particularly good day at the races? Go home to my family and occasionally we go out for dinner.
When you manage to have some leisure time how do you like to spend it? Relaxing with my family.
Do you ever have a bet on a horse or is your enjoyment limited to training the winners? I never bet. I stop trains when I have had a bet.
What short/long term ambitions do you have for yourself? To keep training the winners and enjoying it. I know nothing else.
Does the old maxim, "behind every successful man is an equally successful woman," apply to Alan Greeff? Most definitely. My wife keeps me going through the good and bad times.
Would you like to pay tribute any of your loyal patrons that have supported your yard? To one and all. I have a large base of owners and everyone is important to me, big or small.
‹ Previous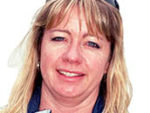 Yvette Bremner