A late season surge saw Aldo Domeyer secure his first Cape Champion Jockey title and gain a prestigious berth in the PGI International Jockeys Challenge in Singapore on 25 September.
The 31 year old secured the third spot on the SA National log with 137 winners (strike-rate of 20%) against champion Lyle Hewitson's 184 winners (strike-rate of 13%) and runner-up Muzi Yeni's 149 scores (strike-rate of 10%).
Aldo will proudly receive his trophy at the Cape Racing & Breeding Awards at the Vineyard Hotel on Wednesday evening. We asked him how he pulled this one out of the fire and whether it was worth it?
"It's an interesting mindset that takes over when one lives the life of the early morning Uber to the airport, drinking airport coffee, life out of a suitcase and chasing rides from Flamingo Park to Fairview to the Vaal. To win the SA title, a jockey needs to do that. And it is draining. Racing has to become an obsession. On the plane you are studying races and form and watching race replays. It's a great challenge and been done successfully by many. But it is easier for a single guy. When one has a family it is a different ball-game and there has to be some sort of sobering balance. The kids get sick, they miss their Dad,  the bins have to be put out, the pool motor breaks down – suburban life goes on," he muses with a smile.

Aldo lives in a lovely family home in Table View with his partner Sharna and two sons – one a 6yo and the other just six months old.
"I spent only three weeks travelling and could already feel the impact on my family. My son's teacher told me he went particularly quiet. My partner never complains. But a six month old baby takes it out of Mom. I thought I will have to somehow learn to manage the balance if I am ever going to do this on an ongoing basis."
Aldo explained how he had received motivation from his former champion jockey father Andrew Fortune and other friends and associates involved in the sport.
He says he was ironically on quite a 'downer' in early July with his opponents riding winners and on an apparent high in the Eastern Cape and other centres, with the Cape losing meetings due to the bad weather.
"My Dad and his wife Ashley invited me to ride for them as they had a few nice horses ready to win. They have done so well early on. Their horses are fit and the whole outfit is just so professional. I am really impressed! I rode a few nice winners for them. I also rode a few winners in the Rider Cup Interprovincial in KZN where I was Victor Ludorum. My Dad said he could see my confidence was up and suggested I go all out in the final few days. It's strange how the horses pick up the positive biorhythms of the guy on their back. Things just happened and they ran for me."
Aldo explained that his father had always been his mentor and he thought that if the 'old man' was so excited and enthusiastic about his prospects for the rest of the season, it was all the encouragement he needed – and he didn't really want to disappoint him either.
"I also had Mr Robert Bloomberg, who knows his racing inside out, guiding and encouraging me. Every morning and evening he was on the Whatsapp telling me to remain focussed and to keep a cool head. In hindsight, it was a lot of fun in those last few days and even the racing media and public warmed to the third-place sub-plot scramble as Lyle Hewitson was already home and hosed. As they say, there is nothing quite like a bit of pressure to bring out the best in one!"
Aldo eventually secured third place on the national log at the Fairview meeting on the final day of the season, where Greg Cheyne (the reigning Cape Champion) ran out of opportunities.
"You know people often seem to think that racing is a cut-throat game of nasty bad selfish competitors. A world where nobody gets on with anybody. Well Greg Cheyne opened my eyes in a show of true sportsmanship. He wished me well before the final Fairview meeting and the moment things were decided, he was the first person to congratulate me. That takes genuine character to behave with such grace. Greg worked hard and he must have felt some disappointment deep down."
Aldo, who won a jockey challenge in South Korea and has ridden in Mauritius and Macau, is looking forward to his trip to Singapore to represent SA in September.
"It doesn't get much more representative for a team from the rainbow nation than Lyle Hewitson, Muzi Yeni and myself! I would love an opportunity to ride overseas some day and this trip to  a leading jurisdiction is the opportunity of a lifetime at this point in my career."
The benchmark of the Cape Champion Jockey title reverts back from the current national log position determinant to the old system of only Cape winners from this season. How does Aldo feel about that?
"Cape winners must surely determine the Cape champion. I could be Cape domiciled officially and ride all my winners in Joburg and still win the title. There seems to be consensus amongst my colleagues that the Cape winners total must be the right measure."
Who does he fear most amongst his local colleagues when it comes to defending his title this season?
"People love to say there is little depth in the Cape riding ranks. That's not accurate. I don't see any visiting riders coming to  Cape Town and simply plundering the winner's box. We have some really world-class riders. Richard Fourie is a serious opponent. He really has all the attributes for a top jockey – pace judgement, placement in a race, good hands, strength in the finish. And let's just say I'm very happy that Bernard Fayd'herbe is as big and heavy as he is!"he laughed.
As to his own prospects of going for the national title this term, Aldo said that he would be focussing on his commitments to the Candice Bass-Robinson string.
"I am fortunate to be attached to a top stable. I don't want to abuse the faith and confidence they show in supporting me. I have the Bass-Robinson Racing Team to thank for the majority of my success. Travelling also means I can't ride much work at Milnerton. And we work well as a team. So that is a serious consideration. With the Cape Summer Season coming up, we need to be planning and charting courses. It's exciting watching the young horses develop and progress."
As to horses he feels punters should be following this season, he mentioned one 'dark horse' that had only shed his maiden last Saturday.
"Varsity Lover impressed on debut. She is a  good filly – very classy. More Magic is very decent. He is still under the radar. A horse worth following. Then Brave Move, who won the Final Fling Stakes at the end of last term to make it six on the trot. I won her last five on her. She is exciting and is the poster girl for the philosophy of patience and improvement. Dutch Philip was a bit disappointing at the end of the season. But he could be the best sprinter in the country on his day – he prefers the straight track though. Don't write him off yet – he will be back with a bang!"
Aldo's cousin Shadlee  Fortune has been riding like a demon this season – with two feature winners in the bag already and almost a winner a day so far. We asked Aldo if he kept in touch with his cousin.
"Shadlee has just taken time to come to hand. After my Dad, any Fortune was always going to come into racing with great expectations on his shoulders. Tyron Langdon experienced it. I experienced it. Shadlee didn't sit like my Dad. He wasn't booting home the winners. We were always concerned too that he may also have been a bit soft for racing. But he has matured and is now sitting beautifully – like a winning jockey should. And he is not riding pointers either! The whole family is so proud of him. We are all behind him and he will do well now that he has found the winning groove," he said.
Aldo Chesrae Domeyer was born in Cape Town on 11 March 1987. He grew up with 4 brothers and 3 sisters on the mean streets of Elsies River.
In 2003, he was considered 'not good enough' by his riding masters at the South African Jockey Academy but his determination saw him return a few years later.  He rode over a  double century of winners in his four-year apprenticeship.
Today 'Doey', or 'The Hitman', as some tag him is a settled down family man, a proud champion jockey, already a J&B Met winner – and he has the world at his feet.
Singapore's next on the agenda. Then the Cape Summer Season.
"At the end of the day, it's all about family and extended family. I have been very fortunate. We all stick together and support each other. It makes a real difference in a tough world."
Aldo will be back riding in a few weeks as he takes a break to recharge his batteries.
‹ Previous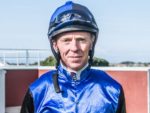 Daring To Dream