As we're now officially into December and Christmas prep seems to be everywhere you look, I decided to pick something festive for this week. Apparently Love Actually is one of the most popular Christmas films and I confess the intro is still one of my favourites.
For those who don't know it, it goes like this: "Whenever I get gloomy with the state of the world, I think about the arrivals gate at Heathrow Airport. General opinion's starting to make out that we live in a world of hatred and greed, but I don't see that. It seems to me that love is everywhere. Often it's not particularly dignified or newsworthy, but it's always there – fathers and sons, mothers and daughters, husbands and wives, boyfriends, girlfriends, old friends. When the planes hit the Twin Towers, as far as I know, none of the phone calls from the people on board were messages of hate or revenge – they were all messages of love. If you look for it, I've got a sneaky feeling you'll find that love actually is all around."
With their accelerated life cycle and even more accelerated careers, racehorses and the industry they serve provide a high density, intense flavoured, high speed slice of life and the events that play themselves out on a day at the turf, run the gamut of human emotion, endeavour, success and disappointment. As there can only be one winner in any given field of runners, there tends to be a lot of focus on the many disappointments and hard luck stories and one could be forgiven for thinking that the race course is a gloomy place.
Of course, there are the not so good bits, but there are also the most incredibly, heart-stoppingly good bits. And sometimes the racecourse can be a little like that Heathrow arrivals gate.
Provenance
Summer Cup Saturday-turned-Sunday was one such day when Alistair Gordon's lovely Monks Hood, in Mary Slack's scarlet and black silks, produced a scintillating run to win the Gr2 Dingaans.
One can find lots of different reasons to follow horses (or people) and Monks Hood was pretty hard to miss after his 7,5 length debut victory back in May this year. As I love the Buckpasser line, force of habit means I always give anything wearing Mary Slack's red and black silks a second glance. While Alistair has trained a number of good horses over the years, including the likes of Mauritzfontein, Extra Cover, Scarlet Lady and Disco Queen, it is the fact that he handled Brer Rabbit that earns him a special place in my heart, as I was lucky enough to ride a Brer Rabbit mare growing up. As you might guess, I'm not much good when it comes to racing tips, but if you like random stories and connections, I'm definitely your girl.
And on that note, the other rather wonderful thing about Alistair is that he occupies a very special yard in the old part of Summerveld.
"We're very spoiled to have the yard we have. I think I'm only the third trainer to be here. It was Syd Laird, David Payne and myself. It's an iconic yard. I think the trees were planted by Syd when he moved in. There have been some serious horses out of the yard. I guess I've let the side down a bit, but I think we've got some proper horses in this year," he says with the careful optimism that comes from a lifetime of working with horses.
Special story, special horse
Monks Hood comes with a rather special story attached. "Over the years, I've trained a couple for Mary with most obviously being homebred horses. We've had some real disasters with horses either getting injured or being no good. Mary went to Jehan at Nationals and said 'try and find something nice for Alistair'. Jehan came to me and asked if I'd seen this colt. I said I hadn't. He told me what Mary had said and when I saw him, I thought he was an exceptional yearling. We managed to buy him and that's where it started."
Monks Hood made that eye-catching debut over 1200m at Scottsville on 20 May, following up with a two lengths 3rd to Trojan Harbour in the 1400m Listed Gatecrasher Stakes on 10 June and a fraction over half a length 4th to Eyes Wide Open in the 1600m Gr1 Premiers Champion Stakes to close out his juvenile campaign on 30 July. As a 3yo, he has had two starts on the poly, starting with a 1200m Graduation where he finished just over a length third to Di Mazzio on 1 October and then just under 1.5 lengths third to Cutting Edge over a 1200m Pinnacle Stakes on 12 November.
Alistair had been weighing the option of campaigning Monks Hood in the Cape Guineas, until fate waved its mischievous wand. "He has suffered from upper airway inflammation from bedding and so on, so on nice days he lives out in the paddock. One morning, when the guy went to fetch him, he freshed and fell over and when he got up he was lame. It was nothing major, but he was sore for a day or two and we had to ease back on him. But things happen for a reason. Maybe he wasn't meant to go to Cape Town," he muses. And so Cape Town's loss was Joburg's gain.
Temperament
While there were a few anxious moments about the Premier's Champions Stakes form after the recent Selangor and then the bad weather causing the meeting to be postponed by a day, the one thing Alistair didn't have to worry about was his horse.
"He travelled to Joburg on Friday night. "We loaded here at 10pm and got in in the morning. He never turned a hair, ate all his food – he's got a magic temperament." Asked about the forced postponement and the track conditions on Sunday, Alistair is diplomatic. "It was the right choice. On Sunday, the sting was out of the ground, but one would love to race on a surface like that all year round. I thought it was in excellent condition."
Was it a big day? "I had some friends and family who flew up on Saturday morning, but they were all booked back on Saturday night, so I didn't have anybody there. Obviously I was in Mary's box with Jess and everybody on Sunday and they had a huge day with Nother Russia and a lot of other winners, so the box had a great day, which was great."
Savouring the moment
Having produced some very special horses in his time, Alistair has been in the game long enough to know that while one should not get too far ahead of yourself, these little pockets of success and joy are capricious things and every opportunity should be savoured.
"I think this is a tough game we're in and I've been in it a long time. I haven't quite had the horses to go into the big races for a while – I think the last time I ran in the Merchants was with Disco Queen, so it's tough, you know? When you've had the privilege of training that calibre of horse and winning races all over South Africa, when you don't have those horses, you miss them."
"For whatever reason, you go through stages where you just don't have those types of horses, so it is emotional. I think there's something wrong if you don't get emotional. Like we discussed, the way he came to me and the fact that Mary tried to give me a good horse, I think it's special and you've got to try to reward someone for what they gave you. To be honest, I'm an emotional person. When a plan comes together, that's what it's all about. I've never won the Dingaans before and to be honest, if we'd run second by a short head, we'd still have been happy. If you look at horses that have won the Dingaans, there are some pretty decent horses. Hopefully we can crack on from there."
Big race debrief
They left Johannesburg at 7pm on Sunday evening and got back to Durban at 2am on Monday morning. "He ate all his food, he doesn't care. It makes it a lot easier. He's a big, strong, nice looking horse and has this magnificent action on him. It's very exciting what's happened and hopefully for the future."
"He's a really nice horse. As a 2yo he had those two runs in those features and obviously the Gr1 on Gold Cup day where he was drawn 13 out of 13 and was only beaten under a length. He's always shown that he's a nice horse and since he was gelded he's improved a lot. His two runs on the polytrack were indifferent and I think he's not a great poly horse. He's got a lovely temperament. The only reason we gelded him was from a timing point of view. It was the right time. Just after the season he was starting to get a little loaded in the shoulder and neck sort of thing, so I thought we'd better do it then. He's always had a really nice action and it actually improved since the gelding. He's lightened up a bit."
Have there been any thoughts as to his future? "It's mission accomplished at the moment. We did consider the Cape Guineas, but it's a bit too close to the Dingaans which was a really hard race. There's also been an African Horse Sickness outbreak, so the decision was made for us, but I think it's the right decision for him and I'm very happy. The main goal will be the Gauteng Guineas on 3 March 2018. I don't think he'll go further than a mile. The dam line is sprinting, so 1400m would be fine, but there aren't many 1400m feature races, so I think we'll aim for 1600m in Joburg."
Next time you get gloomy with the state of the world, why not take a trip to the races. You never know what you might find.
‹ Previous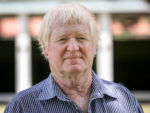 Andries Steyn