The softly spoken Alyson Wright is one half of the husband and wife Gee Racing team. The other half is husband Kevin Wright. The stable notched their first Gr1 win with Kochka in the 2013 Gr1 Premier's Champion Stakes and have just collected the R28,500 first prize in the KZN Trainers' Winter Challenge Series. We thought we'd take the opportunity to get to know them a little better.
Alyson was born and bred in Zimbabwe. "My mom and dad were originally from South Africa and then moved to Zimbabwe, so I was born there. My mom and her sister always rode and did show-jumping down here, so I started riding from a young age and did show-jumping all the way through my younger years. I still do a bit now."
Alyson's mother, Penny Fisher, worked as the assistant to Jack Perry and Benny Lobel who were owner-trainers, later training in her own right. "That's how I met Kevin – he was a jockey and we met when I was sixteen. Kevin was a very good rider. I wish I could remember all the stats, but he actually made champion jockey while he was still an apprentice. He was champion jockey in Zim for many years."
Penny now runs their satellite operation in Zimbabwe and Alyson's father is also involved. "He used to ride, but not competitively. Obviously with both of us training, he now owns a couple of racehorses. He likes to pick a horse every now and then and he's done quite well."
Interestingly, training wasn't always on Alyson's radar. "I originally wanted to go and do equine science in Pretoria, but that didn't happen, so I did computer programming after school. Kevin and I married when I was 21 and I worked for Christopher Peech – Noelene's husband – at Rumbavu Stud for about 4 years. Then Kevin got a job riding for Mike Clements in Singapore and I worked as a work rider / stable employee for about a year. Singapore is a lovely place – everything works! We came home again in early 2000. I helped my mom manage her yard for a while and then moved to Durban with Noelene Peech."
Accident
"To be honest, we probably wouldn't be training if Kevin hadn't had his accident. Kevin was riding for Noelene at the time and I was working as her assistant. He was down at the start one day when one of the other riders turned his horse and Kevin got kicked. He broke his leg very badly. He was in and out of hospital for a year battling infections and in the end, it was the end of his riding. Towards the end of 2004, Noelene closed her yard and went back to Zimbabwe. We stayed on. Kevin worked as a Stipe for about a year and we decided to open our yard in 2006. We started from scratch."
"The saddest thing about us starting out is that Kevin had only just started riding here. We moved down here in August and he got kicked in November. The last ride he had that day before the accident had been a winner for Noelene." She recounts the story matter-of-factly, but there is no regret and it's clear that instead of dwelling on the past, their focus is firmly on the future.
Gee Racing
"We originally wanted 'Wright Racing', but couldn't get it, so we went with Gee Racing after our son Gary. He's 19 years old now and at university." Any plans to join the family business? "Not at all," she laughs. "Kevin always says I cured him! I was so desperate for him to ride so that we could have nice ponies, but a few falls and that was the end of that. He's studying engineering. Poor child, we moved around so much between Singapore, Zim and South Africa, so he had to work hard to catch up. He's done well."
"Taking out the license in my name is just sort of the way things worked out, but Kevin is a huge part of the yard. We're a big team and he does a lot of the work."
Starting Out
"Kevin had ridden in Mauritius and our first client was Francois DuMee who still has horses with us now. He bought two for us on the Durban sale and Neil Bruss had a horse called Just Ice which belonged to Mr Rattray which they wanted to sell and we bought him for Mr Govender. He was our first winner. It's been a long, hard few years to build up the stable, but we've currently got 47 horses at our yard in Summerveld and there are a couple still out on the farm."
Asked how they are enjoying the new Summerveld facilities, Alyson enthuses, "It's a really nice place to train. It was a bit of a nightmare in the summer – we used to go for days without being able to work, but that's all been sorted out with the poly and it's really nice."
Career highs
"We don't have an assistant, so Kevin goes to the sales to select horses and I stay and do the yard. We've not had big budgets, which limits one a little, but Kevin has a good eye. He picked Kochka, who was Champion 2yo for 2012/13 and when you only get a handful of 2yo's and end up with the champion colt, that's quite special," she says modestly.
"Unfortunately he hurt his tendon after his 2yo career and was on the farm for a year. When he came back, he ran second and then won second time back. Then he went and picked up a virus a couple of months ago which put a spanner in the works. We would have liked to run him in the July, but he's had a long break and it takes a while to get them back into real racing condition. We may consider the Thukela Handicap instead."
"We've also got Mr Roy who is Gr3 placed and he was 5th the other day in the Tsogo Sun Gold Medallion. I think he's looking for a bit further. He'll be a nice older horse."
Does being female in the fairly male-dominated racing world present any challenges? "I'm quite lucky that I've got Kevin behind me and he deals with a lot of that aspect. We've got a really nice bunch of grooms and a nice team, plus a very good foreman who we can rely on to help us along the way. But in terms of our client base, I don't think it's made any difference."
Life outside of racing? "We live in an equestrian estate in Hillcrest which has stables and riding facilities and I like to take horses off that track that we've trained that I think will jump and I school them up. I used to compete as a teenager and I did a little when we first came to Durban, but to be honest I just don't have the time for competing right now. I enjoy bringing them on, but once they reach a certain point, they'd be wasted if I kept them, so I sell them on. That's what I've been doing lately."
Kevin
Kevin also hails from Zimbabwe and grew up with horses. "My mom and dad did trotting racing in Zim, so we grew up with horses on the property. My brothers and sisters are all really tall, but for whatever reason, I'm the short one in the family and that's how it started. We don't have any jockeys in the family or anyone who was particularly involved in racing – I was the first. My son is now really tall, so it seems he's taken up the tall genes in the family!"
Kevin relates that he was part of the first batch of apprentice jockeys to be trained in Zimbabwe. "Zimbabwe racing operates under SA Jockey Club rules, so it was exactly the same system and our academy fell under the SA Jockey Club. There was an academy that we all went to, although it was a bit smaller than the SA Academy. Ticky Dalton was our riding master. I'm the only surviving rider of my contemporaries, which is a bit sad."
Very lucky
"Racing has been very kind to me right from the word go. I was fortunate and had a very good apprenticeship. I had a very good boss in Ginger Halfpenny. He was a good jockey in his own right and used to be an Academy Master. When I went to work for him, I had him all to myself and he taught me a lot. I was also helped a lot by riders like Gordon Whyte and Paul Muscutt, who died in that terrible plane crash."
"Racing really was very kind to me. Unfortunately I never kept any records, but I rode for about 10 years in Zimbabwe. I also rode in Singapore, Australia and Mauritius. I rode a lot of good horses and had a lot of good times – to single out one would be unfair. I rode in quite a few internationals with the likes of Doug Whyte, Piere Strydom and Weichong Marwing – those guys are all my friends and riders from my era. They were all phenomenal and are great jockeys to this day."
"I did try messing around a little bit after the accident, but my leg is not good. These days I'm on the ground on that's where I should stay, but I still love racing and training and I love helping Alyson. One needs good people and it's always much easier to succeed when you've got a team behind you."
Shrewd eye
He laughs off his expertise as a yearling picker. "Maybe it's a good eye, maybe I get lucky. There is so much luck involved and you've got to have a bit of luck in picking horses. In racing, if you're in the right place at the right time, the good horses find you. Kochka was an easy buy. John and I both liked him straightaway and he pretty much sold himself, to be fair."
"On balance, I probably do prefer colts. The basis of our yard was built around Mauritian clients and most of them buy with a view to starting the horses here and then taking them to race there. Obviously they don't take fillies, so initially we only bought colts. We have to watch the budget and it's pointless looking at horses that are out of our range, so I look at what's available from what I can afford. I try and keep an open mind. We're lucky enough to have one or two clients who can go a little bigger and that does make life easier."
"Roy Moodley recently joined the yard, which has been great. He is passionate about racing and is breeding now as well. He gave me a free rein at the sales and we managed to get a good one straightaway, so we've been quite lucky for him. When you've got the right people helping you, you need to make the best of it and do your best for them."
Trade secrets
Kevin is very hands on in the yard. "We've been in the new Summerveld stables since they opened, which is about 8 months now, I think. It's a lovely barn and really lovely set-up. Our biggest thing is having CCTV cameras. We've got one in every box and all the aisles, so we can see our horses wherever they are and the computer stores the footage for a month. It's a really helpful training tool. Now that we've got it, I don't know how we ever managed without it!"
Regular jockeys
"We don't have a formal stable jockey, but Athandiwe Mgudlwa, Anthony Delpech and Tristan Godden are the three that ride work and race ride for us mainly. After that, I think it's important to try and get the best you possibly can. When you've got a big horse, one tries to give owners an opportunity to use the best. Anthony is a big name and rides for us when he can and we're lucky to have him.
With new facilities, new owners and some promising young horses in their string, Gee Racing is definitely a stable with a big future.
‹ Previous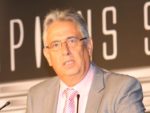 Graeme Hawkins