A crazy passionate animal lover who used to babysit baboons and chimpanzees in between riding work for a top lady trainer in her matric year, the former Western Province junior showjumper is an instantly recognisable face at South African thoroughbred sales.
At age 49, past CTS Sales Manager Amanda Carey is one of horseracing's most experienced and accomplished marketer-administrators. Just over a week ago she took up her new post with the dynamic Highlands, Part of Ridgemont team in the beautiful surrounds of Robertson in the Western Cape.
It's a job she was just about born into.
"My whole life has been on the back of a horse, somehow! When I learnt to walk I got my first pony. These wonderful animals have really and truly dictated the course of my life."

The daughter of a National Hunt Jockey, Amanda Shorter was born in England and moved to South Africa in 1976.
"My sister and I were very fortunate to have parents that dedicated their lives to supporting us show-jumping as juniors and then early adults. We literally grew up living horses! I rode work for the legendary Pat O'Neill when she trained at Broadlands. That was in the early morning hours before school – in my matric year! The sacrifice, if I dare call it that, was worth every bleary eyed cold Boland sunrise! I didn't know it then, but setting my alarm and getting up early opened the door for my future career – and is how I ultimately got into racing."
Amanda's matric year part-time labour of love ended up with her working at Broadlands for the next decade.
"I worked for Pat for ten years preparing yearlings in the days when she stood top sires like Royal Prerogative and Averof. I loved the work. I learnt so much."
But, just like getting up at sparrow, those twists and turns of life's road were to mould her destiny again – she met her future husband and present day Ridgemont Stud Director Craig at the National Sales in Johannesburg in 1988.
"It was my first sale with Broadlands and Craig was there helping his Dad,  who had Windsor Stud. It's a long story – but the rest is history as they say," she says with a laugh.
One of South African racing and breeding's most recognisable couples, working-mother Amanda and Craig, who live on Ridgemont Farm in Wellington, have three children – Justin,(21) Jemima (18) and Oliver(12). Justin is currently working at Coolmore Stud Ireland in the stallion division, Jemima is in matric at Somerset College and Oliver is at Bishops in Rondebosch.
"When Justin was born I left Broadlands and was approached by Lionel Cohen, who had just taken on the Chairmanship of the Cape Breeders Club.
"I told Lionel that I didn't even know how to turn on a computer, but his reply was – 'you will learn!' I went on to assist him with his stallion administration at Odessa Stud and worked at his sales company, Equimark. I was there for 14 great years before he packed up and left for Australia. I was then approached by Cape Thoroughbred Sales (CTS) and took on the role as Sales Manager. The time sure has flown by!"
Amanda was with CTS from inception in 2011. She speaks fondly of her experience and the people that she worked under and with.
"I was privileged to work with a really dynamic board of directors who have done so much for racing, and in fact for the industry on a whole," she says.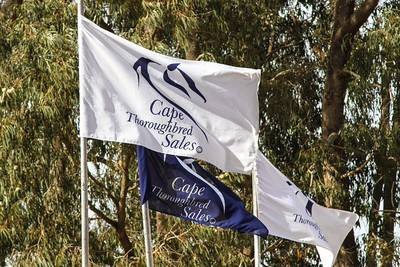 On Amanda Carey's departure from Cape Thoroughbred Sales, Managing Director Adrian Todd, commented:
"Amanda's flair, commitment and dedication to excellent client service have become synonymous with our philosophy of constant innovation and global growth and we are sad to be parting ways. She played an influential and instrumental part in establishing CTS as the major player in the South African bloodstock industry and we are grateful for her service. She leaves us on a sound footing with excellent operational systems in place."
Behind her new desk at Highlands this week, she has a twinkle in her eye as she speaks of the challenges that lie ahead.
She obviously can't wait to get stuck in and is definitely not fazed by the lack of a job title, saying that they don't have titles per se at Highlands, Part of Ridgemont. "We are one big team. I will be assisting with all aspects of marketing and client relations and working closely with the team as a whole."
She says she doesn't know when last she had felt this excited about a new goal and the prospect of joining the Kieswetter/ Highlands/Ridgemont family was her greatest challenge yet.
"The entire Kieswetter family is passionately involved in the team. Ross brings a fresh, young approach and has amazing new ideas in the marketing of Highlands. Craig, who played cricket for England and is now a professional golfer, keeps his eye on the international scene. Mum Belinda, a keen equestrian rider herself, and Dad Wayne, who has loved horseracing and genetics from a young age, form the formidable core of a winning team. The existing top team of Mike Sharkey and his professionals need no introduction and continue to take Highlands to a new level."
Amanda goes on to talk excitedly about Highlands having purchased shares in new sires for 2017 and 2018, with outstanding Coolmore shuttler Canford Cliffs joining them next season. She is quick to remind us that he had another Group winner this past weekend. And the whole breeding world is also talking about Redoute's Choice smashing son Rafeef, who arrived a few weeks ago.
"We are improving our mare band by continuously adding national and international black type mares. The Cape Winter Series, which was sponsored by Highlands Stud for the first time this year – and whose historic second winner was also bred by Highlands – will continue to grow under the Highlands banner," she adds.
We asked her how she felt about the future of the industry.
"I think we are in for some exciting times with the new injection of life into racing from some major players. The world is becoming so much smaller and our owners and trainers are not scared to take on the global players. I am also confident that Chris van Niekerk and his team will make positive steps in our bid to deliver our product to the world."
On what made her who she is today, Amanda didn't hesitate by answering, 'horses and good people'.
"I owe my work ethic to my parents who were extremely hard workers. Pat O'Neill introduced me to so many interesting people and animals and had so much knowledge and life experience to share. Lionel Cohen, a forward thinking, hard worker and top breeder. Chris van Niekerk, an extremely intelligent fair man who is just so passionate about horseracing. He taught me that the client is always right – even when they are wrong! And that age is just a number! I really like that! Chris is a true gentleman of the game and loved by all. Whoops – I must not forget to mention my poor, long suffering husband, who is my rock!"