The recent spotlight on the policing of jockey rides has put even greater pressure on our Stipes.
One man who has been on both sides of the fence is Andre Jacobus Hoffmann – aka 'Hoffie'.
Currently an official on the National Horseracing Authority's Gauteng Stipendiary Board, the vastly experienced horseman – and hobby masterchef – says that he will always make decisions that uphold the integrity of the game, rather than to please others.
Experience is Andre Hoffmann's middle name.
He joined the SA Jockey Academy in 1987 alongside the likes of Deon Sampson, Jannie Bekker, Martin Wepner and Ricardo Sobotker – the latter is coincidentally also a Stipe these days, based down in Port Elizabeth.
Talking to the Sporting Post just a few days after his 49th birthday last week, Hoffie said that he holds his job in the highest regard and does his best to make fair and objective decisions.
"Those decisions will always be met with scrutiny in one way or another. But I reassure myself that I make decisions that uphold the integrity of the game rather than please others," he adds with sincerity.
We asked him if it was difficult disciplining his former colleagues?
"No, as a former jockey, I have a deep understanding of the sport. And I'd like to believe that my former colleagues respect that as my decisions are made with  twenty years of racing experience in almost every facet of racing."
A low-profile family man, with a son and daughter that have made him extremely proud, the always slight-in-stature Andre Hoffmann grew up mostly around the West of Johannesburg, Roodepoort, Newlands and Randfontein.
"Due to moving around a lot and changing schools often, achievements at school weren't something I focused on," he says quietly.
He has known his wife Sheryl for thirty years. They married in a great year in our history – 1994.
"I have been blessed with two wonderful children – Justin (27) and Shandre (24). Fortunately for me they both grew too tall to become jockeys. I don't think I could have taken that stress. I couldn't keep them completely away from horses and both received National colours for showjumping. They also enjoyed coming to work with me in the mornings. Thankfully they were both good at school and between them have 7 university qualifications. They both have Honours degrees too. For now, I am an 'Oupie' to my fur-grandchild Ellie," he laughs in reference to the puppy Shandre and her husband Calvin Habib rescued.
"She's really not a dog. She's human. She comes on every holiday, to every restaurant and even has birthday parties. My Dad cooks her special meals. It's safe to say he is smitten with her," laughs Shandre.
Andre Hoffmann joined the SA Jockey Academy in 1987. There is no romantic fairytale story behind it. "I went to the academy because I was small and it was thought that I would do well as a jockey," he says matter-of-factly.
He rode his first winner at Hollywoodbets Greyville aboard the Des Rich-trained Bally Lee in 1988.
"I think it was my 14th ride – the horse was the biggest outsider in the race at 40/1," he adds proudly.
During a long and distinguished career, he rode in all centres here, including the now closed Bloemfontein and Kimberley. He also enjoyed some 'international' exposure in Mauritius, where he rode for the powerful Gujadhur family and in Zimbabwe, where he rode winners for the late Ronnie Sheehan.
Andre says that he was fortunate to ride winners for some of the biggest and most powerful yards over the years.
These include Dave Goss, Ormond Ferraris, Dave Ferraris, Geoff Woodruff, Barend Botes, Mike De Kock, Gavin Smith, Allan Greeff and the late Arthur Miller, for whom he achieved one of his career peak wins on PE raider Stateway in the 1994 Gold Cup – then still a Gr1 event.
The story about the 7yo, who still holds the Gold Cup record for longshots, is one for another chapter.
Stateway's most important successes had been gained in Eastern Cape marathon events where the winner's share of the purse compared with those for C Division races at major centres.
He came into the Gold Cup with 62 races under his belt over five seasons from two to six years – the Gold Cup was his first start as a seven-year-old – and with his six wins and 14 places had brought in only R122 315.
When former jockey Arthur Miller decided to call it a day in Port Elizabeth and turn his sights to training, Hekkie Strydom offered him Stateway to build his string up to the minimum of 12 horses he required to obtain his licence. Campaigned in Mike Bosch's colours by the new trainer, Stateway managed two places including a second in the Glenlair Trophy before the season's end.
Legend has it that such was Stateway's love for water, he had a swim in a Free State dam during a break in the long trip by road from Port Elizabeth to KZN for the Gold Cup. The gelding arrived none the worse for wear and ran his rivals ragged.
Andre Hoffmann's natural modesty precludes him from bragging about his other big winners, but he mentions the SA Airways victory on Coal and then an emotional success on Daddy's Darling in the Memorial Stakes in 1993. "It felt like my biggest winner as it was just after my son was born so it was sentimental," he recalls.
While a naturally fit guy, Andre never had much luck with injuries during his career.
"My last two injuries, were freak accidents with horses at track that were not riding-related. The first time I was kicked and a few months later a horse fell on me while I was leading it. Both injuries took longer than expected to recover from and it was at that point that I was diagnosed with and medically boarded for osteoporosis."
To keep fit, he started a show jumping career and helped his daughter with her ponies.
In 2012 Andre joined the start crew as a handler and about a year later he was given the opportunity to move into an Assistant Starter position.
"After that, I joined Phumelela working in race day operations which I did for about 2 years. Last year in March, I realised my dream of becoming a Stipe after successfully applying for the position," he says proudly.
We asked if he enjoys the job?
"After retiring from the saddle I don't think I could have imagined working in any other industry. My work  keeps me close to my passion, even though the lockdown was testing for everybody in racing."
"I worked through the lockdown by continuing with stable inspections to ensure the health of horses. I live on a plot so I also spent much of my off-time looking after our horses or undertaking home improvements. I made a koi pond and have enjoyed tending to that and my garden. Lockdown was also a time of celebration for my family – my daughter married Calvin Habib in June. We always put family first, so we made a conscious effort to spend time with one another as we usually are all working. And then the celebrations started again when my son got engaged to his fiancée Mandy in September!"
The family pride thread runs deep in our chat and Andre is adamant that taking care of his 'kids' and family makes him the happiest person on earth.
"I also enjoy cooking. I am my family's resident chef. All I watch on television is cooking competitions and racing."
What is his view of racing's future?
"Hopefully the business rescue and new owners can bring an injection of new youthful supporters to this beautiful sport. It would be great to see full stands again like I was so used to in my day."
Pics kindly supplied by Shandre Hoffmann-Habib
‹ Previous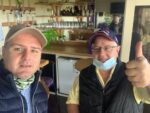 A Patch Of Paradise