Angus Gold is the tall, affable gentleman with the quick smile who has made his mark as the racing manager to Sheikh Hamdan bin Rashid Al Maktoum. Angus has become an increasingly familiar face at South African sales and big race days and with the Sheikh's expanding interest in the local industry, not to mention some big runners on Classic Day, the Sporting Post gets to know him better.
Background
"I rode as a child and loved it. There was no family racing connection, but I started watching it on television and fell under its spell as so many do. When I left school I did 7 or 8 months working as a stable lad for the likes of Ian Balding and Charlie Milbank in France and I did the National Stud course in Newmarket. After that I took a four year gap and tried to get a proper job in the City (London) in insurance, but the lure of horses was too much. I was lucky enough to get a job with Michael Oswald at the Queen's stud at Sandringham and spent a couple of seasons there. Then I went to the USA and worked at Lanes End in Kentucky for a sales season. When I came back, I got a job with the BBA and was there for four years. I met quite a few of the South African lads who used to come over in those days."
The big job
"I was just in the right place at the right time when Sheikh Hamdan was looking for a racing manager. At the time, his interests were being run by his stud managers in Europe – he had one in the UK and one in Ireland at the time). The numbers were getting too big and he decided to get a full-time racing manager. I was lucky enough to be hovering around and that was it really. This will be my 29th year."
What does it entail?
"I'm the liaison between the trainers and Sheikh Hamdan. I look after the horses in training in Europe, South Africa and Australia – that's the main job. It also involves a bit of buying, selling the bad ones, trying to get horses to Dubai for Sheikh Hamdan and trying to make it as successful as we can for him."
SA connection
"I'd known Mick Goss in my BBA days. In the early 90's he came over to England to drum up some support for the South African industry. He spoke to myself and Michael Goodbody (advisor to Sheikh Maktoum al Maktoum at the time), we spoke to our respective Sheiks and started sending out one or two horses for stud. The first we sent was Rami. He was a Riverman horse who was beaten a head at Ascot in the Queen Anne. If he'd won, he could have stood in Europe. It grew from there – we sent a few fillies out as we had a few stallions by that time and wanted to support them."
"When racing in Dubai got busier, I suggested to Sheikh Hamdan why not buy 7 or 8 in South Africa just because if we bought 8 or 10, 4 might be alright, 2 might be no good and 2 might be quite good. He wasn't sure initially, but a few years later – probably about 5 or 6 years ago now – he said he'd thought about it and thought it was a good idea to try and buy some horses. Fortunately we got lucky on our very first year when we bought Soft Falling Rain on the Cape sale. He's been our biggest star from South Africa – so far anyway. Then Sheikh Hamdan said why not take MDK to Sydney and try and buy some horses there and luckily we came up with Majmu. The whole idea is to get horses that are good enough to race in South Africa and then, if they're good enough, to go on to Dubai. That's the Sheikh's home territory obviously and he wants horses to represent him and for the farm."
Majmu
"I've always thought she looked like she wants a mile and a quarter, but we've never had the chance to run her over that yet. That's what impressed me in the Fillies Nursery – she's never looked like a 1200m filly and she did that on class alone. The plan was to aim her at the Classic, but she's not quite where we wanted her, so we're going for the Empress Club in April instead. Hopefully Sheikh Hamdan may put her in quarantine and bring her to Europe, but she won't get here for our early season now, if at all and traditionally he doesn't like to keep 4yo mares in training. He is passionate about breeding and likes the fillies to go off to stud, but I hope he'll make an exception and bring her over here. We'll see what the next race or two tells us and take it from there."
Ertijaal
"Ertijaal is a homebred from our Australian farm. He was quite a late foal – October or possibly even November if memory serves. He got colic just after he arrived from Australia and they had to cut him open. At one stage they thought they were going to lose him – he was just skin and bones – so I thought it was a pretty remarkable effort for him to win a Derby fourteen months later. He's quite an immature horse to look at, but I'm sure he'll only improve as he gets older, like his older brother Mushreq. He was also an immature sort that improved as he went on and hopefully Ertijaal will do same. He's done a lot in a short space of time, coming from Australia, colicking and then winning 4 races in quick succession. We're going to run him in the colts Classic and then see where we go with him, but he's a good candidate for Dubai next season."
Other horses to keep an eye out for
"Estidraaj (Hard Spun – Nufoos) has had four starts for two wins. She's a very nice filly. She's lightly raced because she had big problems in starting gates, but that's been sorted out now. Of the colts, Mitraad (Northern Meteor – Fondle) looks a nice horse to me. He won a listed race last December and has had a bit of a break, so should be coming back now. Mutamakkin (Redoute's Choice – Quiet Maggy) finished 4 lengths behind Harry's Son in the Guineas the other day. I've always thought he's a mile and a quarter horse and think he's been racing over a little short of his best."
"It's still a little early for the two-year-olds and Mike is traditionally not in a rush with them, but so far we've had Entisaar (More Than Ready – Purrpurrlena) who won on debut and Almashooqa (Bernardini – Joy Of Flight) also won her first start the other day. Then there are two or three that are lovely looking colts for later on. One is Jubilee Line (Dynasty-Jabulani Jive) who is a lovely big galloping horse and I hope he'll have a bit of class. There's also a Redoute's Choice colt out of National Colour called Rafeef – he'll be a horse for later on I think – but they certainly all look nice types. I'd love to have some good ones in South Africa for Mike. We've had a couple of good ones for South Africa and we've been lucky this year with Ertijaal and Majmu, but the end game is for Dubai."
Why bring Australian horses to South Africa?
"It's purely because Sheikh Hamdan got to know Mike de Kock through training. We have horses in Australia with David Hayes, but at that stage we had never sent horse from Australia to Dubai. We had some in training in South Africa and I said 'why not split the horses between David Hayes and Mike de Kock and see how it works? Obviously Mike's a great trainer, he has international experience and it makes sense to try it.' A couple of decent results give you the confidence to go on and try again and it no doubt helped that Mike knew Dubai as well as he did. He's probably better placed than anyone in the world to tell us what sort of horse we need. The dynamic has changed a bit with the dirt and that's put a slightly different slant on things. I think horses will take longer to adapt, if at all, the same as going to America, but that's the surface we have to play with and we just have to find the right horses."
"I have enormous admiration for what Mike has done, not only for himself, but for South African racing and breeding as well. It takes a special sort of guy to get on a plane and head off into the unknown. He's really shown the world how good South African horses are and the industry owes him a lot for doing that."
How do South African horses compare with the rest of the world?
"My own feeling is that you can get a good horse anywhere and I genuinely feel that South African horses are good enough to compete anywhere in the world. Look at Horse Chestnut – he went to America and would have been a superstar if he hadn't broken down. You breed horses like the ones you get in Hunter Valley – tough and with incredible bone, substance and strength to them. More so than European horses at the same age. And the quality of your bloodlines is getting better and better. South Africa can produce top class horses of the same calibre as the best in the world. If the export situation opens up, you'll be going from strength to strength."
Which South African sales do you buy at?
"The real thing is the Cape Premier Yearling Sale, because it fits in time-wise. By the time Joburg comes round, the European season is up and running and my job is here, so I don't often get to that sale. I did get there last year to see Majmu run in the Grade 1's and we've had some luck in the Cape with horses that look ok. That's really the only South African sale I've had a lot to do with."
Will you be back in South Africa this year?
"I probably won't be there for Classic as it clashes with the World Cup and then it's on to Sydney for the sales, but I might make it for the Oaks if I'm lucky. It's entirely up to Sheikh Hamdan."
Are there any of your horses we should look out for on World Cup night?
"The World Cup is an absolute spectacle of racing and it's amazing to see certainly. Of our Dubai string, horses to keep an eye out for are Mastermind who has already won and had a couple of seconds over there and an Australian filly called Shahrasal, who placed in the UAE Guineas and Oaks."
Where will the horses go after racing?
"We've not got to that stage. Other than Soft Falling Rain, we've not had one good enough to send back yet. Mushreq and some of the others are 5 year olds now and probably not going to improve, so they'll be retired. Mushreq is a gelding, so we'll find him home here in Europe. With Mujaarib, we might see if there's any interest in South Africa to stand him at stud. Soft Falling Rain was lovely for us. We've kept a bit of the horse and he'll be lovely to breed to a few of our fillies."
‹ Previous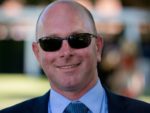 Adrian Todd