It's not often that a young rider attracts attention at both of his first two winning rides – particularly when they are eight months apart in two different provinces. 
But 18 year old Jabu Jacobs brightened a particularly dull winter's afternoon at Kenilworth on Saturday with an enterprising pace ride in the final race that demonstrated that his raw stats are probably not a true reflection of his ability.

In October 2018, the young man from Petrusville near Kimberley in the Northern Cape, captured the racing public's imagination when booting home his first winner at his 29th ride – coincidentally in the same silks that he rode his second winner in on Saturday.
Riding for the Plattner Racing Team, Jabu rode an almost nonchalant race to get Winter's Coming up to grab a late victory at Greyville on 30 October 2018.
On Saturday, the now third-year apprentice was riding the least fancied of the Plattner runners on the day.  This time he kept Suite Francaise out front and nicely balanced all the way to the wire.

It was a welcome early birthday present for this week for leading owner Sabine Plattner – and a near double celebration for Jabu, who turned 18 last Thursday.
"I jumped Suite Francaise out as instructed and held my position. I gave her a light smack at the top of the straight and she ran all the way to the line. I realised close home that they weren't getting to me and that was a great feeling," he adds.
A slightly bemused Plattner Racing Assistant Evan Lerena was impressed and said the young jockey rode his race like an 'old pro'.
"That was a great ride. He dictated, slowed it up – and caught them napping when he gave her a reminder at the 400m. What more can an owner or trainer ask for?" said Lerena of the 20-1 shot.

With close on 100 rides under the belt , Jabu's strike rate is not impressive – but veteran former Champion Jockey Garth Puller warned that apprentices with the right attitude  should not be written off, just because they have an early low win strike-rate.
"Jabu and his colleague Yuzae Ramzan come and ride my work on Sundays. They jump over the fence and walk over to the yard. Remember, that's when the other guys are still sleeping. They do it voluntarily and willingly. That's how  I measure attitude as a start. He is a pleasant and really courteous youngster – and he doesn't sulk either. It's easy to take a pat on the back – it's when somebody tells you that you erred or messed up that one's character is really tested."
Puller went on to point out that it should be noted that Jabu's place strike-rate of 25% underlined the fact that he had not had all the luck early on.
"He has gone close a good few times for me. They say you make your own luck but had those been winners, he would have been up and running by now and we'd be saying he is doing well. I think he just needs a little bit of time and experience – it's easy to be intimidated and overwhelmed in this game. It's all a see-saw, too. You win a few – you are in demand and then suddenly you are popular and you use your claim well. Then the pendulum swings as you move down the claim – and the other 4kg claimers are then showing their hands. At the end of the day, it's a career that tests character and, believe me, talent and genuine commitment will always come out tops," says the man who should know more than many.
The Summerveld based veteran said that for the young  apprentices it was all about getting opportunities.
"I can put Jabu up on a horse and the owner may ask me how many winners he has ridden. And there are always more experienced 4kg claimers around. So he just needs to break through. He is very young and will grow into it. It's not always how you start – you need a few lucky breaks along the road – and it's how you finish. I will say it again – Jabu has the attitude to go all the way. That's what counts before anything."
The soccer crazy youngster, who is a big Muzi Yeni fan, was introduced to horse racing by his cousin Simone Jacobs' boyfriend, Robert Khathi, who used to take him to watch races at Kenilworth.
Prior to joining the academy, Jabu lived with his Granny and comes from  a small family that includes his Mom, Dad, who is a Staff Sergeant in the SA  Army, and big brother.
His Dad is currently deployed on SANDF duty in the DRC – he hasn't seen him for some time.

His trip to the Cape this week was a welcome chance to visit the Khathi's and to try and gain more experience. Despite the weather, which didn't dampen his holiday, thanks to his winner, he says he was impressed by the facilities at the Plattner Training Centre at Rondeberg on the West Coast.
"Sihle Cele and Luyola Mxothwa took me up to ride work on the beautiful estate. I must thank Mrs Plattner and Mr Nel as well as Mr Foster and Mr Lerena for giving me the chances. It's an honour to ride in these famous silks!"
He is thankful also for the support of trainers like Garth Puller, Paul Lafferty and Glen Kotzen, who have welcomed him and provided advice and guidance – as well as rides.
Jabu says he'd like to ride more often in the Cape – even permanently.
But Puller warns, it's not an easy centre for an apprentice to break through.
"The larger yards dominate the racing. They have their riders that they use. Jabu also goes to scale at 50kgs. So he can't claim  fully at 52kgs. He must sit tight and keep doing the basics right here in Durban. It will happen for him," said the former champion.
Pics of Jabu Jacobs – Chase Liebenberg Photography
‹ Previous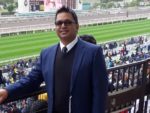 He's Never Lost That Winning Form!