The unbridled raw expression of elation that followed the Fortune family's milestone victory in South Africa's joint richest race at Kenilworth on Sun Met day was a standout highlight on an historic occasion.
Besides MJ Byleveld's popular 'Bok broek' flash after One World's victory, Andrew Fortune's unfettered – and uncensored – podium performance must go down as a unique bonus on the Cape's big day.
The former champion jockey's Usain Bolt style fist pumping jig, after he had hurdled a fence and almost injured himself on the way down, woke Kenilworth up.
It turned the party on its head as visitors, many more worried about what they paid for their outfits and the social media admiration for their designers and hairstylists, witnessed an egte salt of the earth fifty-something Capetonian celebrating a dizzying high in a life and career that has permeated all sides of the spectrum.
Proudly saluting his community and dedicating the moment to them in a speech punctuated by words, some of which don't adapt well to print, Andrew Fortune breathed some temporary life back into a sport that has lost its identity.
"How very sad. I didn't see any ordinary people there. Most of the real Cape racing people, including those from our coloured community, don't give a continental about fashion, style and plastic personalities. They want to come to the Met in numbers with friends and family and pay R10 to get in. They want to have a small bet, eat and drink a bit, and soak up the atmosphere of what used to be a Cape institution – just like snoek, waterblommetjie bredie and Table Mountain. The 'toppies' also don't want to have to take a personal loan to be a part of it all. They want to have fun and fondly remember William Penn and Politician and One World. Instead they are thrown dead with sideshow crap and charged R200 as a subsidy towards the costs of an after-party they won't be attending."
Andrew continued, saying that he understood the need to balance sponsor goals – but that there was a 'place under the sun for everybody' – just as the new South Africa has shown.
"It needs to be affordable. Not a rip-off. The larneys can pay their telephone number prices and swan in their marquee's exchanging tweets and selfies and sipping the champers. And the ordinary man can be based in his enclosure, hanging on to his PA ticket. Racing needs everybody – especially the ordinary punter. These fancy folk don't bet and they put nothing into the tote. It's easy gratification profits selling them inflated priced tickets. But that's just not sustainable for the game! When is somebody who can make a difference going to acknowledge this basic requirement? But let's talk about Invidia, rather!"
The memorable day gained momentum when the Twice Over gelding flashed up under Aldo Domeyer on the outside late in the R5 million CTS 1200 – those final 71,24 secs of pressure exploding in a frenzied outpouring of joy, the like of which racing – certainly Kenilworth – has not seen recently.
"It's a plan come together. This is more than a year in the making. Plans, discussions, hopes, dreams, doubt, patience, loyalty and hard work. That sounds dramatic – but it's true. I cannot describe how it feels and what this means for us as a family business, and for our loyal owner and our staff," said Vaal-based trainer Ashley Fortune, whose first victory it was for her yard in her husband's old hometown.
The win was a sweet culmination of a strategy that had its humble beginnings when the Fortunes were  given the mandate by owner Mario Ferreira and his Racing Manager Des Gonsalves to find a horse at the Ready To Run Sales.
"I rode thirty short-listed horses. I loved Invidia. He gave me a nice feeling. He didn't cost an arm and a leg either and look at what he has earned already – over R3 million in ten starts! We are eternally grateful to Mario. The man has big balls. And they somehow seem to get even bigger at the sales!' laughed Andrew as he reflected back on what he says is the 'greatest day' in his racing life. That's not cheap talk coming from a former SA Champion jockey who rode his share of big winners.
Ashley explained how they had learned their lesson at their first attempt at raiding the Ready To Run Riches in the Cape last year.
"Life's about making mistakes and learning from them, I suppose. Andrew spoke to Mike de Kock about the travelling strategy this time. Mike said he had the feeling that the African Horse Sickness would come early this season. We took his advice and brought Invidia down to Milnerton in October last year. It was valuable wise counsel from a man who knows his oats. The rescheduling of the CTS Ready To Run Stakes put us under pressure a bit with our plans, but  we had a contingency – and more importantly, the horse!"
Click on the image below to watch the post-race interview:
Andrew tends towards being a little more outspoken than his wife and was happy to put his heart on the table and sum the day up.
"You know, it's when everything – the hope and the passion and the dream – just came together. Invidia was right on the day. My son is riding like the world-class jockey he has become. The race panned out well. I thought I was going to have a bloody heart attack in those last few strides. But I knew Aldo was in control. I am so proud of my boy!" he said.
He conceded that he had tried to change plans in the parade ring.
"Aldo said – 'please Dad, we have spent months on it. Leave it to me now'. That's exactly what I wanted to hear. Aldo was confident in the build-up. I didn't sleep on Friday evening!"
Andrew mused how life has gone full circle. "I was changing his nappies. Now I'm depending on him for my life! It's something for all parents to remember, maybe. They say treat your kids well – they pick your old age home."
He added that it was clear that Aldo, who rode two Gr1 winners on the afternoon for Candice Bass-Robinson, had developed into a top-class rider and that his stint in Hong Kong had polished the diamond.
"He ticks all the boxes. He has the natural talent and the big match temperament. Look at his ride on Clouds Unfold. That kind of magic hasn't been seen since I was riding!" he smiles.
Aldo said after Invidia's victory that 'one couldn't put a price tag on moments like this'.
Andrew is proud that his eldest son speaks so eloquently.
"He is so considered. He is so bloody different to me. I think he takes after his Mother. You know what they say – opposites attract. But seriously – how can a Dad not be proud of a son like him?"
As to whether Aldo would be returning to Hong Kong, Andrew says it should be a no-brainer.
"He did well there. They would take him back. But he is 32 you know. He doesn't need to listen to my advice anymore. But you ask him."
And on their smashing horse, Andrew described Invidia as a 'freaky little bastard'.
"He is a bit like me. You have to love him and win him over slowly."
We asked how good Invidia really is and what trip he will get – also, what the plans are. Ashley takes over.
"He is at Soetendal with Julia Pilbeam now having a well earned break. He gets 1400m on heart alone. He is a sprinter. We are aiming him at the Gr1 Tsogo Sun Sprint at Hollywoodbets Scottsville in May."
Is he really Gr1 quality? Inevitably, Andrew chips in.
"Talk is cheap in this game. He is a lovely horse. We rate him. We will only find out when we expose him at Gr1 level. My wife is too good a trainer not to have a Gr1 trophy at home. So watch this space," he suggests.
A last word from the charismatic former top jockey.
"I love racing – like so many thousands of people. I want the best for the industry. It's the only job many of us know. And when a man I respect, like Mike de Kock, tells me I'm good for the game, that's all the endorsement I need to know that I will continue to speak from the heart and say my say in the hope that there will be change. Our time is limited – let's all stop pretending and do something."
‹ Previous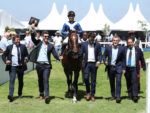 Greg's Looking For More Met Magic