The tall, lanky frame of Bennie van der Merwe is always a pleasure to encounter at sales and race days. With his eyes sparkling mischief and his lively interest in all aspects of the industry, he is a reliable source for fascinating nuggets of information as well as a quip or two!
Background
Bennie's grandfather was a medical doctor, who spent all his spare time following racing. It seems the gene skipped a generation! Dashing family hopes that he might study medicine, Bennie was insistent – he wanted to be a vet. However, initial ambitions to specialise in wildlife were derailed from the word go. His very first job was with a veterinary practice on the Isle of Man which happened to manage a large number of Robert Sangster's Curragh Bloodstock Agency stock. Bennie laughs ruefully, "I've never been further than a metre from a horse since."
Back in South Africa, Bennie purchased the Piketberg farm Namaquasfontein in 1993. The farm is a mixed concern of grapes, citrus and cattle and biochemist wife Jacqui, who he has known since primary school, runs all the farm admin and runs a very tight ship. Bennie was working for the Ceres Veterinary Hospital of Frank Freeman and Dirk Triegaardt at the time and split his time between the two endeavours.
Mary Slack joined the area and purchased Wilgerbosdrift in 1997 and Bennie spent six years helping develop the farm and serving as the resident vet. In 2003, Bennie was approached by businessman and racing enthusiast Chris Gerber, who proposed a partnership. Bennie accepted and Moutonshoek Stud was founded with 5 foundation mares and a dream that they might one day grow to 30 mares. A little over 10 years later, the mare numbers have gone past 100 and they have two resident stallions – Mambo In Seattle and the very exciting Marchfield, whose first South African progeny go on sale in 2016.
Learning curve
"During my time at Wilgerbos I got to work closely with Jehan and Charles Faull. Charles did a 15 year study of what he believes makes a great horse tick. We'd send him mare details and he'd come up with a recommendation. Moutonshoek has a specially designed in-house computer programme that analyses our pedigrees and then comes up with a list of stallions ranked 1-40. Then I look at conformation and make the final selection on physical compatibility."
"The farm helps us a lot. We just plant poles and make camps and the farm does the rest," says Bennie self-deprecatingly. There is plenty of water, the soil has a high limestone content and the farm produces good, natural grazing all year round. They grow all their own lucern, teff and oats which are analysed regularly to ensure that the horses' dietary intake remains balanced and of the highest quality. "And we get the results that we get. This is horse country. Look at what Mary (Slack) has produced and what we've produced. All the old war horses were bred here near Aurora. The results we're getting are better than we should. We're always near the top of the AER."
Stallions
Of Mambo in Seattle he says "As a 7/8 brother to Lemon Drop Kid we were lucky to get him. In 2008 everyone tried to buy Mambo in Seattle, but he wasn't for sale because he'd dead heated in the Gr1 Travers Stakes. We were actually chasing Marchfield when we heard that Mambo wasn't going to race as a 5yo and an hour after we got the news, we had an offer on the table. He has the pedigree and the race history to back it up. Of the horses he beat in the Travers, 8 have gone on to stud. He ran 2 lengths off Curlin in the Jockey Club Gold Cup. He's proper. We originally wanted to syndicate 40 shares, but by the time we got him, we had to go to 50. He's syndicated from Ambiance to Wilgerbosdrift! He's doing very well. Take Duncan Howells' filly, Same Jurisdiction. She won the Breeders race on July day, then beat Carry On Alice in the Gr1 Thekwini Stakes. Then she was side-lined for a while and when she was ready to make a comeback, it got rained out. The next time she set foot on a track was in a Gr3 (the Flamboyant Stakes) and she smashed them in a common canter. I spoke to Duncan afterwards and he said he can't believe how much she's come on. You don't have a comeback run in a Gr3 against older fillies. But it's not just her, there are other good ones out there. The prices have been good, which tells you what people think of them. The Royal Rumba who ran in the Dingaans cost R400k at the National 2yo Sale and Anton Shepherd got R700k for one on Book 1. We're very excited about how Mambo is doing."
Marchfield is a son of AP Indy, he raced sound from two – five, won or placed in no fewer than nine stakes races and received the accolade of Canada's Champion Older Male twice, retiring with over $1 million in earnings. He originally retired to the Park Stud in Orangeville, Ontario in 2011, before joining Moutonshoek in 2013. Prior to the purchase, Bennie went to view Marchfield yearlings in Florida and says he was blown away. "I thought they were unbelievable, but remember not everyone likes blondes! So I'm very chuffed with how they're performing. Our policy is that if there's nothing going on, we shut up, but if there IS good news, we shout. He had the 2nd and 3rd highest priced lots on the 2013 Fasig-Tipton Horses of Racing Age Sale, so they're popular in the sales ring. As a son of AP Indy, he's supposed to be a classic stallion – that means 3yo's. He lost out on being Canadian champion 1st season sire on earnings by a nose hair and he's got a son nominated for the Triple Crown. I've got a catalogue of every single mare he covered that season and let me tell you, the good ones are still coming!"
"Anyone who's a horseman can tell you that Marchfield is unbelievably correct, with very good bone. The problem is seeing him next to Mambo, who is 16'3 and your classic poster boy – Marchfield is 16h. But we're extremely grateful that the news is all good. He's had good support and we couldn't be happier with the foals. Like the North American ones, they're correct, with good bone and the bonus is that they are on the leg. Given how he's performed overseas and how his progeny are looking here, we're very happy."
Moutonshoek at Val de Vie
"From a Moutonshoek point of view, we have 70 yearlings to sell this year and we can't possibly sell everything in Joburg. The January sale is a very specific sale, where you have to have a precocious animal of a high standard. We sold four suitable yearlings there. But now there are two other Cape choices – the Durbanville sale and the Val de Vie sale. The responsibility of travelling to Joburg with 40 horses is a logistical challenge, so for us to be able to offload some here is a great result, because as it's a few less that we have to take to Germiston. Basically we're offering a National Sale standard horse that you can buy without having to travel to Joburg. I think it's going to be a great sale for everybody, where everyone can buy a horse."
"Our select draft all have catalogue pages that qualify for NYS. Levi Lady (lot #2) is a smashing individual despite being a late foal and Horse Chestnut is doing very well. Pure Logic (lot #19) is a magnificent colt – typical Mambo in Seattle – correct with size, scope and good bone. Le Tigre (lot #27) is a half-brother to Triptique, who completed a hat trick of wins on Met day, and is a very flashy, scopey colt and a good example of Tiger Ridge. Goodbye Georgie (lot #11) is a strong, beautifully topped filly from a Gr1 performing mare from a fabulous family and Risk All (lot #25) was an unfortunate withdrawal from CPYS through slight injury. She is a racy, strong individual."
"We look forward to a regional sale with zing. The people at Val de Vie are a very professional bunch and the new, re energised BSA sales team are bringing real innovation to the sales scene. Go look!"
‹ Previous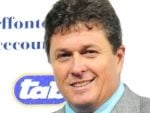 Brett Crawford