Of all the books in the world, the best stories are found between the pages of a passport. Someone who has been living that motto is Bernard Fayd'herbe, who packed up his saddle and kit bag and spent the last year on the road, completing a season in Mauritius and then moving on to Dubai for the World Cup Carnival, where he partnered Mike de Kock charge Fawree in the UAE Derby.
Bernard left South Africa shortly after July day 2016 to join the powerful Gilbert Rousset stable in Mauritius. He acquitted himself with aplomb, riding 3 winners at his first meeting and notching a total of 23 wins (including two Mauritian Gr1's) and 48 places from 94 rides for the season, for a 24.5% win and 51% place strike rate. Having completed the season, he decided to base himself in Dubai for the World Cup Carnival, arriving on 5 December 2016.
Deft touch
Like superstar people, superstar horses occasionally also require specialist handling. Bernard has a reputation for having a deft touch with the slightly trickier characters and he confirms that he got the ride on Fawree thanks to his reputation in the pens.
With Bernard in the irons, Fawree debuted over 7 furlongs on 29 December 2016 and finished second, despite having missed the break. He was not a model citizen at the pens on his second outing on 12 January 2017, but nevertheless led pillar to post for an easy 5 length win. However, things came really unstuck in Super Saturday's 1600m Al Bastikaya on 4 March 2017, when Fawree's hood was removed a little too soon and he crashed through the pens, dislodging Bernard in the process. "We thought we'd got through to him, but clearly not," Bernard shrugs. "Super Saturday was our prep race for the Derby. When he dumped me, that was probably our winning chance gone."
Mike drafted in the services of South African horse behaviourist, Malan du Toit who spent a week working with Fawree, the Mike de Kock team as well as the Meydan starting team to solve the problem. Bernard takes a keen interest in the horses he rides, famously pitching in with the grooming and stable work for J J The Jet Plane during his 2011 campaign. He was equally hands-on with Fawree assisting Malan and the team in getting the job done. "Malan did a great job," agrees Bernard. "We worked with him every day – Malan, Trevor Brown, myself and the groom – and he changed within a week."
Regarding the incident on Super Saturday, Bernard explains "When they pulled the hood off, he anticipated that the gates would be open and he jumped. Unfortunately they weren't open, so he gave himself a fright. We schooled him with the hood and without it. As soon as we put the hood on, he got very upset, so in the end we left it off and he was a lot better like that."
Fawree was put through the stalls on 17 March and was re-passed with flying colours. On World Cup night, he loaded and jumped on terms, and despite a wide draw as well as traffic problems to contend with, he finished a very creditable 7th.
Fawree
"Apart from his phobia in the pens, he's a really sweet horse. He's lovely to ride at work in the mornings, and to work with in the box. He's obviously had a bad experience in the gates at some point and it became a bit of a phobia for him.
Was there much in the way of media attention? "Laura King did a really nice interview about him. With Fawree being difficult and after the incident where he dislodged me in the pens, there was quite a bit of talk about him. Everyone was interested and I think everyone was relieved when he jumped out of the pens on World Cup night and we managed to get him to race."
Starters / ground staff
Bernard was very complimentary about the support from the Meydan starters and ground crew. "They've got an extremely professional team. They've got horses arriving from all over the world with different gradings and have to work it all out, try and work them all together and get everything to run as smoothly as possible. They can't afford to have a hiccup. The guys are very good. When we couldn't get Fawree right and Mike decided to bring Malan over, the two teams worked very well together and I think the local guys learnt quite a bit from Malan too."
Dubai
Asked to describe his Dubai experience, Bernard says, "It's obviously really nice, you get to see some really wonderful horses that come through here. It has been very hard to get outside rides because all the stables here have two or sometimes even 3 retained jockeys, so they don't use outsiders – not even for work riding. Mike's been very good to me and whenever he could, he has given me rides, so that's helped." In terms of the lifestyle he comments that the cost of living has gone up since his last visit, "but it's been really good and I've enjoyed Dubai."
From the jockey room
Bernard has ridden at the Carnival before, riding a Dubai World Cup 3rd on Paris Perfect for Neil Bruss in 2009 as well as winning the Al Quoz Sprint on J J The Jet Plane in 2011. "It's a helluva experience," he enthuses. "There is an awesome atmosphere. You walk into the jockey room and you're brushing shoulders with the best jockeys in the world. The who's who of racing are all there and it's a big night for everyone involved. Everyone is just concentrating on their specific race and their horse, but everyone gets on so well. The guys are all so down to earth, we chat and carry on and everyone's quite friendly. Unfortunately this time all my eggs were in one basket and things didn't work out the way I'd have liked results-wise, but that's the risk you take," he says matter of factly.
UAE Derby
"Unfortunately Fawree missed out on one prep run and with the Derby being only his third run, he didn't have the race experience or fitness. From my draw, I had to commit and go hard to get up there and hold my position and I used quite a bit of him up doing that. Down the back straight, he was very green and running in snatches and when we came into the straight, he was starting to flatten out. Two horses closed in on each side of us, one ran out of room and went into my side, and two of us got squeezed out. I had to check badly and that probably cost me 6th place, but that's just racing, I suppose," he shrugs.
"He just needed more time and wasn't quite ready to play catch up all the time. You can't afford a hiccup here. Three months is such a short programme and if there is even a little issue, it's hard to make that up. That one missed prep meant he was always having to play catch up and all in all everything just came too soon. But he will be a much better horse next season, so there is lots to look forward to."
Mubtaahij
Mike's Kentucky Derby runner Mubtaahij became something of a fan favourite during the Triple Crown campaign and is still one of the yard's stars and put up a great run in the Dubai World Cup to finish 4th. "What an honest horse," says Bernard. "He also had an interrupted prep and I think he ran a great race. Johnny Geroudis looked after Mubtaahij. It was his horse and no-one else worked with him. Johnny basically lived with the horse, so he was very happy with the result."
Green Street Bloodstock
Aside from his riding commitments, Bernard's Green Street Bloodstock venture with Justin Vermaak has grown from strength to strength. "It's doing really well. In South Africa Greenstreet has got 55 horses, and some really exciting young horses. Greenstreet also has 3 in Singapore and of those one has already won first time out, so it's been going really well and we are looking forward to seeing it progress. Justin has been working hard and travelling a lot between Singapore, Dubai and South Africa."
Where to next?
"It's been a tough season and from here I'm off to China on the 28th to ride in the International Race. Dubai Racing sends a whole lot of horses to China to race there and it's the Dubai jockeys against the Chinese riders. The Dubai Racing Club does it once a year to help promote racing in China. The race day is on 2 April. After that, I'm back to Cape Town on around the 3rd of April and then I'll be back for good." His plans are to freelance initially 'until things change.'
‹ Previous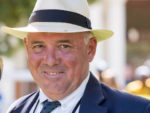 Eugene Reynders