One of South Africa's leading heavyweight riders, Durban-born Bernard Fayd'herbe has decided to settle back into his Milnerton home and give the new South African racing season a serious 'go'.
In the absence of Piere Strydom and Keagan de Melo, the enormously talented international Gr1-winning rider will be a welcome regular addition to the local jockey ranks.
"The racing vibe and happy spirit down here in the Cape is amazing. One can feel it on course, and even when riding work at Milnerton and Philippi. Also the atmosphere on Hollywoodbets Durban July day was terrific! I'd love to be a part of it again and given the uncertainty of Mauritius racing, where I do have a job, it makes sense to me to stay and ride here," he told the Sporting Post.
With Keagan de Melo's contract in Hong Kong, Piere Strydom's possible – dare we say the 'r' word – retirement, and the fact that Winning Form kingpin Richard Fourie is going all out for the national title next term, there is certainly space for a top rider.
Discussions with the Snaith stable have informed us that in light of Fourie's stated quest for national honours and the fact that he will be travelling far and wide, have meant that they have undergone a  reconsideration of their own jockey needs.
Grant van Niekerk looks likely to inherit a lot of the Snaith opportunities, with Bernard Fayd'herbe also on their list of preferred riders. Lest we forget that it is over 20 years ago that the champion yard's matriarch Sue Snaith was instrumental in persuading Bernard to move to the fairest Cape.
"I have also been given some opportunities by Mr Vaughan Marshall, and he has a nice string of young horses. So I do have the support, and there are other trainers who have said that they will be needing my services," he added.
It's unbelievably a quarter of a century since Bernard rode his first winner at Hollywoodbets Scottsville at his very first ride on 28 April 1997. The horse was Dollar Deal trained by the late Michael Roberts.
It's certainly been a busy and eventful 2023 for Bernard.
He took his career Gr1 tally to over 30 when Al Muthana shocked Hollywoodbets Kenilworth with a storming victory under a sensational ride over SA Horse Of The Year prospect Charles Dickens in the L'Ormarins King's Plate, on a beautiful Cape summer day in January.
But then things hit the proverbial fan in Mauritius.
Bernard was handed a twelve month suspension and a Rs 100 000 (ZAR 44 000) fine on the Indian Ocean Island after he was deemed to have not given his mount every chance in the third race at the Champ de Mars on Saturday 13 May.
The subject of the sanction was the Dominic Zaki-trained Castle Of Glass, who had been beaten into second.
While ARF member jurisdictions, of which SA and Mauritius are two, do honour and reciprocate penalties meted out on jockeys, Bernard utilised the NHA's relatively new rule 91.1.3, which allows a rider suspended by specified horseracing authorities abroad, including Mauritius, to appeal against the suspension within 90 days of the finalisation of an appeal hearing.
While a date is still to be set for the relevant hearing, Bernard was given the clearance to ride Snaith's Pomp And Power in the Hollywoodbets Durban July , a race he was successful in on Pocket Power in 2008 and Marinaresco in 2017.
Bernard is confident that justice will prevail and with the assistance of the right legal counsel, his penalty will be overturned in Mauritius. But it did come back to bite him when the Macau Jockey Club declined him permission to ride eventual winner Master Hunter in the Gr1 Macau Derby which was run last weekend.
"Master Hunter won the Macau Derby. That was a bit of a knock, but it was the decision of their racing authority, so I have to respect that," he lamented.
Bernard has three nice rides on World Pool Gold Cup day, which brings the curtain down on the season on 30 June.
Race-8 (Turf) R1 250 000 1800m 15:40 Ref-966
1st R781250, 2nd R250000, 3rd R125000, 4th R62500, 5th R31250
THE HKJC CHAMPIONS CUP (Grade 1)
Horses at Weight-For-Age
WFA: 2yrs-10.5kgs 3yrs-1.5kgs
No Apprentice / Female Sex Allowance
1
1
Dave The King
58.5
122
A
Keagan de Melo
Mike de Kock
2
2
Zapatillas
60
126
A
Luyolo Mxothwa
Brett Crawford
3
3
Trip Of Fortune
60
127
TBA
Aldo Domeyer
Candice Bass-Robinson
4
4
Safe Passage
60
122
TBA
Lyle Hewitson
Mike de Kock

5

5

Rascallion

60

121

A

Bernard Fayd'Herbe

Vaughan Marshall

6
6
Bartholdi
60
119
A
Craig Zackey
M G Azzie/A A Azzie
7
7
Pomp And Power
60
120
A
Gavin Lerena
Justin Snaith
8
8
Mk's Pride
60
122
BA
Muzi Yeni
Robbie Sage
9
9
Second Base
60
120
BA
Chase Maujean
Robyn Klaasen
10
10
Princess Calla
57.5
127
A
Richard Fourie
Sean Tarry
11
11
See It Again
58.5
131
BA
Piere Strydom
Michael Roberts
12
12
Al Muthana (AUS)
60
130
A
Grant van Niekerk
Ricky Maingard
Same Trainer
(1,4)
"Captain Fontane runs in the Listed @Worldpool Twitter Handicap. He's very decent, never runs a bad race and he comes in fit. He must have a chance. Seeking The Stars runs in a typically strong Gr1 Mercury Sprint field. He has his third run after a year break but hasn't drawn well. We will see how it goes – he's top class on his day. Rascallion has drawn midfield in a classy line-up in the HKJC Gr1 Champions Cup. His Hollywoodbets Durban July effort was off his best, but he is fit and his last victory – in the Gr2 Premier Trophy on King's Plate day – was over 1800m. And we all know that Mr Vaughan Marshall knows how to win Gr1 races!" he concluded with a broad smile.
Race-3 (Turf) R150 000 1600m 12:20 Ref-961
1st R93750, 2nd R30000, 3rd R15000, 4th R7500, 5th R3750
@WORLDPOOL TWITTER HANDICAP (Listed)
Open
WFA: 2yrs-9.5kgs 3yrs-1kgs
No Apprentice / Female Sex Allowance
1
1
Cosmic Highway
61
110
A
Keagan de Melo
Dean Kannemeyer
2
2
Royal Victory
61
112
BA
Muzi Yeni
Nathan Kotzen
3
3
Whafeef
59.5
107
A
*Philasande Mxoli
Stuart Pettigrew
4
4
Battle Force
59.5
107
T A
Tristan Godden
Peter Muscutt

5

5

Captain Fontane

60.5

109

A

Bernard Fayd'Herbe

Garth Puller

6
6
Lord William
58.5
107
A
Lyle Hewitson
Glen Kotzen
7
7
Ameena
60.5
111
A
Denis Schwarz
Glen Kotzen
8
8
Meridius
58.5
107
A
Craig Zackey
Tony Peter
9
9
Silvano's Dasher
62.5
113
A
Luyolo Mxothwa
Brett Crawford
10
10
Look For Hounds
60
108
BA
Robert Khathi
Vaughan Marshall
11
11
Forever Mine
60.5
109
A
Juan Paul v'd Merwe
Mike de Kock
12
12
Tempting Fate
59.5
107
A
Calvin Habib
Dean Kannemeyer
13
13
Good Traveller
61
110
BA
#Rachel Venniker
Michael Roberts
14
14
Quasiforsure
62
112
T A
Grant van Niekerk
Peter Muscutt
15
0
Money Heist
58
106
A
Reserve 1
Gareth van Zyl
16
0
Captain Casey
56
102
A
Reserve 2
Tony Rivalland
17
0
Platinum Sky
55.5
99
A
Reserve 3
Dean Kannemeyer
Same Trainer
(1,12,17) (4,14) (6,7)
Race-6 (Turf) R1 000 000 1200m 14:10 Ref-964
1st R625000, 2nd R200000, 3rd R100000, 4th R50000, 5th R25000
MERCURY SPRINT (Grade 1)
Horses at Weight-For-Age
WFA: 2yrs-7.5kgs 3yrs-0.5kgs
No Apprentice / Female Sex Allowance
1
1
Gladatorian
59.5
114
T A
Sean Veale
Stuart Ferrie
2
2
Sheela
57.5
121
A
Lyle Hewitson
M G Azzie/A A Azzie
3
3
Danilo Danilovitch
60
108
T A
*Philasande Mxoli
Paul Matchett
4
4
Gimme A Prince
60
130
A
Keagan de Melo
Dean Kannemeyer
5
5
Val d'Orcia
60
103
A
Craig Zackey
Tony Peter
6
6
Thunderstruck
59.5
117
TBA
S'manga Khumalo
Sean Tarry
7
7
Surjay
60
119
A
Luyolo Mxothwa
Brett Crawford
8
8
Cabinet Shuffle
60
102
A
Kabelo Matsunyane
Robyn Klaasen
9
9
Isivunguvungu
60
130
A
Richard Fourie
Peter Muscutt
10
10
Pearl Of Asia
60
109
BA
Serino Moodley
Robbie Hill
11
11
William Robertson
60
125
JA
Muzi Yeni
Corne Spies
12
12
Silver Operator
60
114
BA
Grant van Niekerk
Vaughan Marshall

13

13

Seeking The Stars

60

123

BA

Bernard Fayd'Herbe

Vaughan Marshall

Same Trainer
(12,13)
Bernard last won the HKJC Champions Cup in 2015 on Futura for Justin Snaith.
A win on Rascallion on Sunday 30 July would be a pleasing way to end the season on a high, and kick-start the new term.
‹ Previous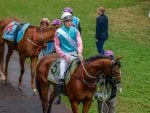 Mayhew Ready For Take-Off