Braam van Huyssteen joined the South African owners' ranks quite quietly in 2009, but his dayglo yellow and purple silks have fast become an institution on our tracks. We spent a few minutes getting to know him a little better.
Where are you from and where did you grow up?
I was born in Parys in the Free State. I completed high school at Outeniqua High School in George and then studied Economics at Stellenbosch University, where I played rugby for the under 19 and under 20 squads. After completing my army basic training in Pretoria, I was posted to Rundu on the Namibian border, before transferring to the Women's Army College in George. The population consisted of 2 men and 200 women. 100/1 may be bad odds for horse-racing, but they're quite good for improving your social life!"
Tell us about your family
I am married to Charmaine and we have 2 daughters – Bianca and Lara – and a son, Braam jnr. We live at Fancourt Golf Estate in George.
Bianca is studying a Bachelor of Accounting at Stellenbosch and aiming to become a chartered accountant. She got 7 distinctions last year. That's 7 more than I ever got, I can tell you. Lara is in Grade 11.
I have yet to buy a horse that is as scopey as my son. He's currently in Grade 8 at Outeniqua. He plays flank for the under 14 rugby team and recently played against Paarl Gym. He participated in the Craven Week last year for SWD and scored 32 tries during the season as a front rower for his school. That's Gr1 quality! He's a fantastic cricket player too. I was watching him play cricket one day and he got 50 runs from 11 balls. I couldn't believe my eyes. It was a better experience than watching the July! I've done a lot of driving after my horses, but now I enjoy driving around after my son.
So where do the sports genes come from?
I was a sportsman, but I was never at that level. At Stellenbosch I played rugby for the under 19 and under 20 squad. My wife was a good athlete as well. I guess it's a combination of power and speed. Seriously, we boast about our kids, but it's important to understand that it's not about the stallion. It's much more about the mare. Really. Out of my horses, there's a good pattern through the damline. Our wives might give us a lot of drama, but when it comes down to passing on the good genes, they're fantastic.
How did Tekkie Town get started?
I started helping out at my brother's Tropika Sports Store in George. My father found me a site in Mossel Bay and I set up my shop at around the same time as the Mossgas project was getting off the ground (It seems luck in running doesn't only apply in racing!). Back then we had a young guy called Louis Oosthuizen who helped out in one of the shops. He was mad keen on golf and worked weekends for about R50 a day. One day his dad rang me to say that Louis couldn't come to work because he had to play league. I told him it was time he decided between work and golf. As things turn out, I think he made the right choice! Anyway, the name changed to Sports City and later, when the focus became more on shoes, it changed again to Tekkie Town. We opened the first Tekkie Town store in Somerset West in June 2001 and now have 255 shops.
You received an award for business excellence a few years ago, didn't you?
Yes, in 2011 Tekkie Town won the South African chapter of the Ernst and Young World Entrepreneur Award. It's an initiative by Ernst and Young that's been going close to 30 years now and the idea is to find, and reward, someone with a unique entrepreneurial spirit and success story stemming from it. There are three categories – Emerging, Social and Master. Tekkie Town received an award in the Master category. It's an enormously prestigious award and has previously gone to people like Brian Joffe at Bidvest, Stephen Saad at Aspen, etc. This year I was invited back as a judge.
And you were honoured again just recently by being invited to join the World Economic Forum?
In May the World Economic Forum named Tekkie Town one of six South African companies that has the ability to become a world leader. The six South Africans plus 10 other African companies were honoured in Abuja in Nigeria, at the 24th meeting of the WEF on Africa on Friday 9 May. These 16 companies are regarded as the region's most dynamic and high-growth companies at the forefront of driving responsible economic growth, job creation and entrepreneurism in Africa. Tekkie Town was honoured alongside multi-million rand companies like Growthpoint Properties, Capitec, Webber Wentzel, KZN Oils and Net1 UEPS Technologies. To qualify they look at your growth, how much work you generate and your financial achievements. I think they get their nominations out of the media. It's an accolade we're very proud of. I mean we come from Mossel Bay.
How did you get into racing?
My daughter Bianca (who is now a student at Stellenbosch) always wanted a pony. When she was about 10 years old, we said OK, but said she would need to save up enough to buy the pony herself. And she did. She bought bags of sweets at Pick 'n Pay and then re-packed and sold them at school. She was doing really well, and then we got a call from the headmaster to say that she was starting to affect the tuck shop sales. So we put our heads together to figure out what to do. We decided that taking over the tuck shop might be a little too bold, so we came up with the idea of "Die Stukkende Skoen". I agreed to give her all our damaged shoes and she re-sold them outside the shop on a Friday. The local traders cottoned on pretty fast and she soon had enough money to buy her pony. She was very dedicated and now has a very nice horse who has won several national showing titles. I try and be a good dad and go along as her groom.
One day in 2009 I was driving to Margate with Andy Williams who is a golfing friend. While we were driving, he was on speaker phone, buying a horse called Young Caesour and purchased the horse for R120k. I asked whether my daughter and I could buy half. Andy asked 'do you want to get involved in racing?" I told him that my daughter likes horses and that I'm always interested in something interesting. Herman Brown and Frank Robinson trained Young Caesour and she had 4 wins, 10 seconds and a lot of places.
Then Andy took me to Anton Procter and I bought half shares in 3 horses, including a horse called Grey Cossack. The horse went into training with Dean Kannemeyer. What makes it interesting is that after about 3 runs, we were advised to send the horse to PE. I'd just got a box at Kenilworth and joined the Carl Burger yard, so I said I'd take over Andy's share and I sent the horse to Carl. And he won his maiden. Then we went to the Durbanville Cup and won that too. He ran lots of places in the Summer Stayers, J&B Reserve Stayers and then we sent him to Durban. Frank Robinson looked after him for the Sledgehammer and he wasn't doing great, but we managed to qualify for the Gr2 Gold Vase on his Cape form and we got in at 66/1. It was a no-hoper situation. I had some money on for a win and some more for a place, plus a place double with Young Caesour. It was heads up and heads down and we won by millimetres, but as they say in Afrikaans, 'toe byt die gogga' !
How do you buy your horses?
Every time I go to a sale I tell myself "behave!" but it never works. I've bought 28 this year already. People have tried to teach me about conformation and so on, but I'm a slow learner. I buy a lot on names or just gut feel. Luckily I've got some partners in crime – Greg Bortz, Fito Englezakis and there's a guy in Brisbane called Bill Henderson who reciprocates horses with me. James Goodman and Paul Lafferty buy over there. Two of our recent acquisitions were Braambilly and Goldie Coast. Braambilly cost AUS$60,000 and looked OK, but he got sick and died. Goldie Coast cost AUS$14,000 is now my best horse! She was 1st reserve for the Woolavington and we're considering the Garden Province.
At the finals of the World Entrepreneur competition I met a guy called Rahul Bhatia. I was at the sales and saw a horse called Rahul. I tried to buy him and got stuck in for a while, but then realised that there was a telephone bidder and gave up. The horse was sold to Bernard Kantor and it turned out to be Yorker's half-brother. Yorker had just won his maiden at the time I think. I later told Bernard the story and that I'd wanted to buy the horse so badly and he invited me to be a partner, but horse was already in Singapore and that's a bit far for me to drive.
Another time I was sitting at the National Sales. This horse walks into the ring and I really like this horse. I tell myself I am going to buy this horse simply because it is so beautiful. I look in the catalogue and it is called Lady Bianca. My daughter's name is Bianca. So I keep my hands in the air until everyone else stops bidding and end up spending R575k. She was doing OK and came from off the pace to win well at Greyville, but then she got sick. They couldn't work out what was wrong and we lost her too. But that's racing – and you happily endure those months of misery for the moments of pure magic. Those moments are what it's all about.
The Van Huyssteen colours have made an impression both on and off the track and you seem to make every meeting a social occasion
It is my downtime from the office and I enjoy racing with friends as well as introducing new people to the game. I took a table for the Charity Mile day last November. The guests all chipped in and formed a Pick 6 syndicate and we won R1,65 million. The following day the syndicate bought a horse called Shingle Beach, which is now trained by Stan Elley and it ran 3rd in the listed Iridescence Stakes last Sunday.
And of course you meet new people in racing as well. I cannot imagine my life without my bookmaker Gaby Gorgulho, who is now also a dear friend.
Tekkie Town used to sponsor the Winter series, famously won by Pocket Power, but you've scaled back to just one race now – may I ask why?
Tekkie Town sponsors the Winter Guineas which is the first leg of the Winter series. We like to be quite hands on and it proved very time consuming for our staff to be involved with 3 separate meetings, so we've scaled it back to just the one. Kenilworth Racing provides the bonus if there is a series winner.
You own quite a number of horses now – what do you do with all of them?
I've bought a farm out near Sedgefield called Swartvlei. I've called it Swartvlei Equestrian Estate and have got John McDonald looking after and developing it for me. We're busy putting up stables and will send all our group horses and big winners to retire out there. John will look after them for me.
I do have quite a few horses in training and Kerry Jack is now my racing manager, which helps a lot. She takes care of a lot of the paperwork, keeps an eye on things such as vet fees, which can be a bit of an issue if I'm honest, and basically checks that everything is being done properly.
But I have a lot of fun with it. The good times are really special – especially when they are unexpected – and the best thing is if you've had a bad day, tomorrow's always a new start and you have something to look forward to all over again. If my phone rings and it's one of my trainers, it never fails to put a smile on my face.
‹ Previous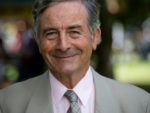 Vere Allin