Callan has been nicknamed 'Sir Smiley' by PE's Tara Laing, but don't be fooled by his sunny disposition – he's all business on the track and the young lad who has only been out of his time since January has just scored a Gr1 treble on South Africa's Champions Day.
The Story So Far
Callan has enjoyed a career that could best be described as meteoric and an overview of the last 3 years tells an interesting story.
Callan's first ride under rules came on 3 November 2013 when the Mike de Kock trained Captain Lars finished 5th at Scottsville. His second opportunity came the same day and he earned a 3rd place on Two Tone Rocka for Wendy Whitehead. Callan's first win came at his second meeting, when he steered Ingrid and Markus Jooste's Tennessee Strategy home to a 0.75 length win for the Charles Laird stable. He closed his first riding season 16th on the apprentice log with 13 wins, a 4% win and 34% place strike rate.
The following season, Callan jumped to 3rd on the apprentice log with 41 wins, but things really got going in 2015/16. On 11 November 2015, he partnered Deo Juvente to victory in the Gr2 Victory Moon Stakes for the Geoff Woodruff yard. As an added bonus, it was one of three wins on the day making it a full house from his 3 carded rides. Callan may have a friendly demeanour, but he is deadly serious about his career. When we chatted to him after the Victory Moon and being a man with very firm plans for his future, Callan listed the Apprentice Championship as his short-term goal along with cementing relationships in away centres to set him up once he finished his apprenticeship. Callan duly notched 78 wins with a 7% win and 42% place strike rate to be named Champion Apprentice for the 2015/16 season and as an added bonus, won the Zimbabwean Apprenticeship too.
What Callan Did Next
After ticking those boxes, his next goals were winning a Gr1 and gaining international exposure. He may have got the order wrong, but as usual, it didn't take him long to achieve both. And as always, there was a little bonus thrown in as well. Callan carved a niche for himself in the Mike de Kock team and shortly after notching the Choice Carriers Championship aboard Sheikh Hamdan's Ektifaa, Avontuur Estate selected Callan for a sponsorship. Avontuur are no fools and it says a lot that they grabbed Callan while he was still an apprentice. Next came the news that Callan was off to Australia for a 6-week stint with David Hayes' Lindsay Park Stables. He made sure to leave an impression on departure, posting the final South African win of his apprentice career aboard Sheikh Hamdan's Al Hawraa for the Mike de Kock yard. Callan hit the ground running in Australia, conducting himself with honour and bringing home 4 wins and a fistful of places.
Callan landed back in Johannesburg at 4am on 21 January 2017 and his bags had hardly hit the ground before he was straight off to work again. His first ride back was Malih Albasti's Talbec for the Mike de Kock yard which he got home in a tight finish to score his first win as a fully fledged jockey. Callan has also made good on becoming established in other centres and with PE's Tara Laing in particular, who gave him his moniker of 'Sir Smiley'.
Right on schedule, Callan's first Grade 1 arrived in the form of the Mike de Kock trained Heavenly Blue, which he rode to victory in the 1 April SA Classic. He has just added another 3 to his tally on Champions Day, 6 May 2017 and his smile and enthusiasm are as warm as always.
Catching up with Callan
Sunday morning found Callan was on the road bright and early to catch a flight to Durban and he chatted to us cheerfully on his way to the airport.
While jockeys tend to acquire a professional veneer in dealing with the media, Callan's warmth and candour are entirely disarming. Asked how he is feeling after his big day, he laughs and says, "Jeez, I don't know what to say. It hasn't settled in yet, but it was absolutely amazing. I was expecting a good day. I only had to be at work at 6, but I woke up at 4:30. I don't like to be overly confident and put myself under too much pressure, but I don't know hey, I just had a feeling." One can hear the trademark grin all the way from Johannesburg and you can't help grinning back at him.
He rode work on Saturday morning and then went home to get ready for the races. His 10 engagements for Champions Day started in the Gold Bowl with Smart Mart, which he labeled 'a bit disappointing.' "It is hard to be competitive with the horses on the outside and all I can say is it was not a true reflection of his ability." 3200m is also a bit of a trek and he laughs, "Especially with Smart Mart trying to go a mile pace while I was trying to hold him at the back, but it was a nice warm-up for the day."
Mustaaqeem
With lots of pats for the colt and a few celebratory gestures past the post, the SA Nursery looked a special win. "I was as confident as anything and he won like a good horse. It's crazy to think, but I still had gears. He's a gem to ride. He's good because of his nature and he's got the ability." Full brother Rafeef debuted in the 2015 SA Nursery and then picked up an injury which kept him off the track for the best part of a year. Callan confirms that the lessons learnt with Rafeef mean that the exciting colt, dubbed 'The New Machine' by Alistair Cohen, will likely be put away for a few months. "He might not look it, but he's a giant. I think he'll have a rest and come back later in the year and then we'll see a really good horse," he promises.
With the butterflies firmly out of the way, Callan partnered the high quality Fish River in the SA Fillies Nursery and Belle Rose in the Wilgerbosdrift SA Oaks. He comments with refreshing candour, "I regret taking Belle Rose down the inside. She travelled so well and she's beaten Wind Chill before. I do think she's better than her run and once again, she wasn't competitive with the horses on the outside." Heavenly Blue, who delivered Callan's first career Gr1 finished a creditable 3rd in the SA Derby. "He just didn't stay," says Callan matter-of-factly, "but he ran a gallant race in third. He tried his heart out and had a beautifully run race, but just didn't get the distance. But he'll be back."
Rafeef
From the Derby 2450m, it was straight into the high-speed action of the Computaform Sprint, where Rafeef delivered Callan's 2nd Gr1 of the day. "I knew we were taking on Carry On Alice, but his work in the week was unbelievable. I was just hoping to run into the money, but the race mapped out really well for me. Jo's Bond went a cracking pace and I could track her. It was so weird, I was still sitting and remember looking up expecting to see the 500m marker and saw the 300m sign. He was still going very comfortably and I thought 'this is crazy' and knew we had them all beat. He ran to the line really well and won like a good horse." Delivering Gr1 wins on two full brothers for Sheikh Hamdan is particularly satisfying and Callan says, "It's so exciting. Sheikh Hamdan has put so much into the game here and it's great to see that rewarded." Asked what the 4yo entire is like to work with, Callan says, "In his box he'll chew your arm off, so you have to be careful, but to ride, you could put a kid on him. And on race day, he's even easier. That's his biggest attribute. He's the calmest horse I ride and he's an absolute professional."
What was going through his mind with a second Gr1 in the bag? "I was thinking I hit the jackpot!" he laughs. "It's just an honour and privilege to be a part of the Mike de Kock team. They guide and teach me every step of the way which is a huge part of our success."
A Special Win
The Premier's Champions Challenge was billed a slam dunk for reigning Horse of the Year, Legal Eagle and one doesn't take on a good Mike de Kock filly lightly, but Callan has buckets of BMT and him and Deo Juvente are old friends. "Look, he's a horse plagued with problems. I had worked him coming into the race and he was the soundest he's ever been, so I was hoping to sneak into the money. Mr Brugman asked me to drop him right out and have him relaxed at the back. I rode him that way and was expecting him to run on. At the top of the straight, I moved through a gap and Anton didn't look as though he was going that well. It was Deo's day and he just gave me his all. The feel he gave me through the 400m, I didn't think he could get beat. It was the best he's ever gone." It was a particularly emotional moment for the connections. "It was really nice to win for Geoff. His mother passed away the night before, so it was a special win for him and it was special to be part of that."
Cloud Nine
It seems silly to ask, but what does a Gr1 treble feel like? "What do you think?" laughs Callan. "Crazy. I couldn't believe it. Shock, disbelief, but so happy. Everyone on course was loving it, my family were all there, so that was nice. It was a really special day."
Al Hawraa got caught deep in the Gerald Rosenberg Stakes and Callan says, "It was a difficult race for her, but she'll improve." He also notched a nice second on Brian Wiid's Arpad and closed out the card on Samarra, who finished out of the money in the Gr2 Camellia Stakes.
The trend for marathon feature days can make one a little weary. Is it a long day in the jockey room too? "It depends how your day goes," says Callan. "If it's a good day, it goes quick. If it's a bad day, it drags out. I must just say thank you to everyone who helped me achieve this amazing feat."
Callan says there were a few celebratory drinks on Saturday, but with the trip to Durban, it was kept low key. "I'll plan a dinner in the week probably."
Alistair Cohen, who did sterling service in the commentary box all day probably summed it up best. "Callan Murray. Three Grade One wins. 20 years old. Take a bow, son."
‹ Previous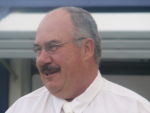 Corrie Lensley