Apprentice Callan Murray first appeared on our tracks two short years ago on 3 November 2013, when he steered Mike de Kock charge Captain Lars to a 5th place in a 1200m Graduation Plate at Scottsville. It only took two more rides to notch his first win, aboard the Alec Laird trained Tennessee Strategy on 12 November 2013. The personable young apprentice has impressed as much with his riding as his likeable, professional demeanour and last Saturday saw him take a quantum career leap, when he steered home three winners from three rides, including the Gr2 Victory Moon Stakes. We catch up with him to find out more.
Callan's enthusiasm and infectious energy have seen his services sought by some of the biggest and best names in the business and he has progressed in leaps and bounds since we last spoke to him a little over 50 wins ago. Although it is only his third season in the saddle, Callan is growing in confidence and ability and was recently selected to attend the finals of the H Sheikha Fatima bint Mubarak Apprentice World Championship (IFAHR) in Abu Dhabi.
IFAHR
The IFAHR is run as a series of Apprentice Challenges, hosted by various countries across the world. Although Callan didn't get to ride in the final on 8 November, he still attended the full schedule of events, joining 150 apprentices for a week of intensive training and workshops.
"It was a 7 day trip. We landed in Dubai and went from there to Abu Dhabi. The Sheikhs of Abu Dhabi sponsor the whole series and it's held across different countries throughout the year. Every morning we attended conferences covering different matters such as managing weight, getting rides and also the differences in the different countries. We spent a day on equiciser training and got to work with a lot of different instructors and did work on the simulators. Every evening there was a dinner or function with the Sheikhs of Abu Dhabi and it was very nice from that respect. They looked after us very well. We did get some time off and there was also time to do a few things on our own, so I managed to go to the beach, go to the shopping malls, visit Ferrari World and visit the racecourses. The final challenge was held on Arabian horses. Unfortunately I didn't get to ride -they could only allow 14 to ride because of the field size, but I am excited as I will be riding in the next leg of the series which will be held in France. It was still a great experience and I met many new people!"
Public Image
Callan is exceptionally media friendly. He is fresh-faced, bright and articulate in front of a camera. His growing ability in the saddle, combined with his cheerful personality and ready ability to deliver a confident opinion in post-race interviews, makes him a pleasure both to watch and to listen to. With the speed of today's social media and its sensitivity to the whims of the public, it makes for a very user-friendly package and he seems to be earning a (well-deserved) growing fan base. "I find I've had a really big amount of support from everyone I've met. I've tried to keep that going as it's important to look after your image. It opens doors to other countries and it's a way of getting your name out there, even in places where you don't know anyone."
Business as usual
Callan flew home on 9 November and it was right back to business with 4 rides at Turffontein on Tuesday, 6 rides at Turffontein on Thursday, and then his first treble from his only three rides on 'international day' at Turffontein on Saturday, 14 November. Having ridden his first career winner in the green and gold Jooste silks, it was fitting that his first Graded win came in the same colours, when piloting Geoff Woodruff charge, Deo Juvente home in the Gr2 Victory Moon Stakes.
Asked how the day unfolded he explains, "Well, the first ride (Chepardo) was for Mr Laird and owner Chris Gerber. He was a first timer, but I'd done a lot of work on the horse and Mr Laird kept me on him. We did expect it – he's quite a nice little horse and I think he'll go on from there. The second ride was for Mr Magner (Gaisce Gold). It was a bit of a surprise. I'd only worked him two days before and he won a nice little race."
The Victory Moon Stakes
Showing a remarkably mature and well balanced head on his shoulders, Callan is justifiably proud of his Gr2 win and his treble, but exhibited the hallmark of a true professional by taking it in his stride and not getting too far ahead of himself. "Mr Woodruff had spoken to me about the Victory Moon quite a while ago. We've been chatting about it for the last few months and he kept asking me to keep that race open, so it was in the works that I was going to ride him. Mr Woodruff was excited and said he thought he'd run a big race. My instructions were to jump to commit, and take the horse handy, which was easy enough. We had the perfect race and he quickened up and did the job. It was my first Group win. The closest I've got so far was 3rd in the Gold Cup" (he finished 1.5 lengths off Wild One in the 2015 eLan Gold Cup on Joey Soma's Savage Wind).
Does he think the previous two wins set him up? "I was very excited. It helps being confident and having been off for a while, it was good to bounce back like that. To get a feature race win helps boost your confidence and when you're riding with confidence everything seems to happen more easily. It's a great feeling to win a race like that. Hopefully I get the ride in the Summer Cup, but it's possible they'll want Anton to ride, which I'd understand."
Did his week away and some of his experiences in Abu Dhabi perhaps play a part? "I definitely think it benefited me. I think most of all, being off a horse for so long got me really excited about riding again. When you're riding every day, you get into the motion. Coming off from a bit of a rest time away and experiencing something else, it made me excited to get back into riding, so I definitely think it helped from that aspect. I also learnt a few different things about riding style which helped."
"On our Equiciser lessons we worked on balance and those sorts of things. In South Africa, we ride our horses differently to jockeys from overseas – we have a different posture. I got to watch and learn how they do things and I got help correcting a few things about my style."
Asked how our local jockeys and riding style compare to international jurisdictions, he answered, "We are very competitive and compared to other countries, I think we've got a very neat and tidy style. South Africa is the only academy where you live on the premises – in most of the other countries, you ride for your trainer, but you live at home. I think it helps (living in). We are able to have access to all the facilities we need every day. The riding masters are watching over us constantly and because they're with us every day, they can watch us more in depth and I think that benefits us."
Going forward
With support from stables like Alec Laird, Michael Azzie, Geoff Woodruff and Gavin van Zyl, Callan has his sights on the apprentice championship. "I think being champion apprentice would be a nice short-term goal for the season and then I'll see what opportunities come along." He is currently lying 4th on the log and with the rest of the season stretching ahead of him, he has it all to play for.
‹ Previous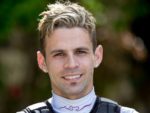 Aldo Domeyer