In what is a feather in the cap for the impartiality and independence of Equus, Durban-based 
Candiese

 

Lenferna

 scooped the Equus still photography award for the second year running at last Wednesday evening 'oscars' in Johannesburg.

Awards in a relatively closed community like horseracing can be difficult calls – in a subjective profession it would be far easier to give everybody a turn, is what we are trying to say!

The recipient of the 2018 Anita Akal Industry Award, the 43 year old Mom of two daughters enjoyed a momentous family evening. Her husband Warren Lenferna was acknowledged with the Equus Media award for broadcasting.

Proudly adorning this week's SPRINT cover, Candice' image of the now newly -crowned Equus Horse Of The Year Captain's Ransom enjoying the  waves was adjudged the winner, in a field of seasoned and rising star 'photies'.

Hubby Warren's GTV In The Box Seat interview with new Kenilworth Racing Executive Chairman designate Greg Bortz caught the eye of the judges in the broadcast category.

"I am shocked and overwhelmed!" the hardworking lady of the lens told the Sporting Post afterwards.
"I cannot believe I won this Award again; I certainly was not expecting it this year. I entered at the very last minute after a colleague encouraged me to, and to win back-to-back is certainly very special and I have many people to thank for it," said Candiese, who adds with genuine enthusiasm that Warren deserves his acknowledgement.
"I think more so than mine! I am absolutely over the moon for my husband – he is so passionate about what he does, we both eat, sleep, and breathe our work and he deserves this prestigious accolade. He has a superb talent for his TV work, nothing flusters him at all, and he just has a natural ability for questions and speaking off the cuff, which he makes look so easy – trust me, it's not!" Candiese adds.
Candiese, mother to Mia and Julia, was born and raised in Yellowwood Park, Durban. "It was a small school and didn't have the best reputation, however, it produced a national radio DJ, an Olympic Badminton player, a Big Brother housemate and a leading Diplomat from my year – so it couldn't have been too bad," adds Candiese.
She asks to share a funny story with us:
"I don't think our complex has been quite the same since we moved in…. An amusing story – after we had been there for a few months, our neighbour finally admitted she nearly called the police one weekend! Warren shouts home every race with all his zeal and zest he possesses – and the neighbour nearly called the police because she thought it was rather disturbing, until she came to the realization that it happened every 30 minutes, which resulted in a good laugh! Warrens also passes on his passion to everyone he meets and has even converted two of the seven neighbours to open betting accounts and punt on horses – he is really that good!!"
After years of riding and living at the stables during her high school days, her mother was adamant that Candiese wasn't suited to an office job and had enrolled her daughter to do a 6-month Horsemanship and Horsemastership course with Mitch Hansen at Stoneyhurst, in Hammarsdale.
Candiese originally wanted to become an assistant trainer. "I failed the course only because of the teaching module (teaching kids how to ride) and thanked Tarryn Liebenberg quite a few years later, who was one of the kids during the exam (who works at Drakenstein now!) for making it so difficult because I might not be on this life path if I had passed!" '
She started working for the KZN Breeders Club in 2011 and Candiese's career took off from there. Although the photography was initially secondary, it evolved over time as Candiese required photographs for the articles that she was writing. The photography took a step up in 2015 when she started photographing sales for the TBA.
"Gold Circle offered me a position in late 2015, which is how I met my husband – working at Friday night racemeetings," added Candiese.
Candiese is involved in social media work and event organising across various platforms.
When we asked about her passions, she suggested that Cape racing dealmaker Greg Bortz is correct with his African Horse Sickness analogy that we all suffer from. "I can only say that I do as well. I love the Thoroughbred, I love racing, I love the breeding aspect of it and I really enjoy photography."
We asked how she manages to capture a perfect moment.
"I never get bored photographing – just have this drive to constantly try and find that moment that works and I still get this tingle in my stomach when I think I may have caught something special, and usually cannot wait to get home to upload the images and see what I have," explains Candiese as she explains that capturing a moment means that one needs to ensure that it is aesthetically pleasing, with emotion attached. "This allows viewers to relive the moment – feel those emotions once more."
On horseracing, Candiese says that we need this industry to grow in South Africa in particular.
"So, I suppose, I don't know if it's the right thing to say, but I see myself as a conduit for that – bringing racing and moments like Captain's Ransom on the beach leading the herd, to people. Whether it be in the newspaper or on their electronic devices, that for one second that they look at that image, they can experience that moment," explains Candiese.
She enjoys travelling – which plays a big role in her job. There are challenges, as with any other job. But the pros outweigh the cons.  Time spent away from her family is often difficult, but the Lenferna's always give their best, and never give up.
"Life is too short to do things you don't enjoy! Travel does add to the pressure. I have immense respect for jockeys who do it daily. I nearly missed a flight when a Turffontein meeting was delayed and paid the Uber driver R500 on top of their fee to get me to the airport as fast as possible and I made boarding by the skin of my teeth!" said Candiese.
Keeping up with the latest equipment for the best quality results is one of the biggest challenges photographers face. She points that most people aren't aware that cameras have a limited life span – which is an expensive business.
"Another challenge is missing race finishes – I can assure you, when people are disappointed, I am more so!"
Candiese has taught herself to watch the television on the inside track and photograph at the same time – a trick that aids photographers keep track of the race / horse. Candiese explained that it's not as easy as it may seem – and there are constant challenges, but she always gives her best.
'I don't want to be painted as a photographer who only photographs horses – I have made it a personal challenge to be able to photograph anything properly, which I am glad to have achieved this past year. I love doing events' – Candiese Lenferna
All her effort, dedication and hard work is evident in the work she has produced. You go girl! And you too Warren!
‹ Previous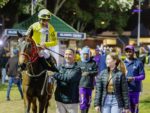 Still On The Mark!