British author William Thackeray said that the two most engaging powers of a photograph are to make new things familiar and familiar things, new.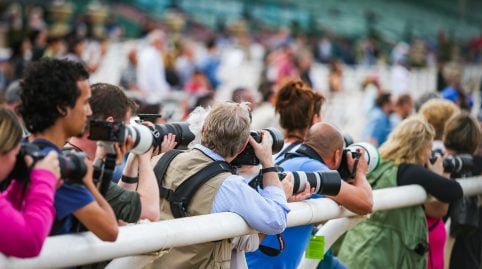 The life of a racing photographer is thus not simply that of a happy snapper leaning against the rails waiting for the next stampeding blaze of colour.
One of the fastest rising stars in the South African thoroughbred photography firmament, Durban-based Candiese Marnewick was awarded the Anita Akal Industry Award at the 2018 KZN Breeders Awards.
She is a lady with a permanent smile and a work ethic second to none and it's difficult to digest that she only started taking photos 'properly' – in her words –  from about 2015 and bought her first professional camera in April last year.
And beyond the auctioneers, the bid spotters and the crew of handlers, she toiled her way through over six hours of the Cape Yearling Sale on Sunday under the blazing hot Paarl sun at Mistico. All while the gathered audience enjoyed their refreshments and snacks and hardly noticed the Duracell Bunny with the snazzy camera darting from ring to door to table, and back to the ring.
The three time Midmar Mile swimmer caught our eye as the perfect unhailed heroine type character for our personality of the week slot.
Candiese started out working for the KZN Breeders Club and says that she owes Mike McHardy and Warwick Render, who took a leap of faith to employ a 'nobody' in the industry, a big word of thanks.
"I needed pictures for my articles, so the only way to get them was to do them myself – so I started going to farms and I really enjoyed it – and one thing lead to another. The KZN Breeders asked me to start going to sales to promote the #kznbred and it all really went from there!"
She says that the Sales are hard work for all involved.
"I do the photography, the live social media updates and try to edit and upload images in between the sale to keep our followers in the loop. It is very pressurized but at the end it's great satisfaction that you get through it," said Candiese as she smiled and answered our prompts between lots of lots and a buzz of noise from the auctioneers and the buyers.
And to show she is no shrinking violet one dimensional arty type, she proved to be on top of the stats too.
"The sale, from the numbers I saw, finished up stronger than last year – a good sign as  there is no denying we are facing tough economic times for all, and in all industries. So the results were very pleasing I'd think," said the 40 year old soon-to-be married again single mother of two.
We asked how she juggled the 24/7 job with her two daughters – Julia (13) and Mia (9).
"It is a tough one balancing the kids and travelling, and a little bit more testing now that my eldest is in high school so it's juggling two different school times. Fortunately my ex-husband Michael and I get on very well and he is understanding and helps me when I can't be around and vice versa when he travels for his job, and we share our kids equally. Having said that, I am very conscious of the fact that a lot of my work eats into normal family weekend time, so if racing is generally on a Sunday, Saturday is family day."
She says she has never been the kind of Mom that is very good with sitting and entertaining the children.
"I love taking them out and giving them new experiences and that's what we do. I also make a point of getting everyone around the table at least once a week and having good sit down dinner and catching up on news – one of my favourite things to do. I do make the effort to be at every school and sport function I can be which I believe is important to them, to know that their parents are there to support them. I do have to thank Warren (Lenferna) especially – he supports me 100% in everything I do, and if I have a problem with anything or need help with the kids, he is right there."
So who's her boss?
"I have a few! But I am self-employed and took the plunge in 2014 after leaving the industry for 10 months and realizing that a stereotypical 9-5 job was not really my thing. I work for the KZN Breeders Club, Bloodstock South Africa, Gold Circle, the Thoroughbred Breeders Association, and several private farms and stallion owners. I have never looked back and have so many people supporting me. I will work all night for my clients if that is what is needed," she added with a sincerity and warmth that is her trademark – and probably sets her apart.
Besides the sales ring, Candiese is on the rail at most KZN racemeetings. Work is a passion for her – born out of a deep love of the horse.
Raised and schooled in Durban, the  bug bit when she was 12.
"My friend Loryn started riding lessons in Yellowwood Park, and I just tagged along. I was sporty and was busy every afternoon with something or the other – chess, drama and athletics – that's until the horses came along!"
She recalls the first horse that she 'got involved with'.
"He was a beautiful bay with spots down his neck named Harry's Affair. Whilst I didn't come from a horsey background per se, my grandmother had leisure horses in Lesotho where they owned a trading station, and my great grandfather was a Vet – so I suppose it had to pop out somewhere in the pedigree!"
She says that riding was always an expensive sport and together with some help from her folks she used to work around the stables pulling manes and plaiting, and going to shows to assist on weekends – which helped to pay her way. That was the start of the work ethic.
"While still a child growing up in Yellowwood Park, a very fancy showjumper moved in named Minton Way, and with him came Charles Baker. I could say I owe my career to two people – the first was Charles and the second was Mike McHardy. One day, Charles handed me a pedigree of the horse I was riding, and my interest in the Thoroughbred was immediate. I went to a little horse show at Newmarket stables, and the yearling sales had just ended. I picked up all the left over catalogues – Scott Bros, Aldora Stud spring to mind, and went home and found connections to my horses pedigrees – and I remember the first common horse I discovered was Riverman. It totally blew my mind that my horse was related to unbelievable champions and they were all over the world."
That was the flame that stoked a lifelong passion and she recalls meeting the legend Terrance Millard.
"I was lucky enough to meet Mr Millard in that little suburban stable. He had imported a beautiful black carriage horse and he kept him there until the KZN season was over. Another man who made an early impact on me was the legend Robin Scott. I began to do his conformation and sales catalogues. It felt surreal really, and I owe him so much for teaching me about advertising and how to photograph a horse correctly."
Candiese graduated to Showjumping and on her Mom's guidance – she saw an office job wouldn't work for her daughter – joined Mitch Hansen's Stonyhurst Horsemanship course and met people and friends who she  has kept for life.
"The experience of being previously 'horsey' also helps me to read horses' behaviour today when I photograph them and anticipate their next move if they are on edge, and when it comes to photographing yearlings especially."
Candiese travels to Mauritius on 1 April for a family 50th birthday celebration with her future husband, Warren Lenferna – her 'rock'. She is going armed with laptop and camera and will go racing at the Champ de Mars.
Asked to name one great thing about her job, she says it's being able to follow horses from foals, to the sales, and then to the winner's enclosure.
"I enjoy it so very much. I may sound batty, but I recently 'bumped' into a horse that I photographed racing at Greyville and always use to give him a pat after he had won. I saw him retired on a road trip to Kimberley recently. And when I walked up to his paddock I swear he recognized me. He just seemed to have a surprised expression and walked up to the fence to greet me. A  wonderful feeling!"
She has also had a few nerve wracking moments.
"Greyville can be tricky to photograph on and Anton Marcus has caught me out a few times where he flies up at the last second. One can end up with a beautiful image of the second placed horse and the winner is a blur. I was also standing on the inside track at Scottsville  and I heard Craig Peters shouting, that there is just 300m to go. I looked up the track and saw no horses. To my utter horror, it was a sprint up the straight. I was under the railings so fast and sprinted. I got a beaut image of the winner (see above pic) as she crossed the finish. Needless to say, one bookmaker has never let me forget it – now I triple check the race card!"
Candiese says that one photographer that she admires the most is the overseas based Michele MacDonald.
"I've followed her work for years and actually got to meet her at a Vodacom Durban July two years ago which blew me away. She hit a 'like' button on my one of images and I nearly did flick flacks! But locally, John Lewis is a magician with a camera. And Chase Liebenberg's work is outstanding."
Look out for Candiese at Nationals at Germiston next month!
‹ Previous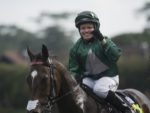 Vorster's Faster Than The Aussies!