While it has taken almost a lifetime in the game and a testing twist and turn or two along the way, the vastly experienced Carl Hewitson saddles his first runners out of his brand-new Summerveld base at Hollywoodbets Greyville on Sunday.
The year 2020 has delivered a few curved balls along the way for all of us – but the internationally accomplished former jockey is taking it all in his stride as he approaches his 56th birthday on 22 October.
The cucumber-cool horseman has an unflustered air of confidence about him. It's clear that South Africa's youthful Champion Jockey of last term, Lyle, gets his nerves of steel direct from 'Daddy cool'.
Carl Hewitson's name was quietly published in the National Horseracing Authority Calendar Volume 120 Issue 11 on 9 October 2020. The administrative rubber stamp opened the doors to a new world of new challenges for Yvette Bremner's former Lieutenant.
After the events of 17 September – Fairview's Black Thursday – as the media labelled it, the Briton's life as he knew it, was changed forever.
Yvette Bremner's Dippin' Blu stables, from where Carl had, as an Assistant Trainer, saddled plenty of winners, looked like a deserted movie set after the events of that dreadful day. The scurrying tumbleweed was the only evidence of life twenty four hours later.
"It's been a very different kind of year for the whole world, I suppose. If you has asked me a month ago if I would be readying to send my first horses out at Hollywoodbets Greyville, I may have thought you were crazy. But that's life and the circumstances that got us here were sudden and a shock for all of us. But sitting analysing, pondering and wondering won't pay the bills or stimulate the grey matter. We have to get up and soldier on. We have already settled down remarkably quickly in our new home at what is a world-class training centre."
Carl has been granted 40 boxes at Summerveld. He says that Gold Circle have been 'accommodating and hospitable'. "I can't thank them enough," he adds.
"The suddenness of the upheaval and move  was quite traumatic on the horses, but they have settled in well. 29 of my 40 boxes are filled. I expect that to be up to 35 by month end,"he says confidently.
We asked him how Summerveld compares to Fairview.
"It's day and night, frankly. No disrespect to Fairview. We were happy and worked well there. But Summerveld is superb."
Carl has been accompanied by his long-time friend and colleague Rocky Agrella – another former jockey.
"We work well together and are keen to find suitable accommodation in a matter of months. We are currently boarding at a bed 'n breakfast at Assagay. It's fairly convenient."
Travelling and adapting to the prevailing circumstances is something that Carl has done for many of his 56 years.
He started out as an apprentice to veteran Kingstone Warren trainer Henry Candy. Now in the twilight of his career, Candy has trained for a half century with success at Gr1 level with the likes of Time Charter, Master Willie and Kyllachy and Limato, to mention a few.
Carl's solid grounding was reinforced when he worked for another experienced top man in Mark Usher at Rowdown Stables, before moving to Western Europe and Belgium where he rode with some success for four years.
Carl got an invite from a South African trainer to come and visit here on a working holiday. That was to prove a turning point in the British jockey's life as he made Africa his base forever thereafter.
"I rode in Cape Town, Durban and Johannesburg, and also spent 6 years in Malaysia and 4 years in Mauritius. But like so many guys, the weight bogey got the better of me and I hung up my saddle 20 years ago."
He sends out his first runners on Sunday at Hollywoodbets Greyville and says he expects the first few months to be a serious learning curve.
Carl's Hollywoodbets Greyville Sunday runners
Love The View

(1)

Mangrove

(7)

Quinlan

(8)

Brazil Nut

(9)
"They may appear to be working well at home but one never knows until we get the local balance right. So my first few may well need the outing. But I have been very fortunate to have had the likes of my son Lyle, Wayne Agrella, Stuart Randolph and Gareth Wright riding my work and providing feedback."
As for the transfer of support from the Eastern Cape to KZN, Carl says he has been fortunate to enjoy the backing of dyed-in-the-wool passionate racing folk who have made the move a fairly smooth transition at short notice.
"I don't want to name names or leave anybody out. The people that have stood behind me and made it possible know who they are. I am deeply appreciative and the kindness has extended to the racing operator and my colleagues here. Our team is looking forward to the challenge of racing in what is South Africa's leading racing centre."
‹ Previous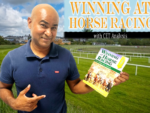 On A Winning Ticket