Winning Form's Charles 'PE Striker' Ndlovu's finely judged cucumber-cool ride to grab a nailbiting last-stride victory in our first stakes feature of the season at Fairview last Friday had all the hallmarks of a polished performance by a top drawer jockey.
At the age of 35, Charles tells the Sporting Post that he feels geared and ready to produce his best season to date.
He has already ridden 6 winners, with a total of a modest 15 on the board last term.
"I was out with an injury for three months last season. That really set me back. And race-riding is such a confidence dynamic. The mind and body have to be in sync. They have to be right. I have got no excuses – a wonderful family, a powerful main yard, the support of good people, including a loyal sponsor in Winning Form, a fit mind and body – and many years of experience!"
When asked about his flying start to the term, Charles says that he 'feels alive' when he gets on a horse.
"I feel on top of the world. I may not always be on the best horse in the race but I have done my job if I have done my very best and got the maximum effort out of my mount. So a horse that finished last the week before and now runs second last is an improvement."
He relishes the challenge to improve horses.
We asked him how he really felt about riding work six or seven days a week and then not necessarily getting the plum rides as Cape-based Greg Cheyne is Alan Greeff's first choice jockey.
"I can say with all sincerity and honesty that the fact that I may ride a lot of work and not always be on the stable elect does not bother me in the least. I am fortunate to have the mindset that reminds myself every day that I wake up that I am attached to a champion yard – it's a job many jockeys would give their eye teetth for. If I let anxiety and a grudge mentality set in, I may as well go cry in a corner and go do something else. We are a top team – that's more important than anything else."
Today Charles has made 'the Bay' his home.
He loves it here and enjoys a good life with his longstanding partner Nopopi and his two gorgeous daughters, aged nine and five.
He attends the Methodist church where he participates in the counselling and preaching and says that spending time with the family and work take up most of his time.
"My days of partying and socialising are behind me. I ride work up to seven days a week. I like to watch my show on tv and then get into bed at about 21h30 and wake up feeling refreshed and ready to give it 100% at work."
Charles was born in Durban's King Edward hospital and grew up in the small town of Izingolweni near Port Shepstone.
He was brought up in a strict Catholic environment and has always respected the value of faith and prayer.
His staunch beliefs came in handy when he won the Listed Jockey Club Stakes on Meryl last Friday – a race that looked a tall order for the classy filly from a 17 draw – and a host of traffic issues in the home straight that almost shattered the fairy tale.
"I prayed every day in the week of the build-up to the race. I had run second on her in a sprint just a few weeks earlier. She gave me a lovely feel – so when Mr Greeff put me on for the feature, I realised this was my big chance to make a great start to the season."
Charles explains that he managed to slot Meryl in nicely and she was going beautifully at the 350m.
"I thought that If the gaps appear, we will win. But then we had our way blocked. I switched her and she found her stride quickly. It's at that point where faith kicks in. I was patient and it paid dividends as she saw daylight and we got there late. It was a memorable moment. A plan come together in my head! She will be a mare to follow this season, I feel."
Charles attributes veteran trainer Hekkie Strydom with having had a great influence on his career when he moved down to Port Elizabeth as an apprentice.
"When I was an apprentice, Mr Strydom taught me to be patient on a horse. To sit as long as possible. His voice often rings through my head when I ride those kind of races. Some of the guys in the weighing room call me the 'PE Striker' – which is a bit of a grand title, to be frank!"
The young man's interest in racing was sparked by his father, who punted occasionally and noticed a newspaper advertisement inviting applications to the SA Jockey Academy.
Charles' older brother tried out, but didn't make it past the interview stage. But Charles was accepted and joined the Academy in 2000, alongside the likes of recently retired Ian Sturgeon, Kevin Derere and Vicky Badenhorst – who is married to Gavin Lerena and also no longer rides.
Charles recalls receiving plenty of support from the late Gift Funeka.
"We didn't have a lot of African jockeys at the Academy and he was my senior. A couple of times I felt like throwing in the towel and going home and to have someone like Gift sit me down and talk me through it, helped me a lot."
His career got off to a slow start.
"When I signed my papers at the end of my second year, I got 5 rides, so they decided to send me to Zimbabwe to get more experience. My first winner was a horse called Be Real trained by Paul Matchett and his assistant trainer, Lowen Denysschen. I was so excited, I saluted like a lunatic!"
Back in South Africa things were still a little slow, so riding master Gary Rich organised for Charles to transfer to Barry Steenkamp, who he stayed with for two years. He also rode a lot for Hekkie and Jacques Strydom through his apprenticeship."
A sad injury to Charles Roberts opened the door at the Greeff yard for Charles. He has never looked back.
"I do ride work at Mrs Sharon Kotzen and Mr Jacques Strydom too, but Mr Greeff is my anchor yard. He is a calm, cool trainer. You only put yourself under pressure, he never puts you under pressure. So I flourish in that environment – it brings the best out in me and he has taught me so much and uplifted my career. I'm so fortunate, you know!"
Charles is not an outspoken guy by nature, but we pushed him to suggest a change he'd like to see.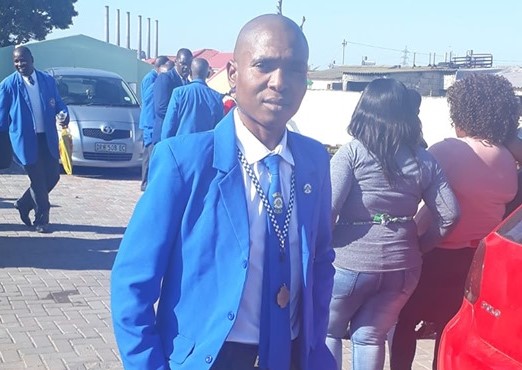 "I know they are important, but I think racing has too many rules some days. And they are often made by people who have never even sat on a horse. And then the list of items that are prohibited can be over the top. If I have a headache before races, I can't even take a Disprin. That's crazy, in my personal opinion. But the downside is outweighed by the great plusses. The atmosphere at Fairview, even on a mid-month Friday, is good. So many people love the game. I think the future for SA racing is bright. I don't participate in the negativity. I live my life in a positive frame of mind."
On his sponsors, Winning Form, Charles says that he has sometimes gone a month without a winner- and he never gets even a moan or a whinge.
"I'm really hoping to make them, my supporters and my family proud with a big season. I feel right and in a good space!"
‹ Previous
Cool Cole – They Call Him Frost