Charles Ndlovu has been enjoying a good run of form this year, including a treble in PE on 17 February and the Listed Lady's Slipper Stakes aboard Queen Forever in June.
He added to his tally with last Friday's Champion Juvenile Cup aboard Kimberley Star for loyal Greeff yard patron, Lee Scribante, neatly making it a double for the Greeff and Scribante team, who won the 2016 edition of the race with O Tamara.
Getting to know Charles
The 33yo Charles Ndlovu has become part of the PE racing firmament since making the move down there as an apprentice. He carved a niche for himself and has been there ever since. He is firmly settled and has two daughters, although when I ask if there's a Mrs Ndlovu he laughs and says no. "Just the two daughters."
Charles was born in Durban's King Edward hospital and grew up in the small town of Izingolweni near Port Shepstone. His interest in racing was sparked by his father, who played the horses occasionally and noticed a newspaper ad inviting applications to the SA Jockey Academy. Charles' older brother tried out, but didn't make it past the interview stage. When Charles reached Standard 6, he remembered the Jockey Academy opportunity and decided to approach them. "I was very small and light at that age. It was not easy , I am not from a wealthy family, but the Academy assisted in getting me to Greyville for the interviews." He was accepted and joined the Academy in 2000, alongside the likes of Ian Sturgeon, Kevin Derere and Vicky Badenhorst.
Not having been exposed to horses before, his first introduction was something of a shock. "The very first day they made us feed the horses. Obviously it was not something I was used to. I looked at this big animal and it made a strange noise. I threw the bag on the ground and ran out of the box. I called for help and one of the second years came over and explained that it was just the noise they make when they are excited about food," he laughs at the memory.
Helping Hand
The Academy can be a tough schooling ground and Charles concurs. "But you do get a lot of encouragement too. Someone who really helped me was the late Gift Funeka. We didn't have a lot of African jockeys at the Academy and he was my senior. A couple of times I felt like throwing in the towel and going home and to have someone like Gift sit me down and talk me through it, helped me a lot."
Things got off to a slow start. "When I signed my papers at the end of my second year, I got 5 rides, so they decided to send me to Zimbabwe to get more experience. There apprentices are in demand and get a lot of rides. I got my first winner in Zimbabwe." They say you never forget riding your first winner and Charles is no exception. "My first winner was a horse called Be Real trained by Paul Matchett and his assistant trainer, Lowen Denysschen. I was so excited, I saluted like a lunatic!"
Carving a niche
Back in South Africa things were still a little slow, so riding master Gary Rich organised for Charles to transfer to Port Elizabeth and he hasn't looked back. "I was sent to Mr Barry Steenkamp and stayed with him for two years. I also rode a lot for Hekkie and Jacques Strydom through my apprenticeship." Once he was fully qualified, opportunity came couched in misfortune. When Alan Greeff's regular rider Charlie Roberts took a bad fall, it resulted in more opportunities for Charles, which he grabbed with both hands. "I've been with Mr Greeff ever since."
Asked for his thoughts on PE racing, Charles answers, "For me, PE racing is something special. I only race here. I have a lot of respect for PE racing and every horse I jump on, I give it my best. It's the only way I can get my bread and butter. Unfortunately sometimes you do have to ride horses that you know have no chance, but to be honest, horses from the Greeff stable always have the ability to surprise you and often produce the goods even when you're not expecting it."
Champion Juvenile Cup
We asked him to tell us about Kimberley Star and his win in last Friday's Champion Juvenile Cup. "I'm just grateful I got the ride. The stable had two horses in the race and obviously Greg Cheyne gets first choice. When I saw the final fields on Monday and saw myself on that horse, I was very confident. I've known that horse from young and always thought him to be special. I used to ride a horse called Oomph and learnt a lot from him. This horse reminds me a lot of Oomph. He's easy to work at track and does everything you want him to."
"I was really looking forward to the race and I was even more confident when the field came out. People were all talking about the Cape Town horse, but it had never run in PE before and I believed in my horse. I get some horses that click with me and there are some good horses that don't, but Kimberley Star worked with me quite well."
"At one stage I was thinking I don't have a nice draw, but then I looked at it that if this was a 10 horse field, a 9 draw was not that bad. It's just a thing with jockeys that if you're in a small field and you draw one from the outside you think it's a bad draw, but it isn't. I planned the race very early during the week. I decided I didn't want to come out too well because it's a big race and everyone will be looking for a position and I could get caught wide."
"What also helped me is that Mr Greeff is a calm, cool trainer. You only put yourself under pressure, he never puts you under pressure. Coming out of the gates, I didn't get a bad break. Everyone went forward, so I slotted in behind and didn't chase. I ended up sitting midfield and then things got untidy. One horse carried them out and I found myself sitting third, thinking 'this is perfect'. From then on I knew it was race over. Turning for home, all I was thinking was how far am I going to win by. It's one race I enjoyed from the jump. I've had a lot of races like that, but this one was special."
"Last month I won the Listed Lady's Slipper on Queen Forever also for Mr Scribante – in fact, it was the second time I won that race for Mr Scribante – and now I've won the Champion Juvenile Cup for him too."
Career highlights
Asked to name his favourite or career highlight horses so far, he answers without hesitation. "Purely Atomic. I won the 2016 East Cape Paddock Stakes with her. It was really just a pointer. I was so confident before the race and during the race. I didn't need to use a stick, nothing. It was a very special win for me."
What does the Champion Juvenile Cup win mean? "You know, there's one thing. They brought a jockey like Anton Marcus and a horse from the Cape and they got beaten by PE horses and riders. I would like trainers to see that everyone can ride a horse. If you give me a horse with a chance, I can do a proper job for you. I would like people to realise that it's not about the money. Obviously it's my job, but I'd love to be a champion. I want to ride with confidence. Nothing beats confidence. I want to show the world I can do it. Give me a chance and I can do it."
Acknowledgements
"First of all, I'd like to thank my sponsors, Winning Form. I really want to say a big thanks to the guys there. They've been with me through thick and thin. Sometimes I've not ridden a winner for a month and not one day have they called to complain. If they do call, it's to say just hang in there, things will turn around. I really appreciate their support very much."
"Secondly, to the boss, Mr Greeff. Without him I wouldn't be where I am today. Where someone else could have given up on me, he took me from nothing to who I am today. I am so grateful."
"Thirdly, to Mr Scribante. He never complains. If you ride and you get beat, it's part of racing. If you ride and you win, he's a happy man. With a horse like this you might want to put on a top jockey from outside, but Mr Scribante knows I am here to do the job and work the horse every day. If Mr Greeff phones him and says he's got Charlie on a horse, he never complains or says he wants an outside jockey. I'm very, very grateful. I've had 5 listed race wins now and 3 have been for Mr Scribante. The man has lifted me up."
"I cannot leave out Greg Cheyne. He's helped me a lot and with this last winner, he had a lot to do with me riding this horse. He's very helpful, he can sit you down and tell you about the race. He also wants to see me doing well and to make the boss happy. I'm very grateful to work with someone like him."
"I also want to thank Wilgerbosdrift and Mauritzfontein Stud. They are Purely Atomic's people – that was my special win – and they bred Kimberley Star. They breed a lot of horses and deserve every success. I am very grateful to them for both of my special wins. It's not easy for me to get rides on horses like that and Kimberley Star really made everything easy."
"Lastly, I want to thank my family who are very supportive. The mother of my children Nopopi and my two daughters are always asking how's racing? They are my biggest fans. My dad is very proud of me and so is my mom. I just wish God blesses them and they live long. And you can't do any of these things without praying and God is No 1. In everything I do I invite him first."
‹ Previous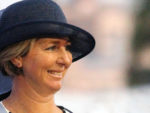 Candice Robinson