Spare a thought for 2022 Gr1 L'Ormarins King's Plate runner-up trainer, Candice Bass-Robinson. It's not easy training a top-class boom horse that gets nabbed by an 80-1 outsider.
Born into horseracing, she was there at the age of 21 when her legendary Dad Mike saddled Counter Action, the first of his six winners of the prestigious weight-for-age mile.
On Saturday, at a sun soaked Hollywoodbets Kenilworth, South Africa's leading lady trainer had to bite the decorum bullet and call on every ounce of her life and stable yard coaching and experience, in a game that, excuse the cliché, really does tame lions.
Candice had to watch the King's Plate dream unfolding as Charles Dickens unwound down the inside under Aldo Domeyer, looking a winner inside the 200m. But it wasn't to be the fairytale ending we had all wished for.
The whole world will know by now that the former Mike de Kock resident Al Muthana, in the care of veteran Ricky Maingard, flashed up on the wide outside at 80-1 to snare the hot-pot favourite and budding Bass champion in the shadow of the post to cause the biggest upset most of us can recall in the royal mile – certainly this century.
A philosophical and positive sounding Candice spoke to the Sporting Post on Monday afternoon and confirmed that Charles Dickens has pulled up 100% sound and had emptied the manger on Sunday.
While she kicked off by saying that she didn't enjoy the way that the runners spread across the width of the track in races around turn at Hollywoodbets Kenilworth, we asked her to describe the initial feeling in the aftermath of the knockout blow that few of us saw coming.
"I'd be lying if I didn't say we are extremely disappointed. Along with all the fans, supporters and punters who were shouting Charles home, his defeat is a body blow. But we have been in horseracing 46 years and the Drakenstein team are seasoned racing people. Like winning, getting beaten is a part of the game too. We are dealing with flesh and blood and we take the good with the bad," she lamented, pointing out that on the day her chestnut champion had encountered an older Gr1 winning miler, who ran out of his skin.
"Al Muthana literally ran the race of his life. He relished the hard pace as he did in the Hollywoodbets Gold Challenge last year and ran on powerfully late. We have to congratulate the winning connections on a plan come together."
Candice added that it was quite ironic that Charles Dickens had beaten two of South Africa's top-rated older horses comprehensively.
"He beat defending dual champion Jet Dark and multiple Gr1 winner Kommetdieding – the two horses we knew we had to be beat! But I personally never considered Al Muthana as a threat. On the day, the stars aligned for the Maingard team and let's take nothing away from the winner," she added.
While it has already been made known that Charles Dickens will not run in the WSB Cape Town Met later this month, there aren't too many other options for the handsome son of Trippi, other than the SA Champions Season on the East Coast.
"Yes, Durban is a real possibility, but we need to meet with the Drakenstein team to discuss the options and the programme. He is on a break now. Even if we only take him up later on into the KZN season– it's all pretty fluid at the moment," she confirmed.
When asked about likely target races, Candice seems to consider the mile his best hunting ground at this stage.
"I imagine a race like the Hollywoodbets Gold Challenge is a possibility– I really don't think the Daily News is an option."
And will her star enjoy Hollywoodbets Greyville?
"It will be his first experience of a right-handed track. But he is a sensible horse and the shorter straight won't worry him as he turns it on in a tickey. Other than the course being barrier draw-sensitive, I don't envisage an issue, I really don't," she added.
Drakenstein must be harbouring thoughts of Charles Dickens taking up stud duties in the future? Is he physically and mentally okay at this stage? We put it to Candice that one experienced observer suggested that he looks very big in the neck area and comes down hard on those front legs.
"That's normal for a colt and we have raced many who were a lot bigger in front. I don't see any issues at this stage."
While she has an exemplary elite level record with the likes of past Gr1 winners Marinaresco, Nightingale Russet Air, Zarina and Clouds Unfold (2), where does Charles Dickens rank in the scheme of the best horses she has trained since taking over the business from her Dad in August 2016?
"He's number 1. I have been fortunate to have great support and train some outstanding horses. But to answer your question – Charles Dickens would be my best."
Watch the 2023 L'Ormarins King's Plate one more time! 
‹ Previous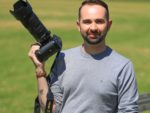 Chasing That Moment