Cole 'Frost' Dicken remembers the day he saw the light and his life changed forever. Nothing overly dramatic really. It was a chandelier in Candice and Anthony Delpech's home. But it set him on a path he has never looked back from.
The 22 year old second year apprentice stepped into the limelight at Turffontein on Saturday with a terrific double – the first of his career, but underlined in the scope of a milestone, as he had only ever ridden 1 winner up to then – his fourth coming via Princess Nicole at Turffontein on Tuesday 20 August!
In an exclusive chat with the Sporting Post earlier this week, Cole  explained how his job working for his Dad's business created an opportunity.
"My Dad, Gift, is an electrician and runs his own business in Pinetown. I was working for him as an assistant and it was a routine call-out to install a chandelier. My first impression when walking into the Delpech household was of trophies and silverware. I had never seen so many awards or ever heard of the champion jockey, but said to my Dad that I wanted to do whatever this guy did for a living!"
Told to mind his own business by his father-boss and carry on with the job, Cole set about placing the ladder in the right place and getting on with the project. That is until Candice Delpech walked in.
"Mrs Delpech asked me how old I was and if I was going to take over the business from my Dad. She also said that my stature made me a perfect candidate to become a jockey and she suggested I approach the SA Jockey Academy if I was keen."
I thanked her and made a mental note of it.
That evening I did a bit of research and was taken aback. I had met one of the greatest riders in the world without realising it and the seed of possibly becoming a jockey had been planted.
Having grown up just fifteen minutes from the SA Jockey Academy, Cole saw the irony in the fate of the chance meeting.
"I had never really heard of Summerveld or taken any interest in horses or racing. The more I read up, the more I thought I have to give it a go. Look, I appreciate too that my Dad had given me a job – but being a professional sportsman appealed a touch more than carrying an electrical toolbox around all day – and that's said with every respect to my Dad, who has been a role model, mentor and a really successful businessman!"
Growing up in a family of some diversity, Cole is the second youngest of four children – he has an older brother and sister and a younger sister – and this has equipped him with important life survival tools.
He proudly explains his heritage – his Grandfather is coloured and his Mom, Sibongile Elizabeth, is Zulu.
"We were brought up in an English-speaking home with something of a mixed culture. My folks have friends from across the spectrum and I think it is this balance that helped me cope with a wide range of friends at Crossmoor Secondary School in Chatsworth. I am not defined by cultural specific paradigms or stereotyping," he laughs as he tells that he was also a middle of the road student.

"I wasn't the worst. I wasn't the best. My parents encouraged us to do well and guided us. I was given plenty of tutoring by my older siblings. We had a happy home and my family have fashioned the Cole you are chatting to today. I think I am pretty balanced and normal. But that doesn't sound too modest," he mused as he told us his nickname is 'Frost'.
We asked where that comes from.
"Calm, cool, unflustered. I sound like I am talking about myself all the time! Can we talk about some racing rather, please?"
When Cole arrived at the Academy on 8 January 2018, he had never been close to or even touched a horse.
"It was a bit of an eye-opener. But luckily my schoolmates Jeff Syster, Gabriel Peters, Joshwin Solomons and Tyrell Maharaj were in much the same boat. Having completed my matric I was able to get into the riding quickly as I wasn't distracted by schooling. I am glad I ended up doing my training that way. Being more mature and focussed helps a lot, I feel."
A broken finger this year saw him transferred back to Durban to recover but he is back at the Johannesburg Academy and loving his life.
"Our master-in-charge Mr Robert Moore has been a massive source of inspiration and assistance to us. He is always available to help and to talk us through issues. The trainers have been helping too – and while I have ridden work at a range of yards, I have ridden my winners for smaller operations – three of them have been for Mr Coenie de Beer. He has been so kind to me."
Cole rode his first winner at the Vaal on 6 August on Princess Nicole – the same filly he won on at Turffontein on Tuesday! Not bad just 20 months after touching a horse for the first time!
On Saturday his double was the 25-1 Comet Crystal for Weiho Marwing and Jenny Mcgee (5-1) for Coenie de Beer.
Cole, who goes to scale at 48kgs, says his goal is to ride a further ten to fifteen winners by the end of the year.
"I don't want to get ahead of myself, but hopefully I will be able to secure a few more rides now – and then prove myself. I have plenty to learn and race-riding and winners will be key to building my confidence and skills set."
He tinkered with electricity as a schoolboy and is a hobby artist. He keeps busy doing sketches in his spare time. One of his works hangs proudly at the Academy in Summerveld.
"I ride work Monday to Saturday – and even on Sundays if a trainer requests it. So we are kept busy but I find the sketching relaxing and therapeutic. I am not a party animal and don't even have a girlfriend. I talk to my family a lot and look forward to getting the chances to go home and visit Pinetown."
Cole says that his great bugbear is injury.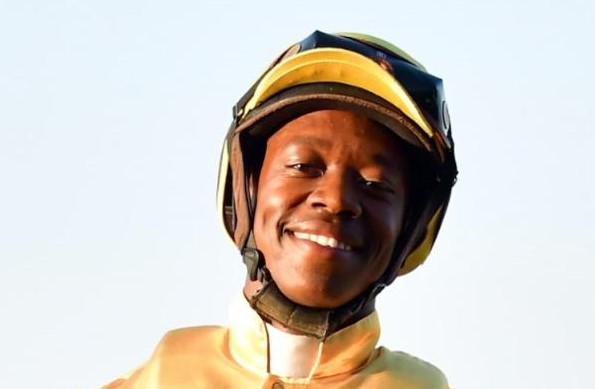 "I only broke my finger but it was so boring and a real setback. I realise it's part of the game. On the flipside, the highs of riding winners and seeing thrilled connections in the winners box could become addictive and it makes the hard work worthwhile."
His trip to the UK – see below – earlier this year broadened his mind and his horizons. He describes it as an invaluable experience to see how the experts do things.
Put the name Cole Dicken in the 'jock to watch' blackbook!
It Was A Lifechanger!
Cole Dicken and Tyrell Maharaj jetted off to the British Racing School in April for 4 weeks, to complete the International Apprentice Course at the BRC campus in Newmarket.
It's an experience that both young men say changed their lives forever.
The South African Jockey Academy (SAJA) has partnered with the British Racing School (BRS), through funding from The Childwick Trust, which allows two Apprentices to be able to get  an opportunity annually to travel to the UK and broaden their horizons.
Cole and Tyrell were the fourth set of South African Apprentice Jockeys selected and it is hoped that going forward more South African Apprentices will continue to be given this opportunity.
Cole and Tyrell, were initially under the guidance of National Jockey Coach, Robert Moore. As SAJA Headmaster, Graham Bailey, explained: "We have a wonderful symbiotic relationship with the BRS and to date our Nursing Sister Debbie Butt, Jockey Coach Nicky Roebuck and I have been across to the BRS as part of a programme of information and knowledge sharing that has benefitted both institutions."
Tyrell rode his first winner just over a week before Cole broke the ice. He piloted Moon Rock to victory for Paul Reeves in the MR72 Handicap over 1000m at Kenilworth on Saturday 27 July. Cole's turn came at the Vaal on Tuesday 6 August.
‹ Previous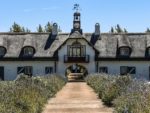 Fields Of Blue!