There was little money for transport and the long daily trudge to and from Hulwazi Secondary School in Daveyton kept the young Athandiwe Mgudlwa fit, if nothing else. But maybe the foot slog was fate and meant to be. It was on the well-worn circuit that he was to bump into a stranger who was to change his world forever.
Life was not easy in the Mgudlwa's Daveyton household.
Dad was a labourer. Mum didn't work. Money was tight. But the good parents were determined to keep give their three children all they could. Athandiwe was sandwiched with 4 year gaps between his older and younger sisters, and the Mgudlwa's were a close-knit unit and love and determination kept them united and the wolf from the door.
Daveyton is a township in the Ekurhuleni Metropolitan Municipality of Gauteng. It borders Etwatwa to the north-east, Springs to the south and Benoni to the south-west and is also known as 'Vutha' or 'Tuka' due to claims that it was the first traditionally black township to have access to electricity and flushing toilets.
"There was harmony in the community and life was good. Every afternoon I used to pass a gentleman on the road. He would stop and chat to me. I would eventually learn that he was a schoolteacher by the name of Vincent Mkhize. He is the reason that I am a professional jockey today," adds new Sporting Post-sponsored rider Athandiwe Mgudlwa, who tells that a visit to Newmarket Racecourse with Schoolmaster Mkhize eventually made up his mind that riding horses was something that he wanted to do.
He arrived at the SA Jockey Academy in 2007, in the same class as Grant van Niekerk, JP van der Merwe, Gareth Wright and Tshwaro Appie. The Riding Masters Paul Gadbsy, Thomas Labuschagne and Gary Molloy were a bit concerned though about the diminutive Athandiwe.
"I was so small and weak. I fell off almost every day. This wasn't the rosy cosy glam world I had seen at Newmarket! This was reality and it was a lot tougher than I ever imagined!" adds Athandiwe, who persevered in the spirit ingrained in him by his folks all those years before in Daveyton.
But he beat the odds and broke the ice at Hollywoodbets Scottsville on 3 September 2009. Saddled by Garth Puller, Dream Model shed her maiden at 33-1. It was Athandiwe's 30th ride and he was ready for takeoff!
Packed and sent to Cape Town, Athandiwe spent six months with the powerful Snaith Racing team.
"I learnt a lot more than I earnt!" laughs Athandiwe as he says that the new environment was a great learning experience, even if he didn't ride too many winners.
Then came a lifechanger at Hollywoodbets Scottsville in February 2011. Athandiwe became the first apprentice to win all four legs of the Jackpot since  Michael Roberts did the same, almost 40 years ago.
The SAJA Head Boy was in a rich vein of form, having ridden 10 winners that month.
A longstanding mentor and role model, Garth Puller had met Athandiwe and his school teacher at the home of former jockey Melishni Pillay and was instantly impressed by the polite youngster who was on his way to the academy.
"I have been with Athandiwe from day one. He has come on in leaps and bounds. He has good hands and a good temperament and listens. He has gained in confidence and is no longer being bullied out of position, and in fact he's now bullying himself into position. He is a balanced rider and is an asset in our work routine. He has family responsibilities too, so his work ethic is solid and he is focussed. I think the Sporting Post sponsorship will give him a boost too. To ride that jackpot so early also proves that he has always had something special. I will go to war with him," added the former champion jockey.
Athandiwe confirms that his association with Garth Puller has been the single biggest factor in his success.
"Garth has helped so many of us with career and life guidance. He understands as he has been there and got the t-shirt long before most of us were born. He knows horses like no other I have met in racing. He doesn't take nonsense, but he is a genuine and sincere man who really cares and listens with empathy. His knowledge and experience is enormous," adds Athandiwe.
A pick-up ride with Glen Hatt stood down was to give Athandiwe his first Gr1 success. The Charles Laird trained and Markus Jooste-owned Normanz was a 16-1 chance in the Gr1 Golden Horse Sprint in May 2014.  But under a cracking ride, the son of VAR stormed to victory to beat Red Ray (Anton Marcus) and Whiteline Fever (Piere Strydom) on a massive day for the former Daveyton schoolboy.
Now 31 years old and living with partner Bronwyn and their two boys near Hillcrest, Athandiwe, who rides comfortably at 50kgs, joined Calvin Ngcobo recently as the first Sporting Post-sponsored jockeys. He rode a hat-trick at his first meeting last Wednesday at Hollywoodbets Greyville and booted home another at the same venue on Sunday.
"I am really appreciative of the support from the Sporting Post and it's a privilege to carry the flag of South Africa's leading racing media publication. I'm hoping for my biggest season yet and there is nothing I'd love more than to ride another Gr1 winner!" he concluded.
We are behind you all the way, Athandiwe!
Read more – click on the Sprint cover: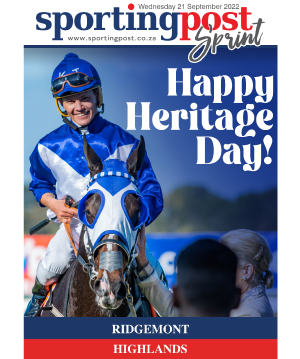 ‹ Previous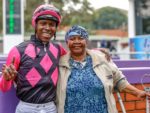 Welcome Calvin Ngcobo!