As the son of the legendary Ormond Ferraris, David was destined to make a name for himself as a trainer. After winning two July handicaps in successive years David relocated to Hong Kong where, with the mighty Vengeance Of Rain, he became known all over the racing world. Despite the phenomenal success he has had in Hong Kong David still rates his win with Super Quality in the 1997 July as one of the best moments of his racing career. He has not turned his back on SA and still has a home in Plettenberg Bay and an aircraft at Lanseria Airport. He returns to visit his dad twice every year. Although it is unlikely he will ever return to train in SA, racegoers will, with Winning Form, keep a keen eye on David's fortunes in Hong Kong and  wish him every success.
What is your name and age? David Ferraris born August 18 1963.
Where do you live? Shatin Racecourse,Hong Kong.
Tell us about your family? I am married to Pam and we have 2 wonderful children, Caroline who is 12 and Luke who is 9.
You have been in Hong Kong since 2003. Do you still have a home in SA? We have a lovely home in Plettenberg Bay on the Keurbooms lagoon.
How often do you return to SA to visit your father, Ormond? I try to get home at least twice a year as Pam and I have all of our family there.
On your visits how have you found life in SA to have changed especially with a new government in place? Every year when we visit we are very pleasantly surprised despite all the prophets of doom. SA is one of the nicest country's in the world to live.
For a fairly long time you were your father's assistant trainer. What are the most lasting and important lessons you have learnt from him when it comes to training? He runs his stable like a military establishment. Nothing is out of place. Once you learn basic horsemanship, the rest should follow. I do once remember him calling Mike de Kock and I,"a pair of  ……" (you know what's) we both had missed something on a horse's leg!!
It must be very different training in Hong Kong as compared to SA. What would you say are the major differences? We train on an American dirt track and there are a significant amount of injuries that do occur. Very hot and humid in summer which takes a bit out of the horses.
Before being allowed to train in Hong Kong you were subjected to very close scrutiny by Hong Kong's director of racing. Are all prospective trainers for Hong Kong still subjected to the same scrutiny? There have only been 2 expat trainers who have joined the ranks since I have been here and they would have had a few interviews.
In 1997 and 1998 you won a July double with Super Quality and Classic Flag. You went on to amazing success with Vengeance of Rain but how high in your estimation do you rate that fantastic achievement? Winning the 1997 July with Super Quality has to rate as one of the best moments of my life. It was also Muis Roberts' first July and it was emotional for all of us. Classic Flag followed up the next year after having been drawn off the track. It was equally satisfying as Pam's family bred him.
If pressed to give an opinion which would you rate as the best horse you trained in SA? I would have to rate Super quality amongst them. He was only 15.1 hands and as far as I can remember was the only horse to win 3 Derby's in 1 year!!! Cape, Computaform and SA Derby. He was a proper little champion. Classic Flag was no bigger than him either.
Did you leave SA racing with any regrets? My biggest regrets were having to leave all my family and close friends that I had made over the years. I also had some very loyal owners that I was very sad to say goodbye to.
You will always be linked to the great Vengeance of Rain. Tell us about the horse and what you believe made him so special? He was a son of Zabeel and stood at 16.3 hands. He won 6 group 1 races and earned 77 million HK dollars in stake money. I don't believe he ever reached his true ability as we constantly had to worry about his heart which would fibrillate at times. This led to his retirement. A truly magnificent horse.
Did you find it to be a lot of pressure training Vengeance Of Rain who was almost a national hero especially in the eyes of the fanatical racegoers? There is a lot of pressure in Hong Kong. The pressure comes from the owners who are very demanding. I am fortunate enough to train for some of the "old school."
What did you learn from training Vengeance Of Rain?  I learnt that trainers who get to train a horse of this calibre must grasp the opportunity with both hands. Champions like him are few and very far between. These great horses will rise to the occasion. They will compensate for a trainer who might have possibly given him too much work or perhaps too little work. They will compensate for the rider that might have let him go too soon in a race. These horses are what racing is all about.
Anthony Delpech rode with great success for you. Since his return to SA which jockey, or jockey's, have you been mainly associated with? Anthony had an affiliation with my big horse. He knew exactly when he didn't feel right. I do tend to enjoy working with a stable jockey. Unfortunately in Hong Kong it does not work like that. Owners like to choose who they would like to have ride their horses. Of course this also depends which jockey might have been dining with the owner the week before. Horses get transferred amongst trainers like musical chairs and very often the jockey has a hand in it. This is another reason why I like to work with South African riders as they have respect and do not tend to interfere with the trainer and his respective owners.
How easy was it for you and your family to settle into a completely different lifestyle in Hong Kong? Not difficult at all. HK is a wonderful place to live.  It is very difficult to try and get my daughter to go back to South Africa for the holidays.
Have most of your friends been some of the other South Africans like Tony Millard and Dougie Whyte or have you managed to make friends with the locals living near you? We have many SA friends but an equal amount of expat friends.
Do still have good old fashioned braai's and do your Hong Kong friends enjoy then? The Aussie's have far more than we do and they call them "barbie's"
When you have leisure time what do you and family do with your time?  Pam plays league tennis every day. Her partner is Brett Prebble's wife, Maree. Caroline also excels at tennis and Luke's forte is Brazilian soccer and rugby.
What is the schooling like for your children and how happy are they to be in Hong Kong? Both of the kids attend International School. The schooling is excellent.
When you have a big win how do you and patrons celebrate that win? We would normally have a dinner in Central (Hong Kong island).
What do you drink in Hong Kong or have you stuck to tried and tested beer and whiskey? There is no tax on red wine AT ALL, so I indulge.
With racing going truly international would you take a top horse to race in Dubai, or France, or Australia or anywhere else or do you feel the prestige and money is good enough in Hong Kong to restrict your racing to Hong Kong? I won the Dubai Sheema classic with Vengeance of Rain in 2007 and I hope to take my 3 year old sprinter to Melbourne for the Grp 1 Coolemore stakes in Oct. Stake money in HK is huge. We race twice a week and the smallest stake is HK 520,000 and the highest stake is HK 1,750,000. This is on a normal day.
What would your advice be to any SA trainer who was thinking of relocating to Hong Kong? No trainer should ever give up the chance if invited.
Outside of racing what else are you passionate about? I am passionate about my flying. My brother Paul is an attorney in SA and also a qualified commercial pilot so when I get back to South Africa we try and get as much flying in as possible. I have a twin engine Beechcraft Baron at Lanseria airport.
How involved are you in the buying of yearlings etc in Hong Kong? It is not really worth buying yearlings as owners get permits to bring horses in to HK and they normally want tested maidens or horses that have previously won a race.
Are there any stud farms you visit anywhere in the world which you visit to look at yearlings or do you cast your net furtherafield? I have been to some farms in Ireland and Australia. South Africa is the value place to buy horses but quarantine protocol makes it impossible.
What are the major characteristics you look for in horses you are thinking of advising patrons to buy? I do miss my yearling sales. Conformation and sound pedigree!
Does your stable have things like a treadmill and a swimming pool? The sad part about HK racing is that treadmills are not allowed as the "public" like to be seen to see the horses work in the morning. We do have a swimming pool.
How important do you think it is to have those things?  I believe a treadmill in a stable is invaluable. A swimming pool is ideal for the hot climate here.
Since you started in the training business do you think the training of horses has changed a lot or is just mainly the feed which has really developed a lot? Feed and nutrition have come a very long way. Training has not changed all that much. Obviously at higher altitudes horses need more work.
Being a trainer is no ordinary job and can be very tough. What motivates you to keep going and get to the stable early every morning? Just getting that CHAMPION. It does not happen often, but boy it motivates you to ping out of bed when that alarm goes off!!
What is your favourite aspect of training?  Preparing group horses for races.
What is the thing about being a trainer that you like least? There are quite a few but here it would have to be the "owner listening to the jockey" and the "owners friend giving his opinion on his horse"
The highs of the game are fantastic but how do you cope with the lows? When you have been with horses all your life, one has to.
The Chinese are known to be really big punters. Are you involved in the punting side of things or would it put you under too much pressure?   I have never been and will never be a punting stable. The punting clients are normally "short term tenants"
What has been the most exciting and satisfactory day you have had as a trainer thus far? Winning the 2 July's and the Sheema classic in Dubai.
If you have to name the most important lesson you have learnt about racing thus far what would you say that is? Every day is a new lesson. That is the way it is with training horses.
How much time do you spend studying form? Pace is very important in HK. Horses drop down the ratings into lower classes and invariably win irrespective of their current form.
It is believed that the control of racing in Hong Kong is very strict. Do you think it is strict enough and is there anything they could teach us in SA to do better? HK has a very strict Stipendiary panel. I believe experienced Stipendiary Stewards are very capable of doing their job. South Africa has many experienced stipes.
What is your philosophy on the racing game? It is sad to see that the stakes have decreased since I left.  I
have a lot of horses in training with my old man and I honestly would not bother when he retires until there is a revamp in the structure . Racecourses were given away!!!!!!
If you had one piece of advice for your fellow associates in the racing world what would it be? There are many setbacks in this game but  remember it is a big wheel and it does not stop turning. Eventually that wheel will come around again.
‹ Previous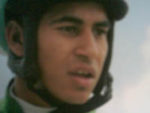 Nooresh Juglall