Dean Kannemeyer has come of age a good few times in his 21 years since taking over the champion family yard from his legendary late Dad Peekay in 1999.

He doesn't have many grey hairs to prove the hard yards, but despite a host of champions and over 60 group winners, there have been trying times.
On Monday evening he made emergency arrangements to disperse his Milnerton string to Sorrento Stud and other farms in the Cape.
He admits that it's not something that was ever covered in the textbook which his Dad drilled into his head for thirty years.
"They say that comfort is a well-worn pair of shoes seconds before the strap breaks," smiles the eloquent 'Master Of The Classics' as he tells how the announcement of a three week lockdown by President Cyril Ramaphosa late on Monday evening had the whole country in overdrive.
"It's a thing about being in racing. We tend to think only in terms of horseracing. But this is a genuine curved ball for the economy and every business that ever paid a cent in rent or wages. The fact is that in this game our capital is both bloodstock and people. That adds to the complexity of a shutdown. And we have had to stifle the urge to panic and rather take a balanced and selfless view in  our approach to handling the challenges."
Dean has two yards – one at Milnerton and the other at Summerveld in KZN. His loyal Milnerton staff, unlike their Summerveld colleagues, are resident off site.
"I have a fantastic team of Grooms at both centres. But it was the Milnerton staffing that needed attention. They travel from various areas and utilise public transport without exception. I couldn't expose them to the infection risks if I could do something about it. I phoned Terry Andrews and New Turf and made the necessary arrangements to get the horses to the safety of the farm. I can say that it is testing times like these – not the winner's podium – where customer and service provider loyalty is tested. Thankfully, everybody has been so supportive and understanding. I think that we all understand the gravity of the issues staring all of mankind in the face," he added sombrely.
He says that at Summerveld it will be a fairly regular routine in terms of training and exercise.
"At least at Sorrento they will be well looked after and maintain basic fitness and muscle tone. We will get things back to normal as soon as we are given the green light," he added.
Dean was taught the ropes by his late Dad.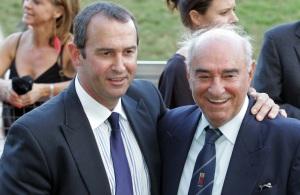 He recalls the Equine Flu outbreak in 1986. He is on record suggesting that racing was a game of cycles and that 'going into denial when you were taking in water in stormy weather was like trying to force the pace with a slipped saddle and with your feet dangling out of the stirrups'.
"I remember that day 34 odd years ago. Veterinary Surgeon Dr Paul du Preez, the late 'Doc Crocky's' younger brother, was chatting to my Dad. This flu was something that nobody understood. It was a terribly aggressive strain. I think it may have started somewhere near the top barns. In days every horse in the training centre was coughing. It spread like wildfire."
When asked to make comparisons with the Covid-19 shutdown, Dean says that it's a very different time now.
"Those days racing as an industry was relatively strong. We were the only game in town. We were badly rattled but we coped and rode the storm. This coronavirus has a far more wide-reaching community impact. Somebody likened it to World War 3. And the industry is already on hard times. I hope that we can get it behind us and minimize the collateral damage. Racing attracts resilient people by its very nature. We will be tested. But we will be back!"
The man who has been a prolific producer of top horses, including stallions Dynasty, Noordhoek Flyer and Capetown Noir, has one of his strongest SA Champions Season string in many years this year and says he is excited at the prospects of a big few months.
"I have a nice diverse selection of talent. Cape Fillies Nursery winner Delta Queen has won her first two. She is exciting. African Warrior was a smart 2yo here last term. He never enjoyed the Cape. Neither did Gr1 placed 2yo Liberty Hall. Seventh Gear is smart. He has been gelded. Azores was close up in the Cape Derby. He should be very competitive. And there are others, including a few unraced youngsters."
Dean says that he has been impressed by the pro-active action of Gold Circle since the lockdown news broke and hoped that the Special Task Team would make inroads with government.
"It's been a helluva tough few years for the industry. It's certainly not the time to argue and bicker. We need to stand together and make sure we get back onto the racecourses as soon as possible and come back stronger. Life's a long learning curve and this is a great game!"
‹ Previous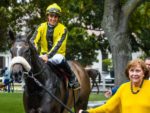 Mellow In Yellow