Ever met an owner who really understands vets? Or a vet who really understands owners?
Racing Equine Vets' Dr Melandie Taljaardt is a new generation player in horseracing, and was the proudest and most enthusiastically emotional  owner of Saturday's Heritage Consolation winner Dark Tide.
The 32 year old Melandie Taljaardt is not your run-of-the-mill 2020 owner. She exudes energy and a tangible passion for her horses – and, something quite rare in these times, she also beats the drum for the sport at large.
Chatting to her in Cape Town on Monday, where she was visiting her Gr1 Computaform Sprint winner Rivarine at Eric Sands' yard at Milnerton, Melandie told the Sporting Post that she didn't want to hear anything about negativity and whinging about stakes.
"What's done cannot be undone overnight. The only way we are going to turn the ship around is by getting involved and making a difference yourself, while being positive and getting everybody working together. Positive actions and thoughts breed positive outcomes. Yes, we'd all love to be racing for better stakes. But we all need to commence rebuilding first. And unless we start today and spread the love of the game – and look after the owner and punter – we aren't going to keep the people we have, never mind try and attract new players!"
The handsome Avontuur-bred Rivarine, who races in Melandie's emerald green and blue silks under the Azzie family banner, is settled at the Sands yard at the training centre where the surf meets the turf.
The 7yo runs on Saturday in a strong Pinnacle Stakes at Kenilworth.
His target for the Cape Summer is the Gr1 Cape Flying Championship, whereafter he could return home to defend his Computaform Sprint crown.
Following a 'hectically happy' afternoon at the Vaal on Saturday, where S'manga Khumalo got the Lucky Houdalakis-trained Dark Tide – described by Melandie as her 'R15000 baby'- home in the support feature, she drove the 120km back to her Centurion home.
After grabbing some shut-eye, Doc Melandie did a few patient rounds on Sunday morning and then jetted off to Cape Town in the afternoon to visit the horse who provided her with her first ever Gr1 success – after only 4 years as an owner!
Interestingly, Rivarine was also the Gr1 icebreaker for his Met winning champion Mom, River Jetez, a full sister to Bass champion Pocket Power.
"Rivarine has his aches and pains and needs TLC. I know him so well. He is looking a million dollars and the jockeys riding him in work say he has never felt better. He was just over two lengths back at his last start in the Golden Loom, and won his penultimate under 62kgs. He is in experienced good hands at Eric Sands. So I can sleep at night," she laughs.
Melandie grew up with her folks and two younger sisters in Nelspruit, and after matriculating in 2006, commenced nine years of study, that produced three degrees on her impressive cv.
She holds a B Sc Animal Science, a B Sc Wildlife Management, as well as her Veterinary qualification.
She credits her parents as her life inspiration.
Her Dad is in construction and the family farm pecan and macadamia nuts.
Growing up, Melandie never touched a horse ever and had no connection to racing or any equine disciplines.
Her ambition was actually to become a wildlife vet – but she changed tack, excuse the pun, in her fourth year and focussed on horses.
"I have never regretted that decision and have met the most wonderful people in this game," she says proudly.
Melandie was doing her mandatory 'state year' in 2017 after qualifying, when Lucky Houdalakis trained her first winner, Ninjara. The filly won by over 8 lengths at the Vaal – coincidentally under S'manga Khumalo, who also rode the good Doctor's Saturday feature winner, Dark Tide.
She now has majority shares in 18 horses and simply loves the game.
They are all her favourites, but some stand out.
Her grey Corne Spies charge Snow Palace ran third at Gr1 level as a 2yo and was fourth in the Gr2 Gold Bracelet. She is currently having a holiday.
Then Saturday's feature winner Dark Tide looks very progressive.
"He used to be a tear away type. But Lucky Houdalakis has sorted him our beautifully and his recent consistent form is evidence of that. He is also living proof that one doesn't have to lay out six figure sums to buy a nice horse. He cost only R15 000. And I was so thrilled when his breeder Hanno Joubert of La Berg Stud phoned me just as they passed the post!"
Melandie explains that owning horses serves a dual purpose of passion for her.
"I earn my living out of the sport, so am putting something back. At the same time 'my kids' (horses) provide me with thrills, excitement, pride, sadness, disappointment – all of life's emotions rolled into one. How could anybody not want to be part of this extraordinary hobby, pastime, lifestyle, call it what you want?"
Melandie is not married and has no children.
She works a seven day week and is building her Veterinary Practice, Racing Equine Vets, into a leading service provider to the industry.
"My aim is to grow my business and employ young people. This is a dynamic industry and support services like ours play a strategic role in the equine economy. I also want to do my bit to try and change owners' perceptions of vets. I think there can be a communication disconnect between many owners and their vets. The only interface is often a nasty bill. It's understandable that it is not always a positive association."
Asked what she does differently as Dr Taljaardt the vet, she said that, for example, if she sees multiple horses at a particular centre, she doesn't levy the costs of her 100km of travelling.
"Fair's fair. We can't charge travelling costs for each individual patient, when we made the one trip to see a few of them."
Her love of the horse, open demeanour and enthusiastic outlook has attracted the support of many of the region's top trainers at Randjesfontein, Turffontein and the Vaal.
"Paul Matchett gave me a kick-start, and I have grown to provide a service to some well established yards, including the likes of Mike and Adam Azzie, Erico Verdonese, Lucky Houdalakis and Corne Spies. I'd like to believe I can add value to their businesses and strengthen their relationships with their own customers," adds Melandie.
Do her blue and green silks have any significance?
"Emerald green is my favourite colour. It's healthy and fresh. And I want to disprove the superstition, or fear, that green is bad luck in racing!"
With 'her child' running at Kenilworth on Saturday, will we see her down in the fairest Cape again this weekend?
"My patients are my priority – my child is in good hands with Eric Sands, as I told you! But if Saturday is not busy, I may well jump on a flight!"
‹ Previous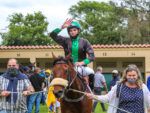 Racing's Future In Good Hands