Duncan Howells and Ten Gun Salute galloped into July contention with their Gr2 Betting World 1900 victory on 19 May. We get Duncan to tell us a little more about his charge and his thoughts on the forthcoming July.
The Australian-bred with the saucy name was originally pinhooked by Balmoral Stud's Nicola Coppez at the 2014 Inglis Classic Yearling Sale. He was offered as lot 164 at the October 2014 CTS Lanzerac Ready To Run Sale and later still, procured by Duncan Howells off the farm. "He was our pick of the sale, but we weren't able to buy him in the ring. I'm not sure what happened to the purchase, but I'm grateful that we managed to get him off the farm afterwards."
It proved an inspired buy. Only debuting as a 3yo, Ten Gun Salute had 10 starts in his 3yo career, for 3 wins and 6 places, only coming home without a cheque once, when finishing 3.25 lengths off The Conglomerate in the 2016 Vodacom Durban July.
Training Challenge
The son of Henrythenavigator is undoubtedly talented, but has stretched Duncan's expertise – and nerves – to the limits. "He overraced in the July," explains Duncan. "He was only beaten 3.25 lengths and I thought it was an exceptional run. We took him up to Joburg for the Summer Cup, but he threw a shoe and got very hyped up and overraced. Actually he overraced in both his races up there. We then brought him back to Durban, had him gelded and gave him a break at Jane Trotter's Ambleway Farm."
"When we brought him back we sent him out over 1100m (in a Pinnacle Stakes at Scottsville on 16 April). "I thought he put up a very good effort and was keen to see him in the Drill Hall, but then things all went wrong." Ten Gun Salute finished 12 lengths back and was subsequently found to have pulled a back muscle.
When we checked him afterwards, if I had to rate it, I would say he was 4/10 lame. The next day he was worse. He never looked comfortable in the race and it was very fortunate that the rider didn't push him. If he'd been knocked around or been forced to do something he couldn't, he might have been out for the rest of the season. I think that's where trust in your jockey has to come into it."
Touch and Go
"Physio Beth Shaw came out and treated him every day and for the first few days, all we did was light trotting work. When we did scratchings that Thursday, I rang his owners, the Kuhns. Under normal circumstances, I would probably not have run the horse, but it's difficult to make a decision in a case like this. I couldn't get hold of Heinrich, but managed to speak to Werner and we decided that until I could speak to Heinrich, I should accept and we could always scratch later."
On the Tuesday before the race, they gave him a good work on the grass and on the Thursday, he was trotting out sound, much to Duncan's relief. However, he was by no means feeling confident. "I would never normally have run a horse after something like this, so we just took things day by day. It was not a race I'd say I thought I was going to win and if it was a normal handicap, we might have decided to skip it, but these good features only come round once a year and you've got to take your chances. Funnily enough, watching the race, Muzi was travelling right next to Delpech on Elusive Silva and as they came through the 800m, my horse was travelling better and I thought to myself, 'if he was fitter, he could win this,' but of course the concern was how fit was he?" As it turns out, the answer was 'fit enough' and Ten Gun Salute crossed the line 0.25 lengths to the good of Silver Spring.
Learning Curve
The run provided more food for thought. "I don't think he takes a lot of work. He's not an easy horse to train and if he gets too fit, he gets a bit temperamental – there's a very fine line with him. In many ways, we learnt a lot for the future. It's only his 3rd run after gelding. If you take the Drill Hall out of the equation, he's had two exceptional runs."
In terms of engaging Muzi Yeni for the Betting World 1900, Duncan explains, "I use everyone's five cents. The owners were of the opinion that the horse had done best with Muzi, so it was their decision and I have to say, it was the correct one. He's had some good jockeys on him, but for some reason Muzi seems to settle him best. It's just something we picked up on, so we used it. I'm very open-minded about things like that – at the end of the day, you've got to do everything to help the horse win. We also used a lead pony to take him to the start and I think that helped settle him. He's not an easy horse," he repeats. "He's not headstrong, but he's a man's horse, put it that way."
Looking ahead
"Obviously the July is the main aim here," continues Duncan. "He won't race again before then as I think he'll be better off coming into the race a nice, fresh horse. He was only a few lengths off them last year, so he's proven he has the ability. It's difficult for a 3yo to win the July, but I wouldn't have run him if I didn't think he was capable. We've learnt a lot since and it's nice to come back again with the benefit of him being a year older as well as having been gelded. We'll definitely be keeping Muzi on – it's a winning recipe. The only thing that's still worrying me is that he won the Michael Roberts in softish going last year and he may prefer the cut out of the ground, so that's still at the back of my mind."
How is the team feeling about the July tilt? "I haven't had many July runners, and there is definitely a bit of pressure and hype, but I think this year we're all feeling a bit more level-headed. You've got to forget that it's the July and just train the horse like it's a normal race. Ten Gun Salute is owned by Werner and Heinrich Kuhn. Werner is Red Jack Trading and is based in Johannesburg and Heinrich is in Cape Town. Look, having a runner in the July doesn't come along too often and I think sometimes people want to get to the post before the horse, but having run last year, the owners are also a little more streetwise."
Yard
There has been the usual comments about visiting horses and trainers plundering the KZN purses and commenting that his yard seems to be holding its own, Duncan concurs. "I'm a very competitive person. If I feel I have the right horse and the right race I've never been one to stand back. Sometimes there is a lot of hype on a horse, but one can't sit back and say 'oh the visitors are here'. If you run third to two visiting horses in a Graded race, that's pretty good in my book. If you have horses of that quality in your yard, you should run them. That's why people buy horses."
The Ashburton-based trainer went out on his own in 1999 and the very first runner to go out under his name came home a winner on the first day of the 1999 season. It has been a long road, but the yard seems to improve year on year. "I do think the yard has got stronger. In a yard, every person plays a part. That's probably why I'm hard on jockeys, because I feel they're one of the most important people in the yard and must play their part. I'm very lucky and my wife Cathy does all the picking. I don't interfere and it means I don't have to go to sales. She draws up the short lists, picks the horses and often puts them together too. It was a business decision to delegate it to her and I think it's one that works out best for my clients. It works really well. In the early days when we didn't have much buying power, she picked a horse for R40k which ended up winning a Gr1. She's very good at it and it means I don't have to leave the yard and can focus on the horses.
One gets the feeling that it's the second bit that's particularly appealing. "I'm not great when it comes to communicating with people and in a lot of ways I try and stick to the horses. All the people I worked for taught me to make the winner's box your PRO. I like to think I'm pretty upfront and straightforward. The big races and the adrenaline is what it's all about."
Duncan is originally from PE and honed his skills from Eric Sands and David Payne. "When I came out of the army, I joined Eric in Cape Town. Even though I grew up in a racing family, there was a lot that I didn't know and Eric taught me a lot of the basics." He moved to Durban when he heard that David Payne's assistant, Paul Muscatt was going out on his own. "I applied to David as an assistant. I went for a two week trial and stayed for 8 years. I used to ride work in those days and I have to say, I've never felt anyone get horses as fit as David."
"I was very lucky, both Eric and David taught me a lot and everything they taught me I've tried to improve on. I think it's largely thanks to that that I've been successful."
‹ Previous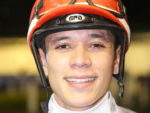 Diego De Gouveia