The trainers lounge was like a morgue. Lips were hanging on the ground, the faces were glum and the vibe was in stark contrast to the laughter and banter emanating from the jockey room.
Maybe jockeys have less stress than trainers, generally.
But veteran Ashburton trainer Duncan Howells suggests it's high time to make racing fun again – it's the reason the game started and why most people got into it in the first place.
The 53 year old Winning Form-sponsored conditioner, a twice KZN Champion, says that racing is a sport and trying too hard to run it like a business is a recipe for failure.
"It's always going to be a game of chance. We are dealing with flesh and blood. If you're not enjoying it and feel like pointing fingers every time things go pear-shaped, go play golf or something rather," he says as he recalls his colleagues' faces in that morbid room at the races.
Fact is that Duncan is the one man who should entitled to be as miserable as sin!
His yard has just come out of the worst virus that they have ever experienced. He says it's been two years of disappointments, headscratching, frustration and agony – and plenty of questioning and more questioning.
He tells how his young horses would work up a storm and then go in the wind or start bleeding. He lost a lot of youngsters as a result of the virus.
"One starts to get paranoid and  question your sanity! The horses are not reproducing their work on the track. Then the Vet suggests it could be the feed. The feed merchant suggests it's not the feed – you're just not feeding correctly. Then the whispers are out – 'Howells has lost it – he has forgotten how to train horses'. But you know you are not doing anything differently – but then you do start wondering whether you have lost it!" he smiles as he recalls a testing stretch that is now behind him.
A straight-shooting guy, who concedes to sometimes getting frustrated at the way officialdom handle apparently simple things, Duncan says that he has no excuses for not training winners being based at what he believes to be the best and most horse-friendly training centre in the country.
He also lives nearby, so has a little time to take his mind off things and follow his side hobby of gardening.
Although starting work at 04h30 and finishing after 17h30, means it's a long day, most days.

"Our training tracks are excellent and comparable with anything I have experienced anywhere. Winters are perhaps the one tough aspect of Ashburton – but nothing's perfect and we can live with that," he muses as he points out that in earlier years the viruses were not as prevalent as they are today.
"We have a lot more traffic and movement of horses as well as new strings here, and that may well be a contributing factor to the viruses," he contemplates as he proudly states that he took a tough decision as a seasoned professional to stop the bus and start all over again.
"Let's be honest – its human nature to try and find blame. I'm not blaming anybody – I have gone back to basics and am feeling a lot more positive right now."
On training horses in KZN, Duncan says he wouldn't choose to be anywhere else on earth, but would like to see them revisiting the programme and racing on turf at least once a week in the holiday province.
"Horses, owners, trainers and punters need the variety and a balance between poly and turf. I am not convinced we are utilising our racecourse facilities to the optimum. I understand the need for seasonal breaks and treatment, but closing a track for three months and then exposing it to racing can cause damage. It becomes a patch of beautifully green grass, more than a racecourse in the end."
One of his bugbears is that he feels that racing generally appears to have a fear of being transparent and upfront.
"When there is a problem, man up and come clean. It's the apparent lack of communication and transparency that leads to conspiracy theories, frustration and stone-throwing on the social media forums."
While he has a few boxes open, and would welcome new horses, Duncan says that he would like to settle on a string of 50 horses.
He tells of his top team of personnel – headed by himself, his partner Cathy Rymill and Dela Naidoo, a proud graduate of the Summerhill School of Equine Excellence.
On any unraced lurkers in the Howells Racing string, Duncan says that he expects a few could still put up their hands. He mentions a Trippi gelding that may be worth following.
Looking at the prospect of chasing the big trophies in the Cape during the forthcoming summer, Duncan says that he would only consider travelling South if he genuinely believed he had 'the right horse' and that he could go down early, as he did when the Var flyer Via Africa won the 2014 Gr1 Cape Flying Championship.
"I have tried the road trip ten days before the race. Eric Sands has always been a massive help. But it didn't work as well as going down well in advance and settling in properly. I also used to be busy managing a big string at home – I would be happy to take our chances whether this season or in future – but, as I say, on the right terms, with the right horse."
One of the most experienced and knowledgeable men in the game, Duncan's first runner was a winner. Her name was Whispering Magic.
It was the opening day of the 1999/2000 season, and his now Summerveld-based colleague Robbie Hill did the riding honours in the pre-polytrack days at Greyville.
Still staunch supporters today, Avison and Mary Carlisle were his first owners
Duncan was always destined to follow a life with horses and was born into a racing family.
His track record dates back to his years as a leading amateur jockey and his first job with Eric Sands at Milnerton.
He lists his late Uncle Andy Smith (father of his cousin and top PE trainer Gavin), Roy Curling, Eric Sands and the now Australia-based David Payne as some of the biggest influences on his career.
On his best horses, Duncan doesn't hesitate that Mogok's daughter Gypsy's Warning 'was really brilliant!' – she is pictured below racing overseas.

Zeeno providing him with his first Gr1 success in the 2006 Gold Medallion at Scottsville was an inspirational turning point in his career.
His other Gr1's include the brilliant Gypsy's Warning victory in the 2008 Thekwini Stakes at Clairwood – his favourite racecourse. Dual Gr1 champion Same Jurisdiction won the same race six years later, while Lauderdale completed Duncan's treble in 2015.
Via Africa won the SA Fillies Sprint in 2013 and 2014, as well as the Cape Flying Championship in that memorable summer seven months later.
‹ Previous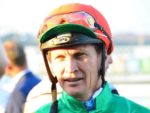 Welcome Back Striker!