The life of a racing vet is an interesting and varied one and covers everything from race day duty to stable visits, sales identification and much more.
Dr Eugene Reynders gives us a fascinating behind the scenes glimpse into what it takes to be an NHA vet.
About Eugene
Dr Reynders cuts a distinctive, if somewhat lonely figure on race days and can rarely be drawn into conversation while on duty as his attention is fully on the horses. "I may look relaxed on race day, but I'm not really. I have to constantly be on my toes because anything can happen at any time. Hopefully, most people don't realize I am even there. If I'm not busy on a race day, it's fantastic because it means everything's gone well. The days that I'm busy are generally not good days for the horses."
Eugene Stephen Reynders grew up in the small western Transvaal town of Carltonville. The youngest of the family's 3 sons, Eugene says he originally wanted to be a chef. "My father didn't think that was a good profession. He was involved in racing, so he bought me a horse and from Std 6 to matric, I rode two horses every day." He's been fully focused on horses ever since. "Horses are my passion and I've specialized in racehorses all my life. If my cat gets a cut, I send it to a small animal vet!" he jokes.
Background
After a 3 year internship at Onderstepoort, Eugene joined a private practice in Vereeniging, mainly serving the Vaal racecourse. From there he moved to Baker McVeigh in Summerveld and then headed abroad, spending two years in the UK and three years in Malaysia, before making his way to Singapore. After 10 years in Singapore, he spent another 4,5 years in Macau before making his way back to South Africa.
Vet abroad
"For five years I was the only veterinary surgeon in Singapore, so I performed many surgeries, including the one on Rocket Man. I was right there when Rocket Man came off the track. He went straight to the x-ray room, we saw there was a condylar fracture and we operated that afternoon. Obviously the surgery was a success and he went on to win several Gr1's. He's a very well travelled horse and every time he went through a metal detector, it beeped!" Asked why the screws were never removed, he explains, "If there are no complications or any damage, then they can safely stay in place."
After Macau Eugene decided he'd had enough of living overseas and joined the NHA in August 2014.
Although the South African set-up is very different to international jurisdictions, being an NHA vet is an interesting and varied job and there is a lot more to it than race day duty.
NHA
"Basically my job is inspecting the horses to make sure they are all healthy and fit enough to race," he explains. 'I am on course at least and hour and a half before the first race. For every horse that runs, I get a complete print out of its history and I'll go through the race card with the Stipes and highlight any horses we might have concerns about. This would include any horses that may have shown signs of distress at their last outing, coughed or pulled up lame. For example, a horse might return coughing and not show any signs of bleeding post race, but possibly bleed later or at a subsequent outing, so it's just something to be aware of. If a horse has been reported lame, we would check how long it has been since its last run and then make sure there are no signs of the lameness before it runs again. Certain horses don't stride out well, or go to the start short and sometimes that is normal for the individual. You build up a profile of each horse over time and basically you keep an eye out to make sure that what you're seeing is consistent with what has gone before."
Other pre-race chores include preparing the horse ambulance and assembling a race day medical kit. Once the horses start arriving, they take random pre-race blood samples in addition to taking bloods after every race.
"There are 2 vets present at all times. Every horse gets a visual exam from a veterinary surgeon on race day. We watch them in the parade ring and we watch them canter down. For each race, one vet goes down to the start and the other is stationed near the finish line to see the horses pass the post, watch how they pull up and also how they return to the parade ring. If any injuries occur on the track, we are there to tend to them immediately and do whatever is necessary to ensure their welfare."
Medication
From a medication perspective, the NHA is working hard to ensure a level playing field. "Horses undergo lot of scrutiny to try and keep things clean as far as we can. I'm not saying it can't happen, but if there are people trying to cheat out there, they'd have to be very sharp and clever because we do a lot of testing."
Apart from testing the winner and a random selection of runners in each race, the NHA also conducts random pre-race as well as extensive out of competition testing. "At least twice a month, we pick yards at random and select a number of horses for testing. We check the vet treatment register, we check for any illegal activities where prescription medication is not being used as it should be and of course we check for other substances as well."
However, it is not just enforcing the rules, it is also ensuring that people understand them correctly. "We try and keep up to date with the latest medical and treatment information and we're also trying to communicate more with trainers and private practitioners, which is very different from when I started. The Jockey Club never used to give away any information, but we're making a concerted effort to work together with trainers and private vets and give them as much information as we can to ensure they are aware of the rules and how to abide by them. No positive is good for racing and from an NHA point of view as well as from a private practitioner's point of view, we all want racing to be clean."
Sales
The NHA also plays an important role at our local sales. "The most important thing we do at sales is to identify horses to make sure the correct horses are being sold – it's to protect the buyers, primarily. The other important function is checking that all horses have their correct vaccinations and health certificates to comply with movement protocols and good animal health practices." There is also a welfare angle and any horses that are not deemed in suitable condition get turned away, although Dr Reynders says it does not happen often.
Welfare
It is interesting how often the term welfare comes up and Dr Reynders confirms, "The welfare of Thoroughbreds – whether they are racing or not – is something we feel very strongly about. If we receive any reports or complaints about the condition of ex racehorses, we get directly involved. In this capacity we work closely with Allan Perrins at the SPCA, but we can't be everywhere at once and we invite anyone who sees or hears of Thoroughbreds not being looked after properly to please notify the NHA."
Acupuncture
Working for the NHA means Eugene is not permitted to treat any horses in racing, but he is allowed to pursue his passion for acupuncture on sport horses. He completed the International Veterinary Acupuncture Society (IVAS) course 15 years ago and his acupuncture work led him to meet and study under the world renowned late Dr Kerry Ridgway.
Dr Reynders is still sought after from international jurisdictions and has just returned from a working holiday to Qatar's three-day international carnival. "They required a surgeon on duty for the International horses and invited me. Fortunately all the internationals were fine, but I did 3 surgeries on local horses including a respiratory surgery and an orthopaedic surgery to insert 2 screws into a leg."
Tough
Asked to name the toughest aspects of the job, the answer is somewhat surprising. "It's not nice to have to put a horse down, but in some cases it is unavoidable and it is the last service you perform for a horse. It is part of my job and I like to think I do it well. But working with horses is the easy part. The long hours and dedication required for the job are what make it hard."
To illustrate the point, he relates a story of being on leave with his (now ex) wife when he received an emergency call. "I was supposed to be off that day, but got a call about a horse with a fracture. They were desperate for me to do the surgery, which I did. I got into huge trouble with my wife who did not understand why I would drop everything on my day off and go back to work. I think most horse vets love what they do and are dedicated to the job. We devote ourselves to the horse and to the work we do, but it is difficult to explain and I suppose is one of the reasons vets require very understanding partners and families."
The other challenge is the human factor. "In my first year at vet school, we had an anatomy lecturer called Professor Smuts. At one of our first classes, she asked, "How many of you decided to become a vet because you don't want to work with people? 95% of the class put their hand up, including myself. The irony is that each horse has an owner, a trainer etc. so you end up dealing with people all the time. Racing is a stressful environment and I don't think most people realize how demanding they can be."
Highlights
"There have been many highlights over the years, but I would have to pick out Rocket Man. It was fantastic to see him come back and race so well after a successful surgery. In any sport injuries and accidents can happen. I love working with animals and am passionate about what I do and it's really rewarding when you get to diagnose and treat a problem and then see the horse return to doing what it is bred for and does best."
‹ Previous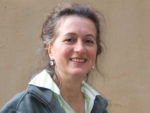 Heather Morkel