With a wedding on the horizon and a first baby daughter on the way in four months, the unassuming Warren Kennedy has hit a golden vein of form at the right moment in his professional career.
His polished ride to win Saturday's Gr2 Gauteng Fillies Guineas was proof again that he is in the top echelon of senior jockeys in South Africa.
The son of a jockey and engaged to Dean Kannemeyer Racing assistant trainer Barbara Badenhorst, who herself hails from a family steeped in the sport of kings, the 37 year old Warren possesses the perfect disposition and temperament for a professional jockey.
Warren and Barbara are resident in Hillcrest where he says they live a 'pretty suburban' life.
He enjoys going out for dinner and the very rare glass of champers after a big win. But he doesn't drink. He is also very lucky that he is natural lightweight and, unlike many of his colleagues, wasting and starving are foreign concepts to him.
"When we were very young, it was great fun going out and partying. But I lost the taste for the beer and the hard tack. Now when I see some of the antics, it's fun to think that I know how it feels! I try and live a healthy lifestyle and play 5-a-side soccer twice a week when my riding commitments permit. With a baby on the way, I'm glad I'm in this suburban routine," he laughs.
Having a family that understands racing and its quirks – like getting out of bed at 3-30 am to go and work or travelling at short notice, helps a lot, he says.
"One doesn't need unnecessary pressure in a tough game and it's great to have somebody who relates to share the ups and downs with," he adds.
"Nothing fazes me too much. I tend to breathe deep and consider things. I'm lucky as I don't get angry easily and in this game one needs to be level-headed and pragmatic most days!"
The ice-cool temperament was at boiling point in the final stages of the Gr2 Gauteng Fillies Guineas at Turffontein on Saturday. Warren explains how it came down to being so close at the line.
"Nafaayes is a really smart filly. She was going so well at the 400m, I thought that this is going to be a 1,5 lengths plus winning margin. At the 200m, I felt her fitness was beginning to tell and I had Running Brave challenging strongly and saw Celtic Sea finishing strongly. So I buckled down and asked her for more. I don't want to sound cheeky, but I always felt we had it," he says.
We asked how he picked up the ride for the champion stable.
"I have ridden plenty of horses for Mr De Kock over the years. We in fact had a 30% plus strike-rate for a long time. When Nafaayes was carded to carry 51kgs in the Ipi Tombe, I got the fortuitous call-up. We won that well and, as Mr De Kock tends to do, he is loyal to his jockeys and gave me the chance again. It's a real honour to ride for a top yard and in those international silks. It never becomes old hat – even after 20 years of race-riding, believe me!"
As to Nafaayes' Triple Tiara prospects, Warren says that the De Kock team will make the decisions.
"I feel she will go the 1800m and she will strip fitter next time too. I'd be honoured to ride her again!"
With 62 winners to his credit at a win strike-rate of 10%, Warren is keen to make this his best season ever. We asked him if thirty-something was a peak time for a jockey to blossom.
"You know, being focussed and mature naturally helps. But it's a lot about creating opportunities, having the patience of Job and knowing your turn will come – and then enjoying some luck into the bargain too!"
He cited the example of Lyle Hewitson – and even Diego De Gouveia.
"Lyle is top-class. He took the opportunities as they came. He had a unique start. Diego picked up Atyaab in the Cape Derby. At 22 he now has his first Gr1 on the board. Now it's up to him to build on that. That's the difference between an also-ran and a good jockey who goes all the way."
Warren's late Dad was a big influence in him becoming a jockey.
"My brother actually applied to the Academy before me, but they rejected him and asked him to wait a year and apply again. It was his Std 8 year and he had to make his matric subject choices and in the end he decided not to go and is now a Chartered Accountant. When my turn came, I was agonising between becoming a gymnast or a jockey. I had won a  few gold medals and been selected to represent South Africa in Germany. When I tried to get the best of both worlds and do both, I was informed that the insurers were not prepared to underwrite the risk. So, here I am 24 years later!"
He joined SAJA in 1995 and qualified in 2000.
"We were 13 apprentices in my year. There aren't too many of my intake left that are still riding. I joined with the likes of Nicky Roebuck, the late Gift Funeka and Morne Winnaar."
But he also had an unusual problem as he weighed just 28kgs in his second year.
"The Academy gave me an ultimatum – they were just opening the branch in PE and said I could either go there or they'd cancel my indentures. So I went to PE – Sean Parker was running the PE Academy back then – and I joined Nic Claassen's yard."
Warren ended up riding his first winner for the late Oom Nic in the Lady's Pendant at Fairview on 15 May 1998 on Coded Missile.
"It was a funny story – Mr Claassen's regular jockey fell ill and got off his rides. So he put me on Coded Missile. It was a level weight feature, so there was no apprentice allowance and I won without any claim and beat Mark Khan in the finish."
Warren is excited about the new babe on the way. Family are central to his and Barbara's lives.
His Dad Terrance passed away about 5 years ago. His Mom Sandra lives in Glenwood in Durban.
"Both my brother, Tyrone, who is a CA and my younger sister, Robyn, who has a doctorate in business psychology are resident in New Zealand. So my Mom does this sort of international rotation, with three months there and three months here in SA. With little Jamie (that's an early insight into a possible name) on the way, Mom is going to have to really plan her travels well! Grannies are an important part of new parents' lives, surely?"
So would he be a jockey if he could turn back time?
"Racing has been good to me. Sure , I've had a few breaks – collar bones, wrists, ribs, that sort of thing. And I had a serious head injury in PE in 2008. A horse slipped in front of me, my horse fell over it and the rest of the field ran over me. I broke more or less every bone in my face. It took 3 surgeries and they had to cut me from ear to ear and rebuild my face. The healing process took 4 months, but luckily it didn't affect my confidence or my nerves in any way and I was happy to get straight back in."
What advice would he give to a young jockey trying to establish himself?
"Exercise patience and take good advice from the right people. And always remember the wheel turns. I have ridden a lot for Gavin van Zyl. He used to be a top jockey and is never selfish when I get a chance to travel. He encourages me as he knows how tough it is to carve out a career in the saddle."
Any plans to ride internationally?
"It's probably not an ideal time now, but I'd never turn down a great opportunity if it came my way. A jockey's career is limited and has a shelf life. So we have to earn when we can. But Barbara's family are also here, so I'd have to think long and hard about any decisions."
‹ Previous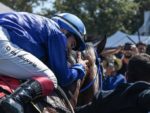 When Opportunity Knocks…